Lexus NX 200t Test Drive Review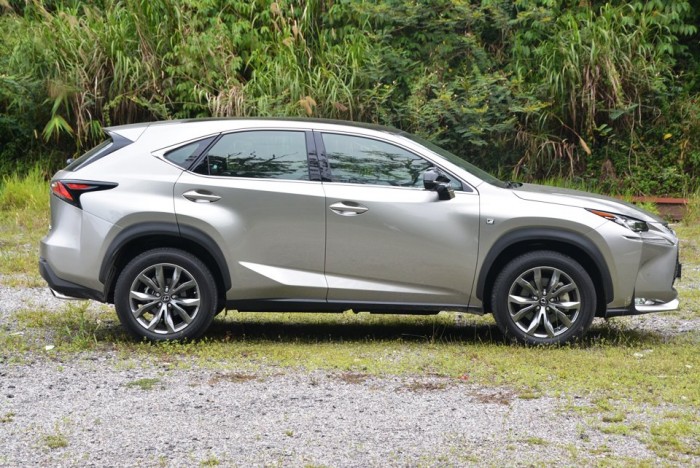 If there's one thing that the overwhelming popularity of the Honda HR-V has taught us, is that the market can't get enough compact crossover SUVs at the moment. Logically then, it should follow that a similarly-sized product clad in more luxurious packaging should prove attractive to buyers with thicker wallets and want to distinguish themselves better from the crowd.
Lexus was a relatively early player in the premium SUV market with successive generations of the RX mid-sizer, but rivals have been quicker to expand their reach downwards by adding smaller SUVs to their respective line-ups.
The all-new NX, Lexus' first attempt at a compact SUV, arrives in a very crowded and competitive segment. Beneath the X5-Q7 axis which the RX competes against, the likes of BMW and Audi already have two smaller models each – X1 and X3 from Munich, Q3 and Q5 from Ingolstadt. The NX goes against the X3 and Q5, with Volvo's excellent XC60 also firmly in the mix.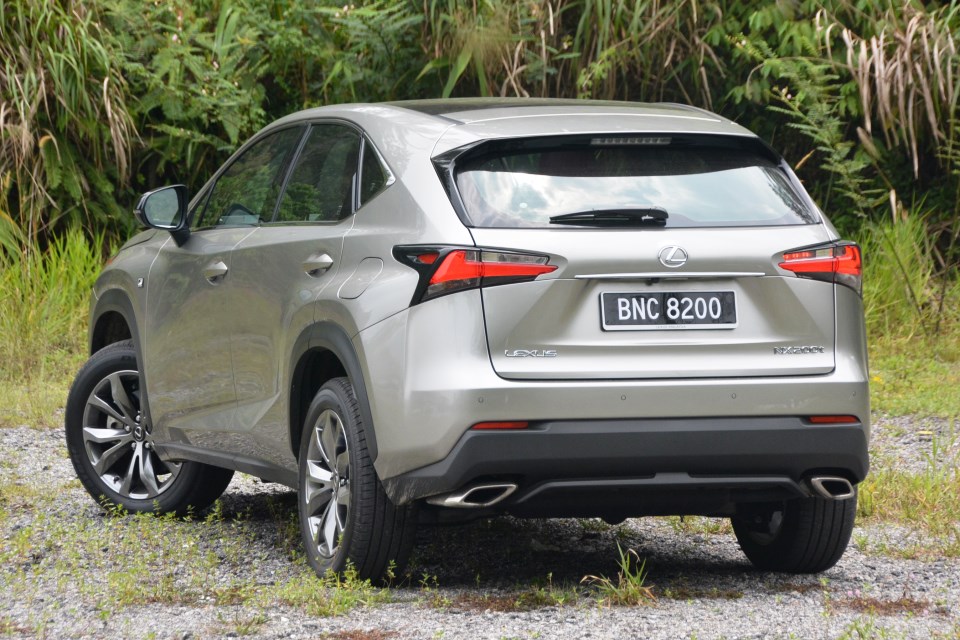 Prices & Variants
There is a choice between two engines in the NX, but we can't imagine too many people looking at the direction of the range-topping NX 300h with any serious interest. At RM385k with insurance (pre-GST pricing), it is the costliest variant on offer and, with a net system output of 197hp from its 2.5-litre Atkinson cycle hybrid engine, also the slowest.
Majority of buyers are far more likely to cast glances at the 2.0-litre turbocharged NX 200t instead and, with no less than four trim levels to choose from, it is evident that Lexus Malaysia is betting big on this powertrain package. Prices start at just under RM300k with insurance pre-GST for the base model but each successive trim level above it are separated by five-figure margins from each other.
The entry variant's standard equipment just about covers the bases and, as it should be with a model of luxury aspirations, safeties such as eight airbags, stability control, reverse camera, and keyless entry are democratized across the board. You do, however, need to move up the food chain to get niceties such as the powered tailgate, blind spot warning, and powered operation of its 60:40 split-folding rear seats in the Premium and Luxury variants that go for RM332k and RM352k respectively.
For our money, the Luxury model gives the best balanced package on paper, but majority of buyers thus far have opted for the RM379k F Sport model upon which this review is based. Besides its more aggressive bodywork, the F Sport model is also uniquely fitted with adaptive suspension and a little device called the Performance Rod (get your mind out of the gutter) that utilizes of a solenoid actuator to vary between 30 different levels of damping. This will most certainly have dynamic implications and you're well-advised to try out units with and without this system to make an informed decision.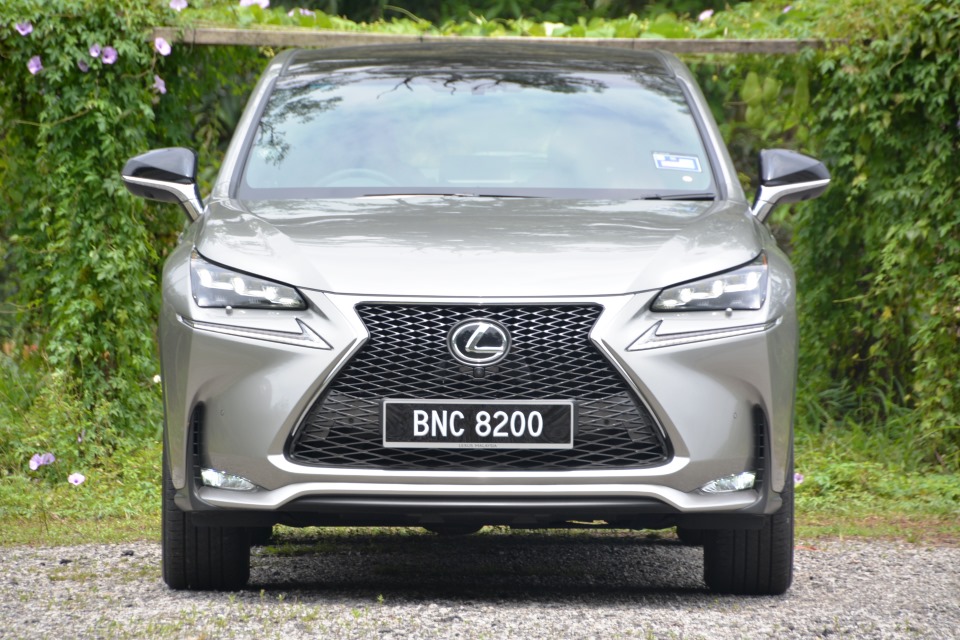 Specifications
For the sake of a complete review, we shall start with a brief run through of the NX 300h's hybrid system, which is underpinned by the ubiquitous 2AR block that also serves the Toyota Camry and Lexus ES. In this configuration, the engine itself puts out 153hp and 210Nm, and supplemented by additional traction from two electric motors, one twisting each axle. The set up is front-biased – the petrol engine's drive power goes entirely to the front in conjunction with 141hp/270Nm from the forward motor; the aft motor, mechanically unconnected to the front, makes just 67hp/139Nm and is only deployed when needed, spending most of its time as a generator instead.
Moving on the more relevant 2.0-litre 8AR engine of the NX 200t, we are looking at Lexus' first foray into making its own take on the 2.0-litre turbocharged engine that has fast become the segment's norm. Some will argue that Lexus is late to the party, but this engine was well worth the wait. It may have all of the usual ingredients that one would find in amongst rivals of the same capacity, the attention to detail on all these elements nevertheless makes for very fascinating reading. Getting these details right was the primary reason why Lexus is comparatively late in bringing this engine to the market.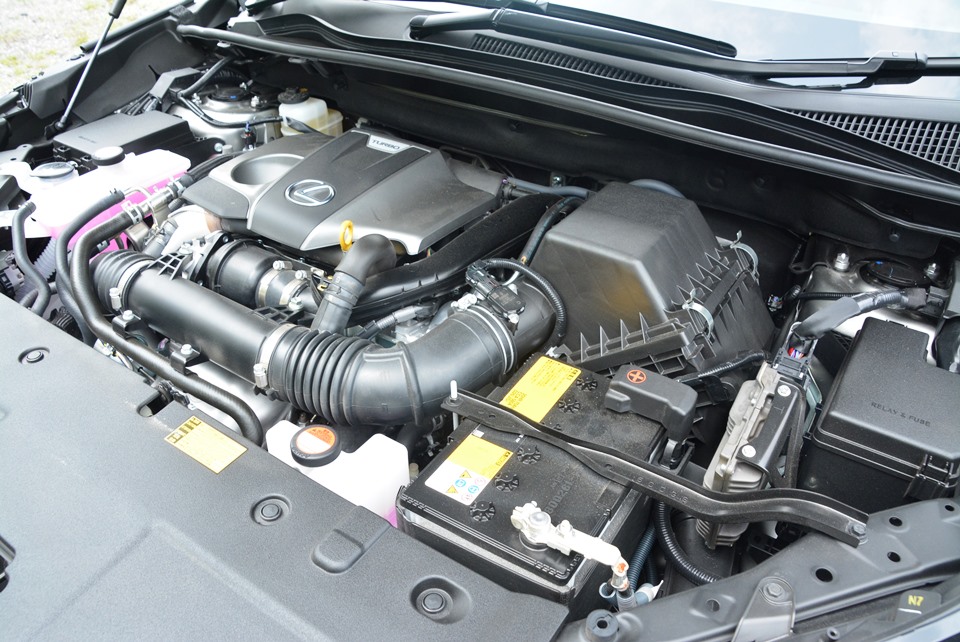 Aspiration of the engine is forced by a twin-scroll turbocharger, engineered in-house by Toyota for maximum quality control, whilst fuel is fed by a combination of both direct and port injectors, allowing for better-optimized combustion control according to throttle load. The engine's valvetrain (officially identified as VVT-iW) is also the most advanced available in Toyota's arsenal, allowing the engine to alternate between operating in the Atkinson cycle under part throttle load for the benefit of fuel economy and the Otto cycle for more potent performance in hard driving.
A 6-speed automatic transmission facilitates transfer of the engine's power to the road via an intelligent on-demand all-wheel drive system. Drive goes only to the front-wheels by default, with up to 50 percent torque routed astern through an electromagnetically-controlled coupling housed in the rear differential if the vehicle's network of motion sensors detect diminishing traction.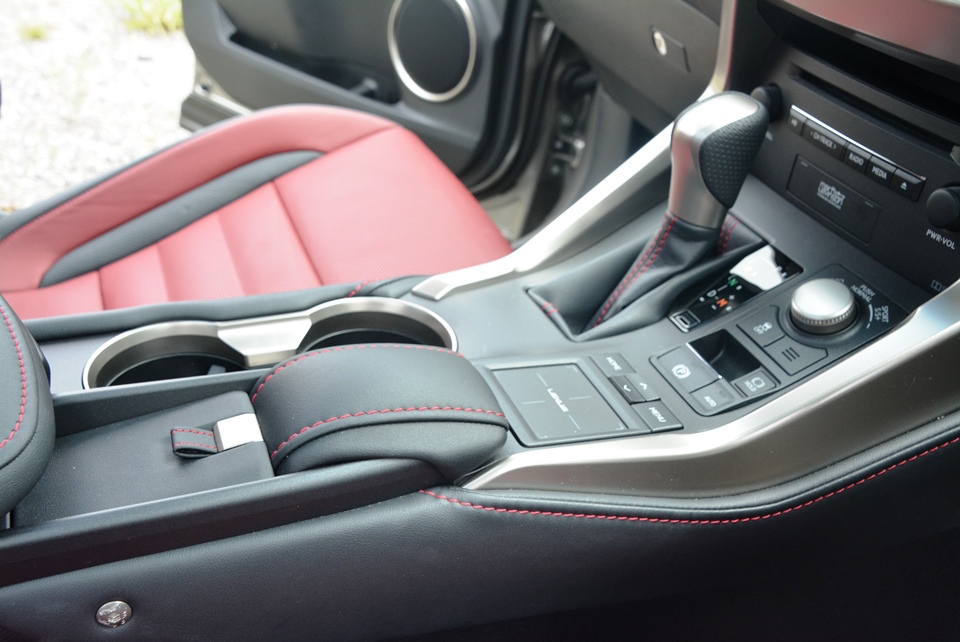 Exterior
We were given a preview of the NX's eventual appearance in the 2013 LF-NX concept shown at both the Frankfurt and Tokyo motor shows of that year. The production model, which made its first public appearance at Beijing almost a year ago, has much of the concept's sharp edges chamfered, but the connection between the two vehicles could not be clearer.
There certainly is no question, however, that even in this toned down shape, the NX has enough edginess to make the competition look plain and boring by comparison – whether this shape will stand the test of time, that's a little harder to tell. Next to its stablemates, the NX establishes a quick family resemblance with newer models of the Lexus range, its trademark spindle grille dominating the front fascia sculpted to carry the signature L-finesse look.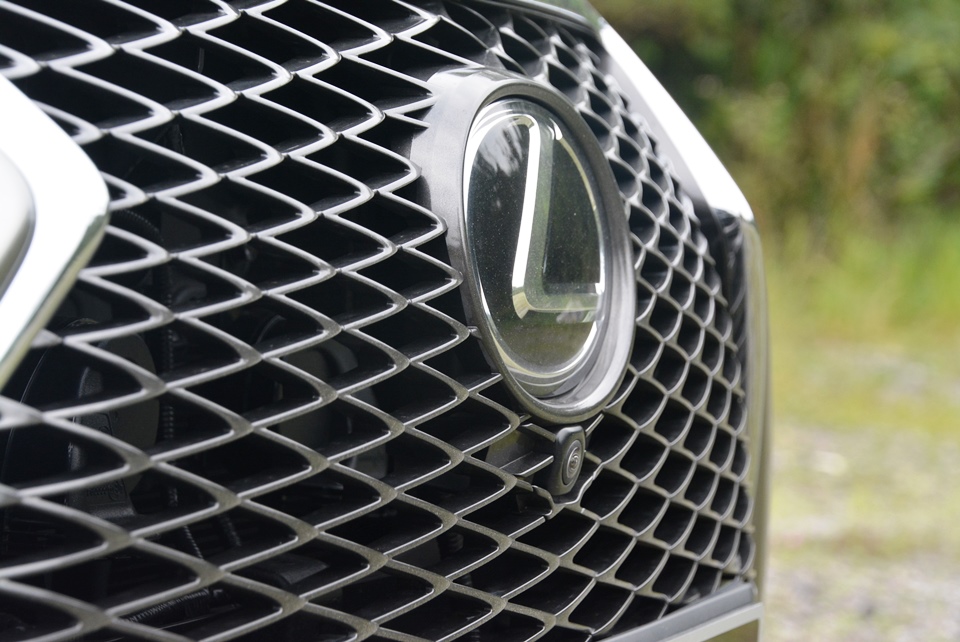 First impression of size is that the NX looks like a competitor of the BMW X1 and Audi Q3 where in reality, the NX's 4,630mm overall length corresponds closer the 4.65m ballpark around which the X3, Q5, and Volvo XC60 reside.
Front and rear, the NX sports extensive usage of LEDs to supply illumination. The L-shaped motif dominate the light cluster designs and define the vehicle's lighting signature; the daytime running lights and tail lamps light up to form big Ls at each corners. The Premium variant and upwards get the distinctive triple-L-shaped configuration of its headlight main beam.
Differentiating the F Sport model from its vanilla-flavoured siblings are touches such as its meshed front grille, metallic lower bumper moulding, and blackened side mirror housings. Its 235/55 R18 tyre size is also unique to the variant – as opposed to 225/65 R17 in the base model and 225/60 R18 in the other three variants.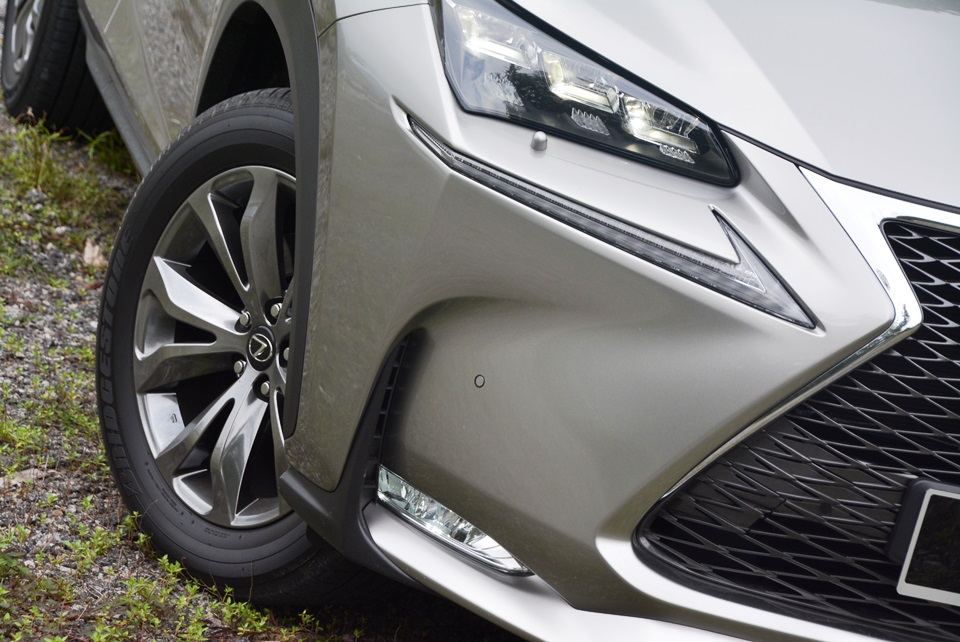 Interior
Matching the appearance of its exterior, the NX welcomes you into a cabin that is defined by an appearance that is highly technical and lines that are distinctly edgy. It lacks the clinical efficiency of German cabins, although which is preferable boils down entirely to personal preference. There is certainly no shortage of buttons, which all add up to a decidedly busy appearance.
At a glance, the layout looks overwhelming, but familiarity came quickly to this writer, and operation of various controls quickly became second nature. The well-considered seating position commendably puts all instruments and controls within easy reach of the driver, and the revamped touchpad-based infotainment control is a vast improvement from the preceding setup that drew inspiration from a computer mouse.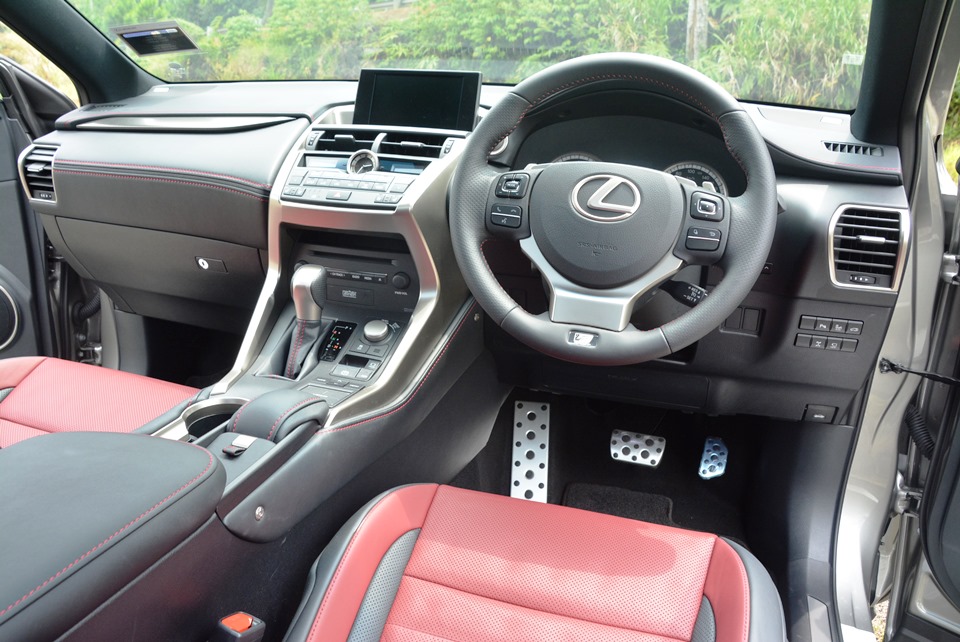 What the cabin does have in shortage of, in some areas, is internal volume. Granted, rear leg room is generous, and headroom acceptable, but luggage volume is some way short of what rivals offer and despite the novelty of powered 60:40 split-folding (not available in our F Sport trim test car, by the way), the rear seats cannot be folded flat – further placing a handicap on available storage.
Build quality holds up the usual high standards we expect of Lexus, but although its appearance is suitably distinctive, tactile feel exerted by materials and the various switch gear do little to suggest that they came from a different parts bin than, say a Toyota Camry's. What you can count on, however, is that most, if not all, of these buttons will remain functional by the time you sell the car.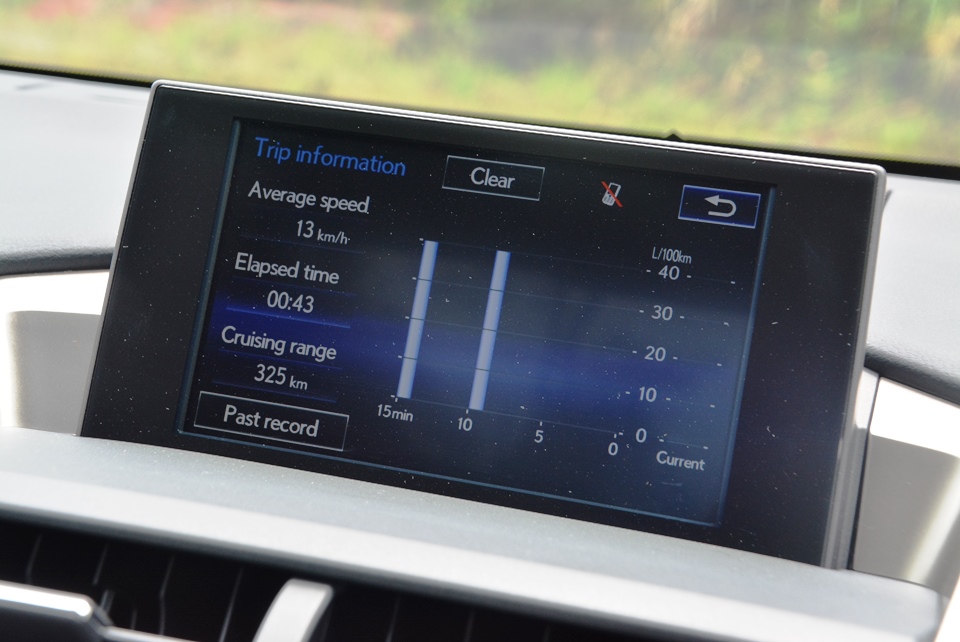 Driving Experience
Lexus vehicles have never been known to possess dynamic sparkle of any sort, but latest iterations of the IS and GS have exerted commendable efforts to force a rethink of that perception. The NX continues that fine run of form by offering a surprisingly well-balanced chassis set up and decent punch from its shiny new powertrain; not quite sublime enough to trouble the BMW X3, but more than good enough imbue confidence around corners.
In the F Sport setup of our test car, the NX corners with good containment of its body roll and maintains good composure at all highway speeds. Communicativeness is lacking, however, and for a vehicle with the ability to redistribute traction rearwards, there is still too much understeer for our liking. Give the system the appropriate concessions, however, as in ease off a little bit more upon entry, there will be plenty of grip to pull you through the bends with authority.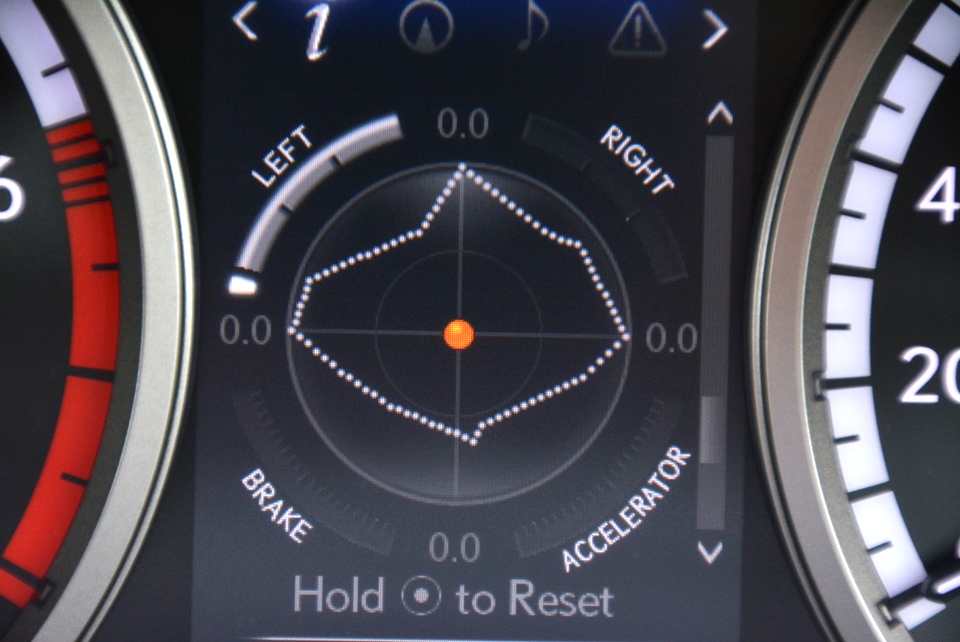 Ride quality is generally firm. Effects of the odd bump and pot hole can be felt in the cabin, but the suspension does well to quickly and authoritatively suppress any secondary bodily motion that follows. High frequency surfaces such as painted strips and brick pavements, however, are less impressively dealt with. For a sport-tuned suspension, it's acceptable, livable on a day-to-day basis even, but if you've been buying into the past-generation Lexus' idea of unparalleled comfort, it's time to recalibrate those expectations.
The engine meets all expectations in performance and refinement one could reasonable set for a vehicle in its class. Compared to the smooth-revving but aging 2.5 V6 in the IS and GS, Lexus' new blown four-pot excels in giving the kind of instantaneous mid-range punch that we've grown so accustomed to in modern turbocharged direct injection engines. It is interesting to point out that Lexus has opted to omit auto stop/start for the NX in Malaysia spec. For buyers who can't live with the unavoidable roughness of such systems that are fitted standard in rivals, this is a point to consider.
In a time where most rivals at the price plonk for transmissions with seven or eight forward ratios, the NX's 6-speed automatic seems on paper to be the weak link of the package. For us, we find it adequate for town use or even a brisk run on the highway, but if you need an extra turn of pace along the B-roads, the paddle shifters will have to be called to action.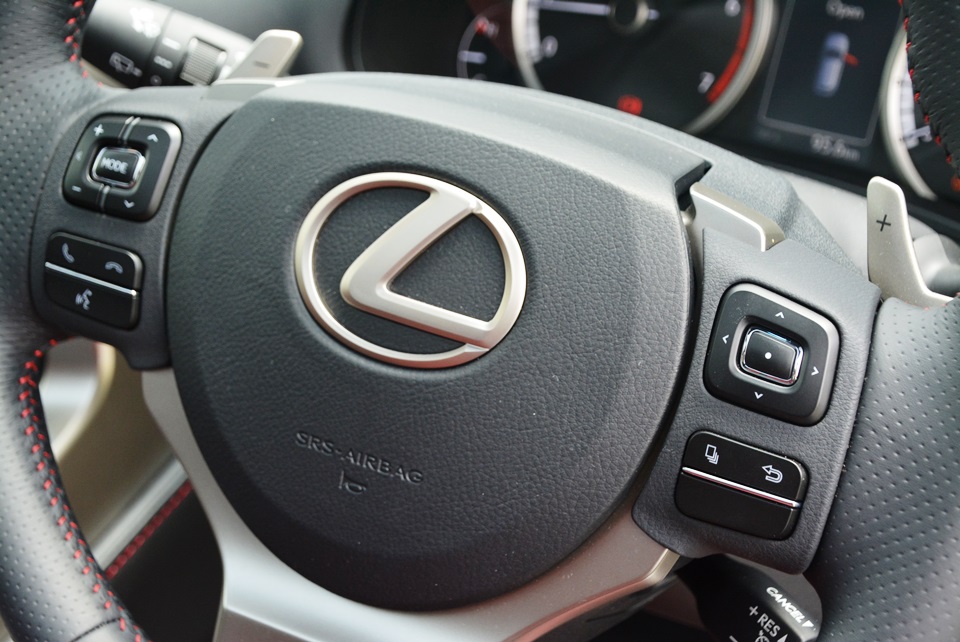 Verdict
For the longest time, and unusually so for a premium brand, Lexus' crossover SUV portfolio was limited to just one vehicle, the RX. The downsized NX is therefore, a timely addition to the range and it is difficult to envision that it will be anything other than a big winner for Lexus. Word is that the factory can't build these things fast enough for the long line of eager customers.
To be sure, the NX is not a vehicle without flaws – its cabin, whilst built to excellent standards, feels like it is sized for vehicles one segment below. We also feel that its ride quality, whilst not too harsh for day-to-day usage, could do with further fine-tuning.