Lexus RC coupe makes world premiere in Tokyo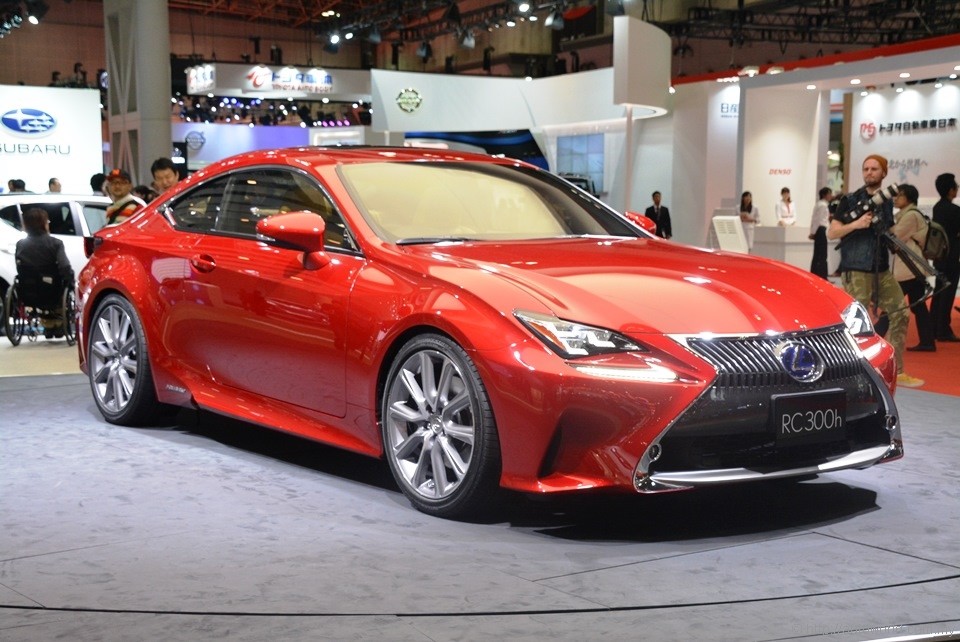 By the second half of 2014, Lexus will have an all-new compact luxury coupe to take on the BMW 4 Series. Unveiled last week at the ongoing Tokyo Motor Show, the four-seater coupe is designated as the RC, a badge that is all-new within the Lexus hierarchy.
Following the new direction of dynamism and sportiness laid by more recent Lexus models such as the IS and GS, the RC sits low and wide, incorporating trademark Lexus design elements such as the spindle grille and LED daytime running lights separate from the main headlamp assembly. The headlights themselves are LED illuminated as well.
Interestingly, the RC is underpinned by the platform of the GS rather than the smaller IS to which its size correlates more closely. The RC stretches 4,695mm long compared to 4,665mm of the IS and 4,850mm of the GS. Its wheelbase of 2,730mm however is shorter than both the IS and GS at 2,800mm and 2,850mm respectively. According to Lexus, the choice of using the GS platform is to enable the usage of larger diameter wheels that better fit the RC's sporty persona.
Two powertrains have been announced for the RC, one petrol and one hybrid, neither of which are particularly new. The 2.5-litre four-cylinder hybrid in the RC 300h is same setup found in the IS 300h and is in fact quoted with identical outputs, the combined efforts of petrol and electric power yielding a net output of 217hp.
Meanwhile, the regular petrol engine in the RC 350 is the same 3.5-litre V6 found in the GS 350, but tuned with marginally higher outputs of 314hp and 380Nm (compared to 312hp and 378Nm in the GS 350). Attached to the engine is what Lexus calls a Sports Direct Shift (SPDS) transmission with 8 speeds. Although its fancy name may suggest as much, the SPDS is in fact not a dual clutch but a torque converter transmission. In manual mode, however, the torque converter lock-up clutch remains engaged almost at all-times to deliver a quick and direct gear shifts (Lexus claims 0.2 seconds) when triggered by the driver.
Another important introduction by Lexus at Tokyo is a new 2.0-litre turbocharged engine that is being featured in the LF-NX concept that was displayed at the Frankfurt Motor Show earlier this year. Details of the four-cylinder engine are scarce at this point, but its outputs and performance are believed to be benchmarked against BMW's 2.0-litre N20 twin-scroll turbo engine. The adoption of small capacity turbocharged engines is a much-anticipated move on Lexus' part, and we see the new engine as a right step forward from the lovable if rather dated naturally aspirated 2.5- and 3.5-litre V6 engines used by most of its current models.