Lexus RX 450h – Silent Cruiser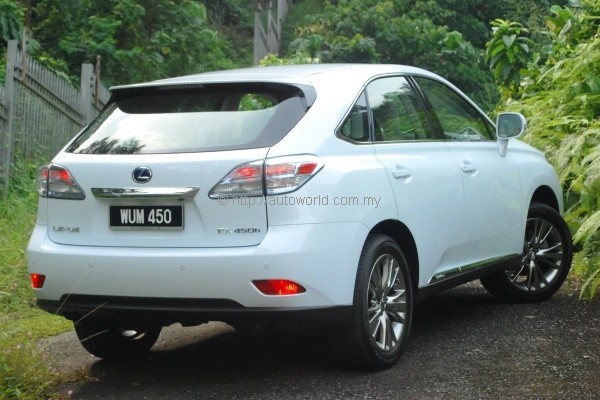 When Lexus Malaysia officially opened its doors for business in 2007, they were stepping into a market that had already possessed good familiarity with the brand. In fact, they were already viewed in an aspirational light more or less on par with the Germans. Infiniti is set to arrive later this year, but at this moment, Nissan's luxury arm certainly does not command the same level of reverence as Toyota's did and continues to do.
Quite simply, fate dealt a kind hand to UMW Toyota Motor; marketing groundwork for the Lexus brand was already done on their behalf by the grey importers who brought in shipment after shipment of the RX. The first two generations of the RX were badged as the Toyota Harrier in Japan, so the cars came in wearing either one badge or the other.
But whichever badge they came in with, consumers lapped them all up, and as a result, you now see a healthy number of units first and second generation RXs running around our streets, even though Lexus only officially started selling the second generation model here near the latter half of its life cycle. For the third generation model, they started off with the RX 350, but the range has since been expanded to include the front-wheel driven RX 270 and hybrid-powered RX 450h, which is the subject of our review here.
How much does it cost? And what are you getting out of it?
Until recently, the RX has always been Lexus Malaysia's top seller, although that role has since been taken over by the attractively priced CT 200h, having benefited enormously by hybrid-favouring Government tax breaks. But because the duty exemptions apply only to hybrid vehicles that displace less than 2,000cc, our RX 450h test car here does not enjoy a similarly compelling price tag.
At RM533,756.50 after insurance, the RX 450h costs almost RM150k more than the RX 350. Put it another way, that same amount of money also buys you the RX 270 and the standard CT 200h with change to spare. It is nevertheless cheaper than German SUVs of similar size, undercutting all except the Volkswagen Touareg, which is priced on par with the RX 350.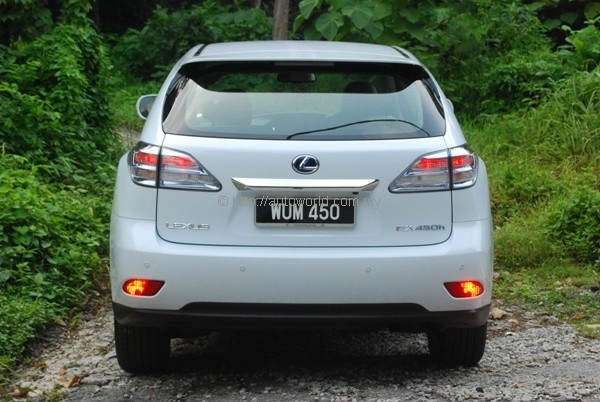 Yours for a bit more than half a million ringgit.

So, what does the RM150k premium over the RX 350 get you? Well, it looks different for a start. Whilst there is almost no cosmetic differentiation between the RX 270 and RX 350, the RX 450h gets a number of exclusive styling cues that advertise the fact that one, it is a hybrid; and two, you've paid more for it. You get bigger alloy wheels, chrome surround for the front fog lamps, a narrow slit running beneath the front grille, and a littering of 'Hybrid' badges.
You get more in the way of equipment too. Seats are clad in perforated semi-aniline leather (the other RXs get smooth leather), and for the front two, cushion extenders, seat ventilation, and memory adjustment come standard. Both petrol models get only memory adjustment for the driver. Also standard are a 12-speaker Premium Audio, 8″ central screen, remote touch controller, GPS, reverse camera, Bluetooth handsfree, and side parking camera. In the petrol models, these features are bundled into an option package. That's an extra RM17,000, sir, thank you very much.
We must note, however, that the side parking camera is an extremely useful piece of hardware. Mounted on the passenger side mirror, it gives the driver a fish eye view down the left flank of the car, ensuring that you don't reverse into the drain when parallel parking.

Side-mirror mounted camera is useful in avoiding obstacles on the far side.

The tech stuff
Under the hood is the same 2GR block from the RX 350 tuned to run on the Atkinson combustion cycle. The engine now makes 245hp @ 6,000rpm and 317Nm @ 4,800rpm, down from 273hp and 346Nm in the 350. Of course, the 350 does not have the luxury of being boosted by two electric motors, which raises the 450h's combined output figure to 295hp. Despite a high 12.5 compression ratio, Lexus claims that the 450h is suitable for usage with RON 95 fuel.
The RX 450h puts its power on the road using a sophisticated hybrid setup dubbed E-Four by Lexus. It is all-wheel drive, but there are no mechanical linkages between the front and rear axles. The 3.5-litre V6 engine pairs up with a 165hp / 335Nm electric motor to drive the front wheels, whilst a smaller 67hp / 139Nm motor separately works the rear. Peugeot has a similar setup dubbed the HYbrid4, but that system's arrangement has a diesel engine powering the front wheels and an electric motor spinning the rear axle.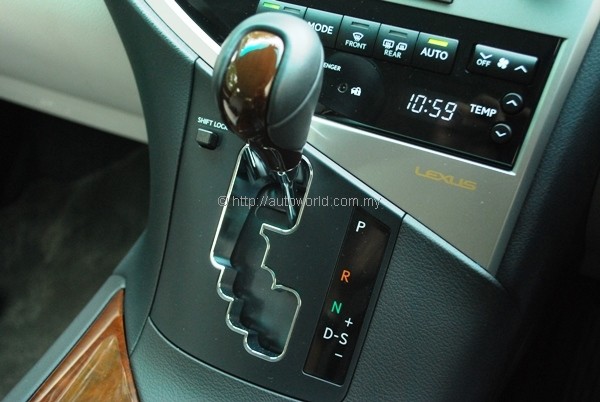 E-CVT sends drive from engine and 165hp motor to front wheels. A separate 67hp motor drives the rear

Driving it
Let's get one thing absolutely clear though, as much as hybrid vehicles are associated with environmental friendliness, you will be saving neither Mother Nature nor your hard earned ringgit at the pumps with the RX 450h. Lexus reports a consumption figure of 6.3 l/100km, but our trip computer constantly gave us readings in the region of 10 – 11 l/100km. To be fair, those figures came about after a bit of hard driving, but having said that, most European engines with turbo and direct injection also return similar performance and consumption under comparable styles of driving too.
When driving the RX 450h, it is useful to remember that you are steering some two tonnes worth of metal about. Do not worry too much if you forget that fact though, because when you attack a corner with too much zest, all 2,205 kilograms on board will remind you of their presence by means of body roll and understeer. A BMW X5 it is not.
Nevertheless, once you get accustomed to its bulk, and make the appropriate allowances, the RX 450h steers well enough to make brisk progress. There was enough pace and composure for me to seriously contemplate trying to keep up with a Porsche 911 when doing our test run up Genting Highlands. Its ride, however, is a little stiffer than what I would expect from a Lexus. You are well-advised to slow down for bumps and potholes.
Where the RX 450h truly shines, however, is at the highways. Yours truly may not be the most experienced motoring journalist around the block, but I have yet to come across a test vehicle that cocoons its passengers in the same level of pin-drop silence as the 450h did. While wind noise was unavoidable due to its size and shape, noise from the tyres and engine were decidedly muted at any speed under part-throttle load. Only under full-bore acceleration did the V6 up front make its growl heard. On long trips, the 450h's cabin makes for a conducive environment to engage in either productive discussions or simply for passengers to catch some sleep.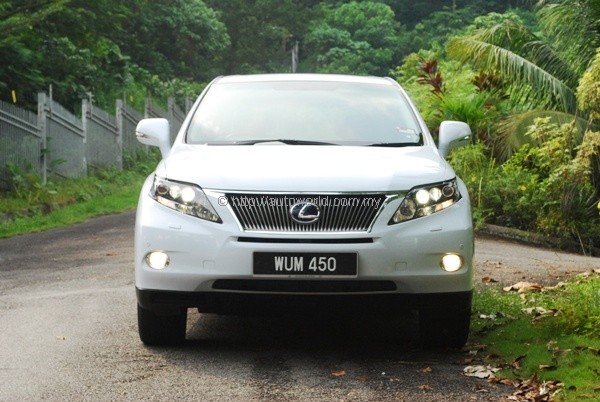 Big SUV body generates wind noise on the move, but that is all you hear, even at 200kph.

Verdict
If your idea of buying a hybrid vehicle is to genuinely save the environment and reduce your fuel bills, quite simply, the RX 450h is not the car for you. The 450h will nevertheless appeal to those looking for a stately mode of transport that chews up the highway miles with minimum fuss.
The RX 450h makes greater sense in countries that tax vehicles based on emission ratings, where its CO2 emission levels of 148 g/km allows it to slip to lower tax brackets, insurance ratings or congestion charges where applicable. Our Government's dated approach of taxing vehicles based purely on engine capacity has removed this advantage from the 450h's sales pitch.
It is a little difficult to make a persuasive case to justify the RX 450h's RM150k premium over the standard RX 350, but hey, if you want to be perceived as someone who cares for the environment…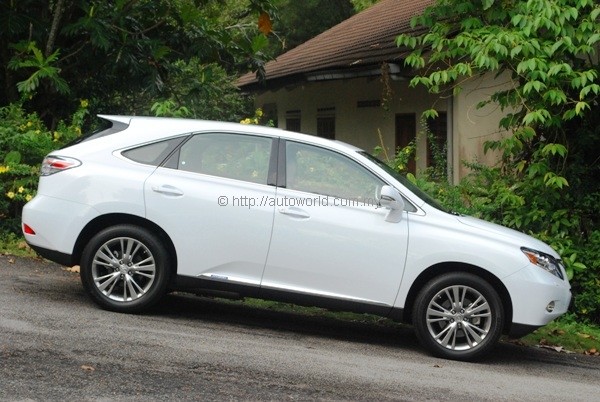 Has not seen too many takers. Most buyers still going for the RX 350.