BMW X3 xDrive20d CKD Test Drive Review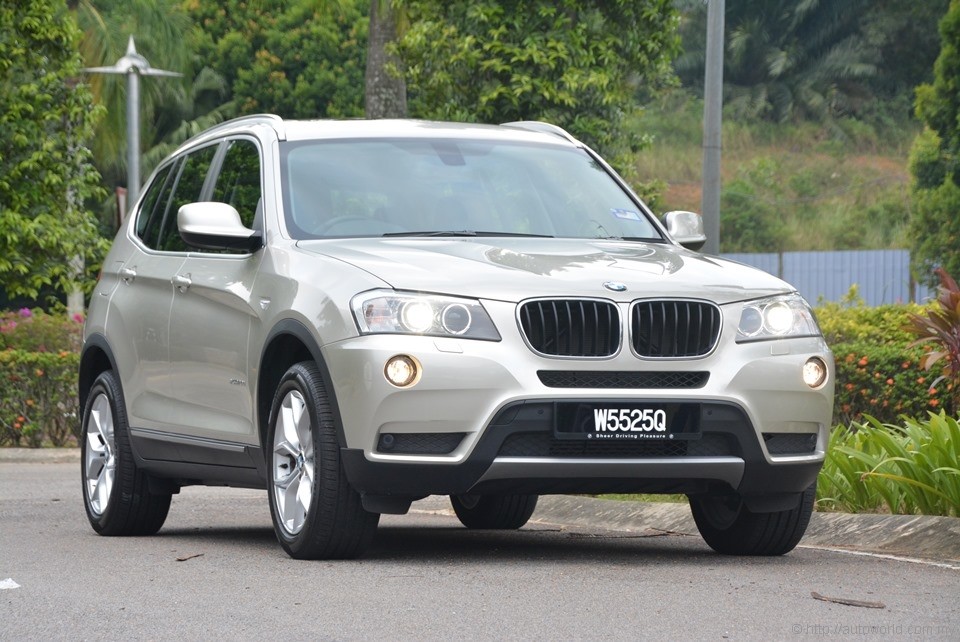 We last drove the BMW X3 nearly two years ago with our test car on that occasion being a fully-imported petrol-powered unit. Things have changed a bit since then with BMW's growing CKD operations at Inokom's Kulim plant in Kedah having added the X3 into its rapidly-expanding portfolio. Two variants roll out from the said plant, namely the petrol-powered xDrive20i and the diesel-powered xDrive20d which we review today.
During the X3's CBU days, the 20d was priced at RM348,800 with the 20i costing an additional RM10,000 despite the diesel engine actually being costlier to manufacture. That premium was due primarily to the prevailing layman's view of superiority toward petrol engines, and BMW accordingly positioned the 20i as a better-specced variant, throwing in exclusive equipment that included adaptive dampers amongst other excesses.
Respective roles of the two variants have been switched following local assembly, however, as the 20i is now priced at RM323,800 whilst the 20d retains its original RM348,800 price tag. Kit count has been beefed up, however, with the diesel model now getting a panoramic glass roof, keyless entry, and reverse camera in addition to standard kit that is already offered in the 20i. Adaptive dampers have been removed, however, that being found to be an underutilized feature amongst the X3's target customers.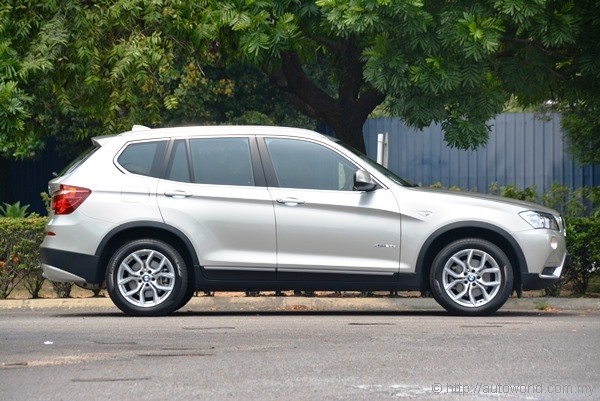 The X3 is right-sized SUV suitable for family and bachelors alike.

Specifications
The timing of this particular test drive is uniquely ironic in the sense that BMW has already debuted a facelifted X3 globally at this year's Geneva Motor Show, and the 2.0-litre diesel engine featured in our test vehicle is also being replaced by a brand new all-aluminium alternative that not unexpectedly pumps out higher outputs with lower consumption of fuel.
Not that the existing award-winning cast iron mill is in anyway out of date, however, as outputs of 184hp and 380Nm, which we suspect to be grossly underdeclared to start with, remain highly potent figures for a 2.0-litre four-pot, figures made even more impressive when framed in context of its 5.6 l/100km rated fuel consumption – we managed 7.2 l/100km in our test runs, a figure obtained from the trip computer and corroborated with manual brim-to-brim measurement.
The engine's exceptional fuel economy is achieved with considerable help from enhancements such as brake energy regeneration and auto start/stop. BMW's application of auto start/stop has generally been poor in smoothness and refinement, but there is evident improvement in recent test cars we have reviewed. The X3 continues this fine trend, although further improvements are still possible before matching the overall smoothness of say, VW Group products.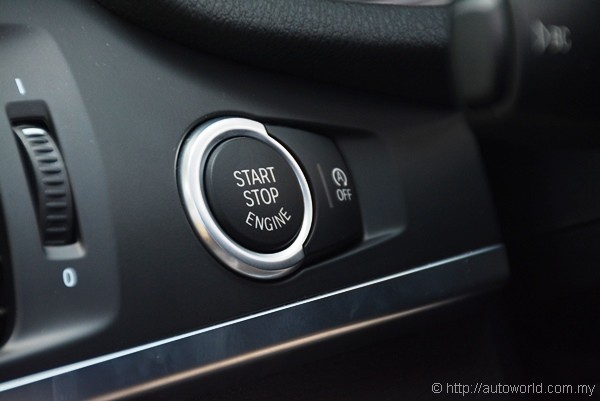 Push-start button and auto start/stop function.

Design
Understatement has never been a quality associated with BMW, but that's precisely what Munich achieved with the current F25 X3, especially when lined alongside its controversial predecessor. Design lines are clean all-round and despite powerful elements such as the big kidney grilles and high-mounted front fog lights, the fascia manages to look pleasant and inoffensive. In this respect, BMW's decision to move the facelifted model's design to more closely resemble the recently-launched X5 may rob the X3 of the current model's timelessness.
Inside, one similarly struggles to find any issues of great noteworthiness, be it good or otherwise. Placement of controls are generally logical, and the switches themselves exude positive tactile sensations. Storage spaces are not as plentiful as one would find in say, a Honda, but enough is provided that complaints are entirely unnecessary. Function and quality-wise, it is beyond reproach, but like most BMW cabins, it suffers from a lack of occasion – clear evidence of a design approach that heavily favoured function over form.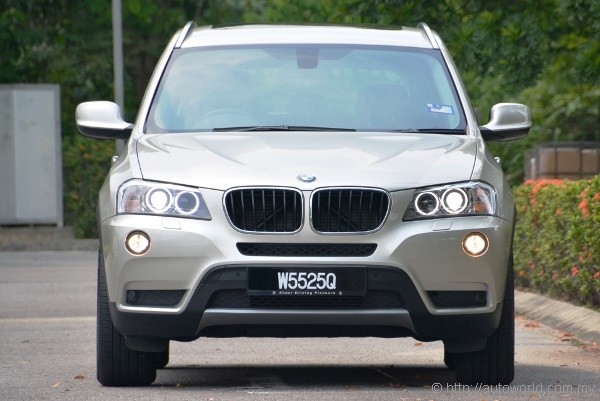 A facelifted X3 actually made its debut at this year's Geneva Motor Show.

Driving Experience
Deletion of adaptive dampers from the X3's arsenal may lead one to suspect that the vehicles dynamics would suffer as a consequence, but that most assuredly was not the case. The suspension set-up, in unison with its 245/50 R18 tyres all-round, is evidently geared with the typical BMW bias towards handling and high-speed stability.
There is an underlying firmness to the chassis that whilst not unbearable, makes small surface disturbances acutely felt at low speeds. The average person will find this a minor bother, but for the enthusiast, it is an entirely acceptable price to pay for the X3's unflappable composure and poise around bends. Its chassis does not have the sharpness of an X1, but it is fluid and rewards smooth inputs. Excellent work is also evident on the steering, which steered crisply and felt rich in chatter, giving the driver a good feel of surface conditions.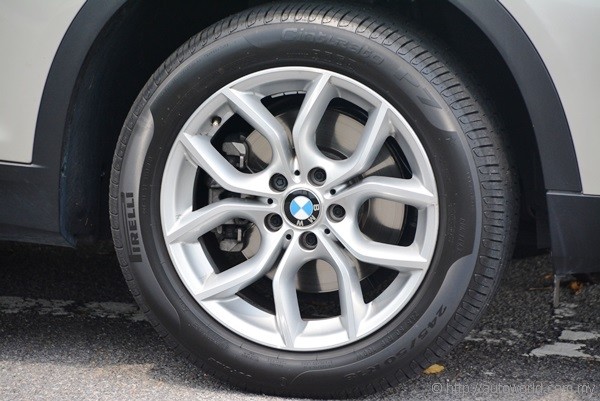 18-inch alloys with 245/50 Pirelli tyres.

Like any modern BMW, the X3 manages to become efficient and dynamic, though not necessarily both at the same time. The use of 'Eco Pro' mode dulls throttle response considerably, although not to the point where it becomes lethargic. It is still possible to maintain a brisk pace in this driving mode, but with the instruments cleverly displaying how much additional cruising range your austere ways are freeing up, it makes economical driving feel more rewarding.
If 'Eco Pro' mode makes the X3 feel sedate and civilized, dialing the Drive Experience Control switch the other end to 'Sport' demonstrates just how severely the electronics are suppressing the engine's full potential for the sake of your wallet. With its shackles removed, the 2.0-litre turbodiesel becomes a relentless mill that requires only the mildest of provocations to charge up the rev counter, propelling this 1.8-tonne machine to extra-legal speed with barely-believable ease and conviction.


Verdict
The X3's inoffensive and unassuming demeanour is a display of remarkable restraint on BMW's part. Whilst uncharacteristic, BMW's conservatism is not without merits as the X3 competes in a very crowded market segment. Giving it broad-ranged appeal rather than polarizing controversy makes sense, although it makes the X3 look very unremarkable next to close rivals such as the Range Rover Evoque, Volvo XC60, or the Audi Q5. Indeed, extensive alterations seen in the upcoming facelift suggests that BMW has reconsidered its earlier approach.
Beneath the X3's plain Jane clothes, however, lies a car of impressive talents, although they are largely to the benefit of the driver. It is a wonderfully agile vehicle on the move and this being achieved without the presence of adaptive dampers is indicative of well-drilled mechanical underpinnings.
Choosing between engines, you can't go wrong with either of the two choices supplied by BMW – both give exceptional combinations of performance and economy, although the diesel engine of our test car boasts superior numbers in both aspects over its petrol sibling. The addition of keyless comfort access and reverse camera adds further incentive to fork out the extra RM25k which the xDrive20d commands.