Volvo XC60 T6 Drive-E Test Drive Review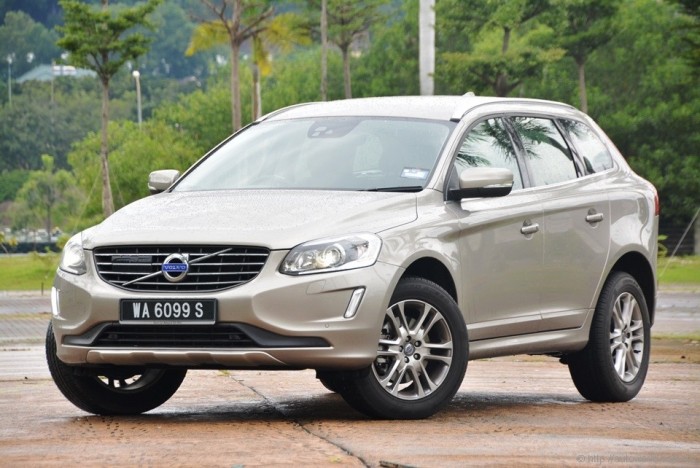 Launched globally in 2008, the six-year-old XC60 is already assured of its place in history as one of Volvo's most popular models ever. Consistently Volvo's annual top-seller since 2009, the popular compact premium SUV, which counts talented opposition such as the BMW X3, Audi Q5, and Land Rover Freelander as its rivals, has passed the magical 500,000-unit milestone earlier this year in May.
Already a highly aspirational product at launch, the XC60 was kept at the top of its game by a series of running changes by Volvo that ensured its continued competitiveness. Latest revamp of the model sees the launch of a comprehensively revised appearance together with the introduction of Volvo's new generation of Drive-E engines. We have already reviewed the turbocharged 245hp T5 model, and here we follow up by evaluating the even more potent T6 version.


Prices & Variants
An introductory price of RM315,888 on-the-road without insurance sees a gap of RM27k separate the T6 tested here from its lesser T5 sibling. Aside from the addition of a supercharger to boost engine outputs, the T6's package is further enhanced by the convenience of a powered tailgate and satellite navigation. Standard rims from the factory are a size up from the T5's, whilst the digital instrument panel that is a RM3k+ option in the lesser model is fitted standard here.
Paying the T6's premium also buys you additional safety. The T5's formidable arsenal of protective gear already includes stability control, torque vectoring, ISOFIX anchors, built-in child booster seats, autonomous emergency braking (City Safety), and more airbags than we could count. The T6 adds another layer of protection by throwing in adaptive cruise control, lane departure warning, active high beam control, road sign recognition, and pedestrian and cyclist detection with full auto braking.
Like with the T5, Volvo offers you the option of dressing your XC60 T6 up with a range of original accessories ranging from bodykits of various sorts to enlarged rims. Do think long and hard before ticking boxes though; excessive enthusiasm at this phase of the purchasing process can have the effect of inflating your purchase price by as much as RM30k.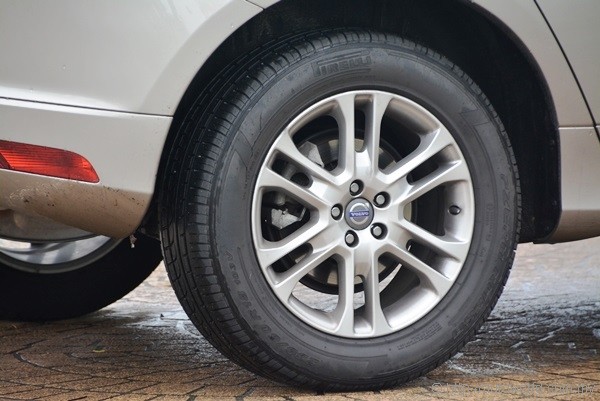 18-inch rims give our T6 test car good ride quality.

Specifications
From the wide range of outputs planned for Volvo's new Drive-E engine family, the one powering the XC60 T6 here is one of the more potent variations. Whereas the T5 model had a single turbocharger, the T6 adds on a supercharger to supply boost at lower revs.
It is interesting that as the mighty VW Group opts to cease development of twincharging technology due to cost and complexity, Volvo presses on; and the result is an engine that punches well above its capacity, generating a barely-believable 306hp and 400Nm from its 1,969cc displacement. Previously, the pre-facelift XC60 T6 made do with 285hp and 400Nm, and that was from a turbocharged 3.0-litre inline-6 engine.
As per the XC60 T5, the T6 comes fitted with an Aisin-sourced 8-speed torque converter automatic transmission linked to the front wheels. There is for the moment no option of all-wheel drive to go with the new Drive-E engines. Even in overseas market, buyers insisting on the XC60 with all-wheel drive, must for the time being continue with one of the older engines.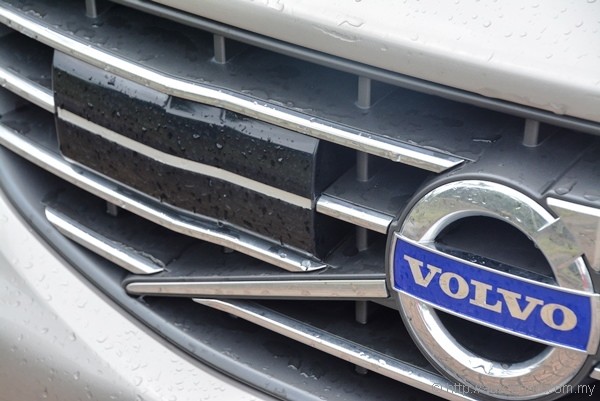 The T6 gets more active and autonomous safety kit than the T5.

Design
Aside from their differently-sized rims – 17-inch for the T5, 18-inch for the T6 – both variants of the XC60 are practically identical in appearance. Sharper eyes will spot the additional radar module on the T6's grille, but badges aside, there are very few clues to tell the two variants apart in a cursory inspection.
Interestingly, between the two XC60s currently in Volvo Car Malaysia's press fleet, the T5 is fitted with the full range of optional accessories, whilst the T6 is specced in 'plain clothes' format. Having seen both vehicles in the flesh, it is difficult to argue that the extra decorative bits do not contribute significantly in enhancing the XC60's appearance – they make the vehicle look that much more menacing.
In the interest of offering the best possible consumer advice, we should highlight that the fully-optioned T5 test car from our earlier review actually hits the road with a bigger price tag than our 'plain Jane' T6. We don't know about you, but we much prefer to see extra money translating to more horsepower – RM27k to go faster or RM34k to look faster; the choice, to us, is obvious.


Driving Experience
Front-wheel driven vehicles with more than 250hp can be pretty wild and easy to provoke at times, but that was surprisingly not the case with the XC60 T6. Whilst we won't take it to challenge a BMW X3, it certainly behaves with far greater civility than one would expect of a big SUV trying to cope with more than 300hp being shunted through its front axle.
If anything, the XC60 felt far more docile than one would expect from a vehicle with its outputs. Even when prodded, acceleration felt linear, measured, and utterly free of drama; essentially, it takes considerable effort to provoke any traces of unruly behaviour out of it. The enthusiasts within us anticipating giggling antics were a little underwhelmed by the overall lack of drama, but for an SUV with family aspirations, these are spot on characteristics – all things considered, the XC60 handled with impressive confidence.
It would also be amiss of us to not highlight the car's pleasingly comfortable ride here. Shod in its standard 18-inch rims, our T6 test car proved far more authoritative and adept in dealing with surface undulations compared to the earlier T5 test car that came with the frankly ridiculous optional 20-inch wheels. Wearing standard-sized rubber, the XC60 rides firmly, but in a reassuring rather than brittle fashion. In this matter, our recommendation could not be more emphatic – say no to the 20-inch rims.


Verdict
Much like its bigger and soon-to-be-replaced XC90 sibling, the XC60 is a vehicle which we're always happy to recommend and that continues to be the case. It's a huge gap separating the T5 and T6 models, and if your budget only permits you to go for the lower model, no problem – it's not as if you're getting a significantly inferior product.
Ironically, the case for the T6 is more convincingly argued if one looks at the additional safety kit on display rather than the outright performance on tap. Let's face it, the T5's 245hp/350Nm outputs are more than enough for a family SUV; we initially reckoned that the T6's 306hp/400Nm may be too much power for its own good, but we're glad to find that there were actually no signs of the chassis being overwhelmed by the engine's impressive power. As a whole, it felt like a finely-honed machine.
For most buyers, we reckon that the T5 is more than adequate as a properly aspirational premium family SUV, but if you're tempted on splashing some extra cash on dressing it up with the optional extras, our recommendation is that the money would be better spent by putting it on the T6 instead.