All-new 2nd-gen Audi Q7 makes global debut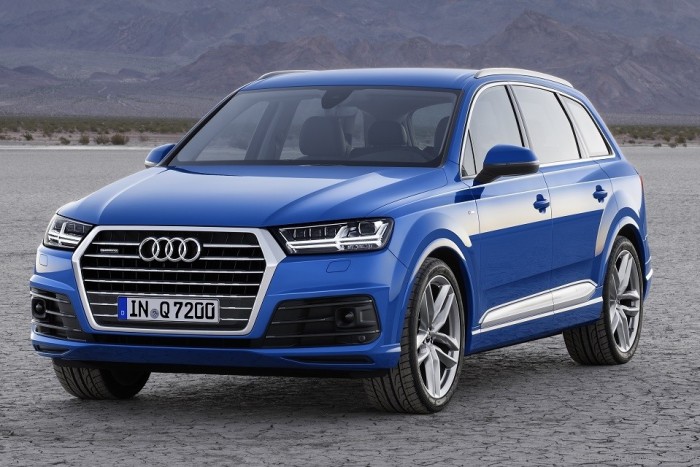 Audi's second-generation Q7 has been a long time coming, and it will finally hit the roads of Germany in the summer of 2015, to be progressively followed by introductions in other markets. First public appearance is slated for next year's Detroit Auto Show, although official pictures were released by Audi's global press office last weekend.
Based on the Volkswagen Group's MLB platform for longitudinal engine models, the new Q7 will once again share underpinnings with next generation models of the VW Touareg and Porsche Cayenne. Interestingly, outgoing Q7's lengthened product life cycle meant that the current second-generation models of the Touareg and Cayenne do not have a Q7 counterpart.
Extensive usage of weight-saving materials built into the new Volkswagen modular platforms sees the new Q7 shave as much as 325kg of mass compared to its predecessor. In 3.0 TDI guise, Audi claims that the Q7's 1,995kg kerb weight is lightest in its class – we checked, the BMW X5, Mercedes GL-Class, as well as the current generation Touareg and Cayenne all weigh more than 2,000kg in their lightest guises available in Malaysia.
The Q7's substantial weight loss is achieved by the utilization of advanced materials such as ultra-high-strength steel to form the passenger cell as well as cast aluminium extrusions in the front and rear ends. As such, the Q7's body structure alone accounted for 71kg of the claimed weight savings. Besides inevitably improving dynamics, the Q7's weight savings also translate into estimated reduction in fuel consumption by 28% in the petrol models and 23% for the diesels.
Launch specifications in Europe sees the Q7 debut with a pair of 3.0-litre V6 engines, both compliant to Euro 6 emission standards. Each engine is in turn offered with a choice between five- and seven-seater configurations. The turbodiesel TDI model has access to 272hp and 600Nm; this base version of the Q7 punches from 0 to 100kph in 6.3 seconds before maxing out at 234kph. Fuel consumption is rated at 5.7 l/100km; CO2 at 149 g/km.
The 3.0 TFSI petrol, meanwhile, features a supercharged mill delivering 333hp and 440Nm enabling it to hit 100kph from rest 0.2 seconds faster than the 3.0 TDI and achieve a higher top speed of 250kph. Fuel consumption and carbon dioxide numbers are predictably higher than the TDI's, being quoted at 7.7 l/100km and 179 g/km respectively.
A lower-powered more frugal version of the 3.0 TDI, rated at 218hp and 500Nm, is slated for later launch, whilst the US and Asian markets can also look forward to a 252hp/370Nm 2.0-litre TFSI engine. Finally, a diesel-electric plug-in hybrid variant, the Q7 e-tron Quattro, will complete the line-up with net system outputs of 373hp and 700Nm whilst consuming only 1.7 l/100km.
All variants of the new Q7 are fitted with an 8-speed automatic transmission as standard. Integrated into the transmission's housing is a self-locking centre differential that is the heart of the Q7's standard quattro all-wheel drive system. In normal conditions, the mechanical differential distributes torque with a 60% rearward bias, although it is able to vary between 70% front and 85% rear.
Adoption of the new MLB platform sees substantial alterations to the Q7's chassis architecture. The outgoing car's all-double wishbone setup is replaced with new five-link designs. Steel springs come as standard with adaptive air suspension offered as a cost option. On smooth highways, the air suspension lowers ride height by as much as 30mm; conversely it also raises an additional 60mm when the vehicle goes off-road. A sport version of the air suspension is also offered.
Also new in the Q7 is its electric power steering with speed-sensitive assist. It can be optionally mated with an all-wheel steering system that applies as much as five degrees of steering angle to the rear wheels. At low speeds, the rear wheels steer in opposite direction to the front wheels for improved agility; at higher speeds, they turn in the same direction for better lane-changing stability.
Pictures: Official Audi release.