Audi Q3 2.0 TFSI S line Test Drive Review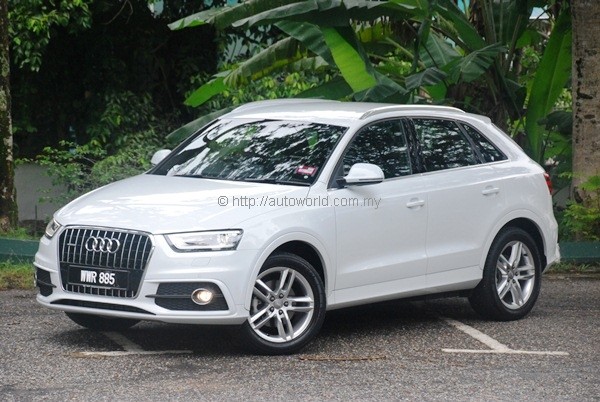 The latest piece in Audi's master game plan to dominate the premium vehicle market is the Q3, which sits in the compact SUV segment. Players in this niche are currently restricted to the BMW X1 and the Range Rover Evoque, although reports have recently emerged that Mercedes are planning to have a pop themselves with a new A-Class-based entry.
The Evoque's pricing and engine outputs push it well into Q5 territory, but its bodily dimensions correspond closer to the Q3's. This leaves the BMW X1 as the Q3's only genuine rival, although the Volvo XC60 T5 will be keen to pitch itself as an alternative with its relatively keen pricing offering a bigger body. Another option to consider, although the folks at Audi are probably keen to avoid the comparison, would be the Volkswagen Tiguan, whose underpinnings are shared with the Q3.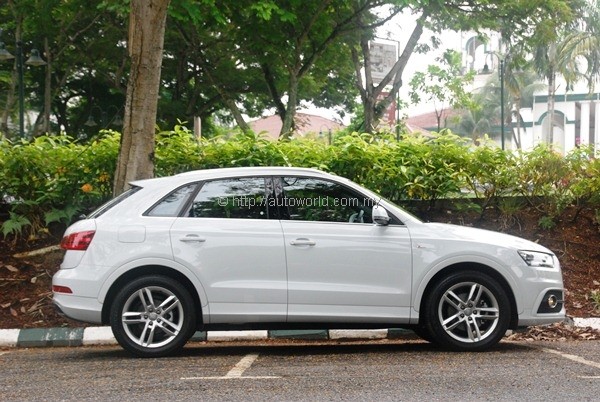 Mechanicals are shared with the Volkswagen Tiguan.

The relationship between the Q3 and the Tiguan shows platform sharing in the Volkswagen Group at its best. They look nothing alike inside out, but both use the same platform and, as far as the Malaysian market is concerned, they even feature the same engine and transmission combo. They are differentiated, however, by engine output, and with the Q3 getting less – 170hp versus 208hp of the Tiguan.
Unsurprisingly though, it is the Q3 that fetches a bigger price tag of RM258k without insurance – a full RM20k more than what VW asks for the Tiguan. If you order your car in S line trim as per our test car here, you pay an additional RM21k. The S line trim gets you a bodykit, 18″ rims (17″ for the standard model), and a slightly stiffer sports suspension. For those with conservative tastes, there is a case for giving this option a skip to enjoy better ride comfort instead.


Optional extras are few, and surprisingly affordable. The one which we most strongly recommend would be keyless access at RM3,000. In light of the current crime spree in Klang Valley shopping mall parking lots, this doubles up as a safety feature because that few seconds it takes to dig through your pockets or rummage through your bags for the key fob can make you a very vulnerable target.
In the engine room, the Q3 lives with a 38hp deficit against the VW Tiguan, but we are willing to bet that performance is not likely to be an issue with potential buyers. Even in its detuned 170hp format, the 2.0 TFSI engine is crucially not deficient in torque – 280Nm @ 1,700 – 4,200rpm – and is thus capable of moving the Q3 quickly enough that underpowered will never be an adjective that comes to mind. It's not a tarmac-burning setup for sure, but you certainly won't be left behind in a traffic light sprint.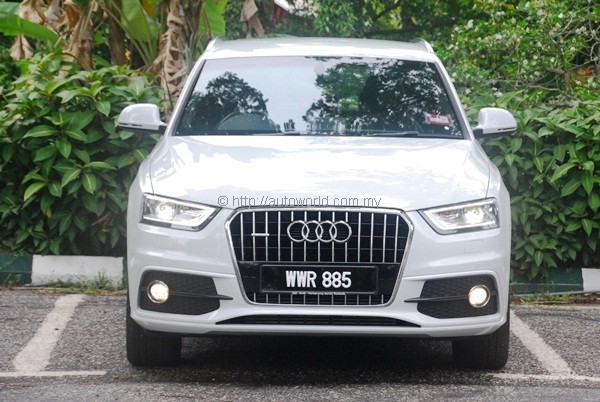 The Q3 wears the corporate look of current Audis.

This particular setup of the engine was developed with fuel efficiency in mind, and a number of measures that aid that cause are incorporated. Auto start/stop is standard, and we are glad to report that works rather smoothly. Managing the system is pretty easy, as it only kicks in when the driver exerts greater force on the brake pedal. So, if you don't want your engine going through repeated cycles of starting and stopping in a traffic jam, a little finesse with the brake pedal is all you need – or you can deactivate the system with a switch.
Vehicle behaviour can be adjusted using the Audi Drive Select system, which offers four distinct modes in the Q3 – Efficiency, Comfort, Auto, and Dynamic. It is important to note that the Q3 does not feature adjustable dampers, so the alternating between the four modes only alters engine mapping, transmission shift control, and steering weight. The 7-speed S-tronic transmission has a coasting feature which is active only in Efficiency mode. Essentially, this feature disengages the transmission when you lift off, allowing you to free-wheel and save fuel.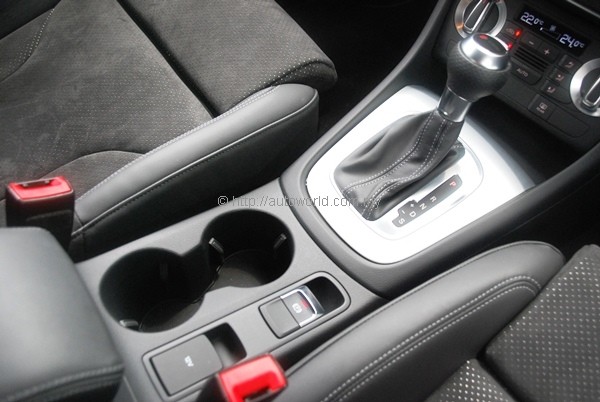 7-speed S-tronic transmission has coasting mode when Drive Select system set to Efficiency.
In all likelihood, qualities of greater importance to potential Q3 buyers will revolve around comfort and refinement, and here is where it also delivers its goods. It won't outhandle a BMW X1, but it is also significantly more comfortable and way more pleasant to live with on a day-to-day basis. Compared to the rock hard X1, the Q3, even in S line trim as tested, is much more pliant and we expect even better comfort levels with the standard model that does without the S line's sports suspension and bigger wheels.
The next aspect that you would wish to examine will be build quality, and true to form, Audi once again demonstrates a masterclass in cabin building. Buttons exude pleasant tactile sensation, and panels are tightly screwed with consistent gaps all around. The typical solidness of an Audi cabin was not amiss.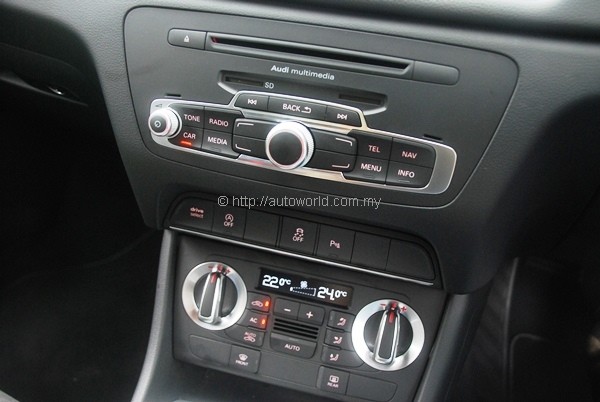 Lower half of dashboard is made of harder plastics than we expected.

Choice of materials is excellent, but not quite outstanding. Plastics moulded for the lower half of the dashboard was surprisingly hard by Audi's usual lofty standards though they still seemed durable. Make no mistake, this is still an excellent interior, but like it the class genius, once you are accustomed to scoring 100 marks in every test, 95 suddenly seems low. Overall, cabin quality is just about better than the Tiguan, and miles ahead of the X1.
On the whole, the Q3 is a competent little crossover SUV that does what's asked of it competently and without fuss. It ticks many of the right boxes for today's urban buyers – tall seating position merged with hatchback-like driving characteristics glossed with class and refinement. Its driving experience ultimately lacks sparkle, but on the whole, there is little to fault on the package. The VW Tiguan would be a more sensible purchase, but the Q3 makes a decent case if you want the added prestige, class, and refinement that comes with the Audi badge.


Further Details:
– Audi Q3 prices and specifications in Malaysia
– Audi vehicle prices and specifications in Malaysia