Isuzu FVR medium trucks enjoy strong demand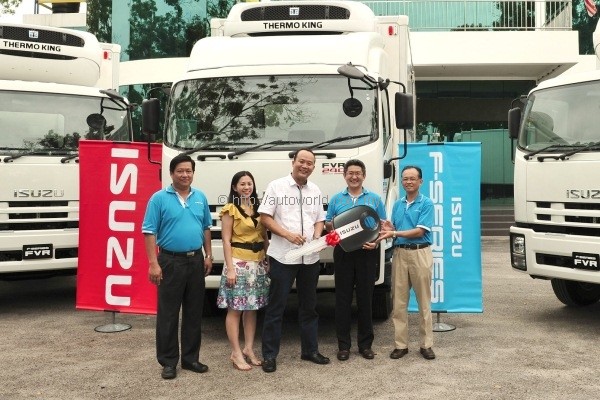 Isuzu Malaysia Sdn Bhd today reports that its recently-launched FVR medium trucks have been enjoying strong demand and well on course to achieve its 35-unit sales target for this year. Launched in April, deliveries of the new FVR have just commenced, and amongst early recipients of their vehicles were Integrated Cold Chain Logistics Sdn Bhd, who took delivery of three units recently.
According to Chief Operating Officer (COO) of Isuzu Malaysia Daisuke Ishida, bookings of the truck have been steadily increasing due to the product's strong features and its solid reputation for fuel economy and dependability.
"Numerous companies requested to view and test the FVR to gauge its suitability in their operations. The feedback from many of those who have experienced the vehicle have been positive with most of them impressed with the good build quality, easy maneuverability and strong engine performance. I believe that once this initial batch of vehicles begins to prove itself in service, more corporations will be convinced of the FVR's capabilities," said Ishida.
Commenting on the purchase of the Isuzu FVR, Managing Director of Integrated Cold Chain Logistics Kevin Lim said that the decision was based on the strong reputation of Isuzu and the good experience they enjoyed with previous Isuzu vehicles the company operated.
"In our business, dependability is everything. We have stringent KPIs to adhere to and if the new FVR is anything like the N-Series trucks we used to run, I am sure it will perform to our expectation and meet both ours and our clients' KPIs," said Lim.
The 18-tonne Isuzu FVR is assembled locally in DRB-Hicom's plant in Pekan, Pahang. It is designed for long haul operations and is powered by a Euro 2-compliant 7.8-litre turbocharged straight six with output figures of 237hp @ 2,400rpm and 706Nm @ 1,450rpm.
Picture: Official Isuzu release.