Three podiums for Proton in action packed weekend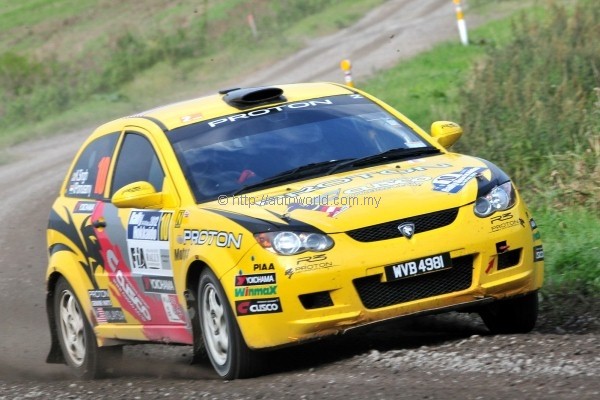 The long Malaysia Day weekend gave Proton plenty of reasons to celebrate with its cars recording podium finishes in three separate races held across the world. Close to home was the Malaysian Super Series (MSS) held at the Sepang International Circuit in Malaysia, with the World Rally Championship (SWRC) in Great Britain and the Asia-Pacific Rally Championship (APRC) in Hokkaido, Japan, being the other events participated.
In the SWRC, Tom Cave finished second in his Proton Satria Neo S2000 in the Super 2000 World Rally Championship. It was only the young Welshman's second outing for the Proton R3 Motorsports Rally Team, though he fared much better than team mate and championship leader PG Andersson, who was forced to retire from the first stage of the rally.
Returning the next day, Andersson was nevertheless able to recover some composure and netted to stage wins to finish the rally in six and thus extending his lead in the SWRC Championship by eight points ahead of Hayden Paddon and Craig Breen, both joint second at the moment. The rally was won by Ford Fiesta S2000 driver, Craig Breen with Yazeed Al-Rajhi finishing third in another Ford.
Over in the Land of the Rising Sun, the Proton R3 Cusco Rally Team monopolized the podium for 2WD category in the Asia Pacific Rally Championship (APRC) round of Rally Hokkaido 2012. Malaysian rally hero Karamjit Singh admirably overcame a puncture that cost him one and a half minutes of time to win the category in his 2WD Proton Satria Neo Group N rally car.
Coming in second in the category was Karamjit's team mate Akira Bamba, who also finished first in the APRC Junior Category and thus successfully defending his APRC Junior Championship title. Behind him was Malaysian junior driver Kenneth Koh, who finished 2nd in the Junior category and third in the 2WD category. The S2000 cars, however, had less to cheer about, as both Alister McRae and Juha Salo were forced into retirements.
At the Sepang International Circuit, Proton R3 Race Team mates Syafiq Ali and James Veerapen clinched the Malaysian Super Series (MSS) with a round to spare in the R3 Satria race cars competing in the Malaysian Touring Car Class 2 category. Veerapen recovered from an accident in lap 12 to finish fourth in the class and clinch the Championship with an unassailable 70 point lead.
Pictures:
– Rally: Official Proton Motorsports release.
– MSS: KON