10 Malaysians to enter finals of Subaru Palm Challenge 2012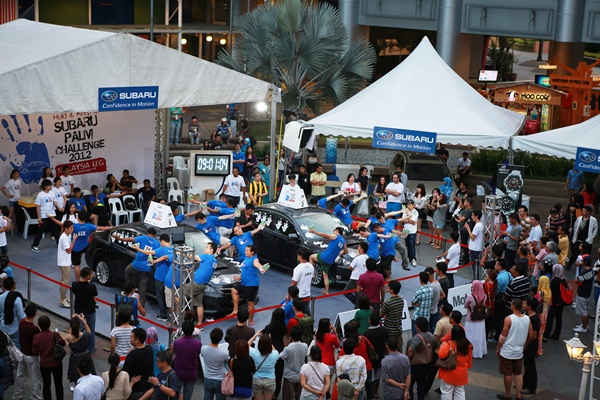 The annual Subaru Palm Challenge 2012 commenced last weekend at the Piazza, The Curve in Petaling Jaya, with hundreds of spectators witnessing the efforts of 62 Malaysians to win of ten spots to represent the country in the MediaCorp Subaru Challenge – The Asian Face Off finals to be held in Singapore on 27 – 31 October.
To recap, last year's Asian Face Off challenge was won by 42-year-old Singaporean Mr Chong Kiat Chi, who ousted 399 other challengers by lasting 75 hours and 36 minutes to take home the grand prize of a Subaru Impreza WRX.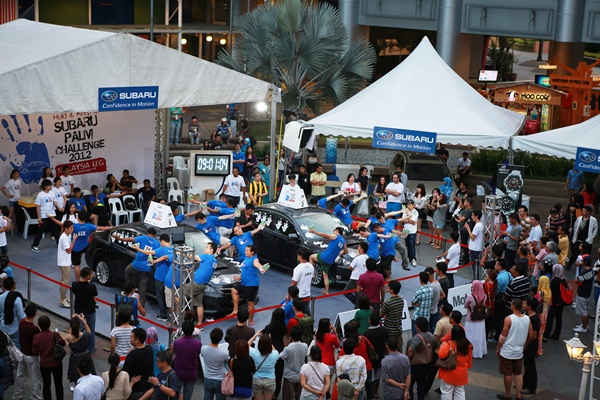 Contestants were queuing from as early as 6am to draw lots for their positions around the two cars on display, hoping for the best spot. Out of the 62 registered participants, 55 were male with the remaining seven being female. The challenge was managed by a total of 16 marshals, including two chief marshals, who ensured fair play throughout the event.
The challenge itself start at 10am, and it took nine and a half hours before the ten finalists were confirmed. Participants were required to place their right palm firmly on the lot drawn while completing all seven elimination rounds. On top of the elimination tasks, participants were separated into two teams based on the car they were assigned to. Teams then had to challenge each other by singing and rapping to win a bonus seven second break.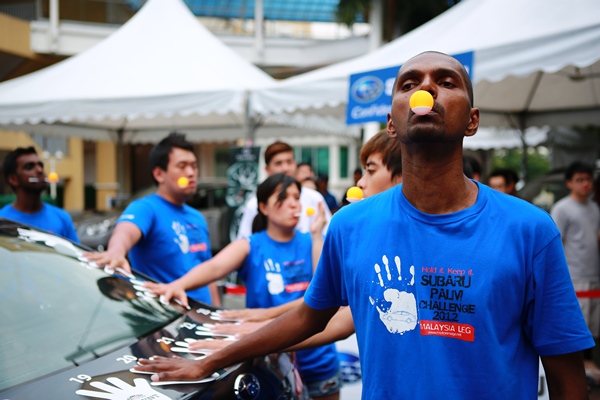 By the first elimination round at 1pm several participants had already given in to the heat, with the blazing sun wearing participants down even quicker. A further two elimination rounds were held at 2pm and 3pm respectively, in which participants had to stand on their left leg with their left arm vertically up.
A brief respite came at 4pm in the form of a 10-minute break during which participants were allowed to use the limited time for light refreshments (such as bananas, watermelon pieces and sandwiches prepared by Subaru) or to use the restroom during.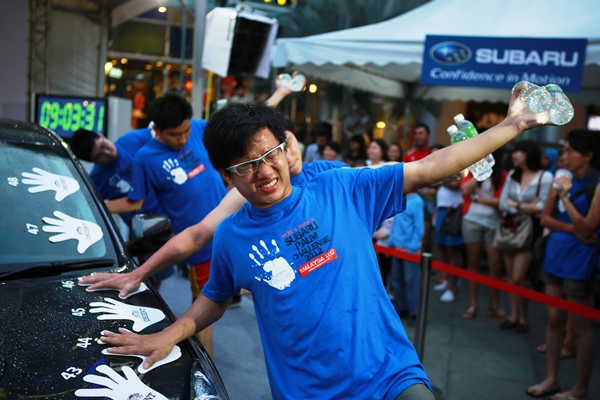 The game was upped after the break, and light showers at 4:30pm added further test to the resolve of participants. There were another four elimination rounds after that, and by the final elimination round, 17 male contestants and only one female contestant were left. For the final showdown, participants were required to balance two 500ml bottles of water 90 degrees horizontally with their left arm while standing only on their right leg.
After nine and a half grueling hours standing under the hot sun and rain, the last 10 standing had much to celebrate as this would be their ticket to Asian Face Off. The 10 Malaysian champions will compete against the 310 Singapore local contestants and 80 other challengers from across the region to win a brand new Subaru car.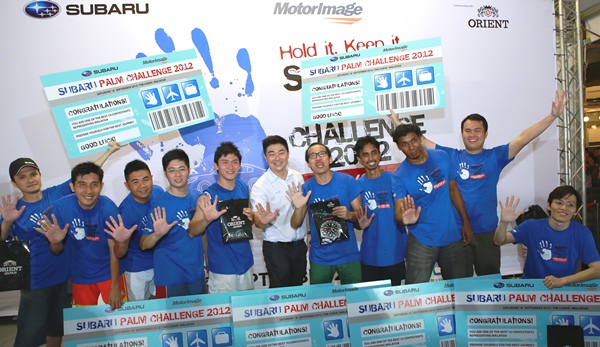 The 10 Malaysian leg winners received an all-expense paid trip to the Lion City from the 26th – 31st of October for the finals, a watch worth up to RM1,600 sponsored by Orient and Subaru merchandise which included a t-shirt, cap and toiletries bag, amongst other premium items.
Names of the ten finalists are:
1. Tan Hong Sheng
2. Dzul Fadly bin Ismail
3. Ganesan Thavasimuthu
4. Chang Wei Khang
5. Tan Yeo Chian
6. Tan Chuan Kok
7. Lee Hoong Kit
8. Tan Chuan Meng
9. Chan Hon Ki
10. Soh Kee Leong
Pictures: Official Subaru release.