Hyundai Sonata LF 2.0 Test Drive Review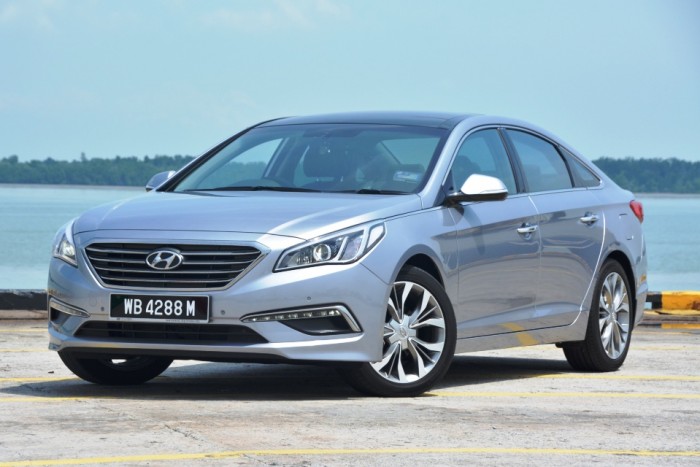 The Sonata is one of Hyundai's most recognizable products. The fourth-generation EF model launched in the early 2000s marked the start of a concerted push by Hyundai to slowly nudge its way into Japanese D-segment territory. At the time, it was shamelessly marketed as a budget choice offering a Camry-sized car at Civic prices whilst trumpeting its Jaguar-esque headlamps and Tiptronic-style automatic transmission.
Whilst the NF that followed was a competent, if forgettable vehicle, the 'Fluidic Sculpture' YF that came along in 2010 was the car that really made the world sit up and take note of Hyundai's growing stature as a manufacturer to be taken seriously. After just five years in action, the YF is pensioned off and replaced by the all-new LF, a model with which Hyundai harbours genuine ambitions to finally go toe-to-toe with the segment's best.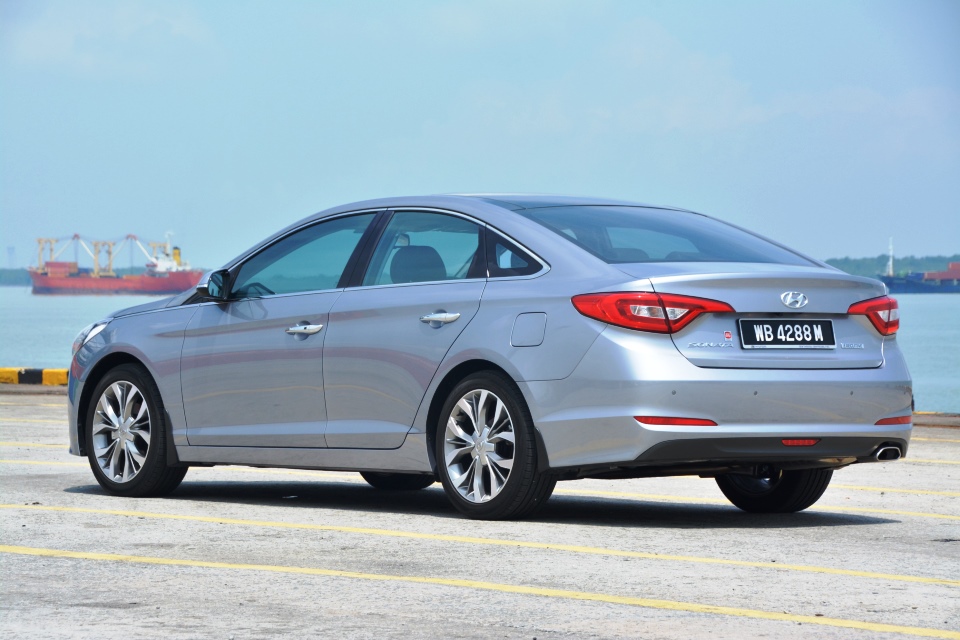 Prices & Variants
As with other models in the Hyundai range, the Sonata no longer competes solely on price these days. Three variants are on offer, and none of which undercut equivalent variants of their Japanese rivals by any significant margin.
For starters, you can get yourself a Honda Accord or Nissan Teana with less money than what Hyundai charges for the Sonata's entry-level Elegance B variant, which hits the road at RM143,440.41 with insurance and GST. You are getting a respectably-equipped vehicle for money, however, with daytime running lights, rear fog lamps, leather seats, tilt & telescopic steering, electric driver seat adjustment, rear air-con vents, keyless entry, and electronic stability control. We'd like more than two airbags, though.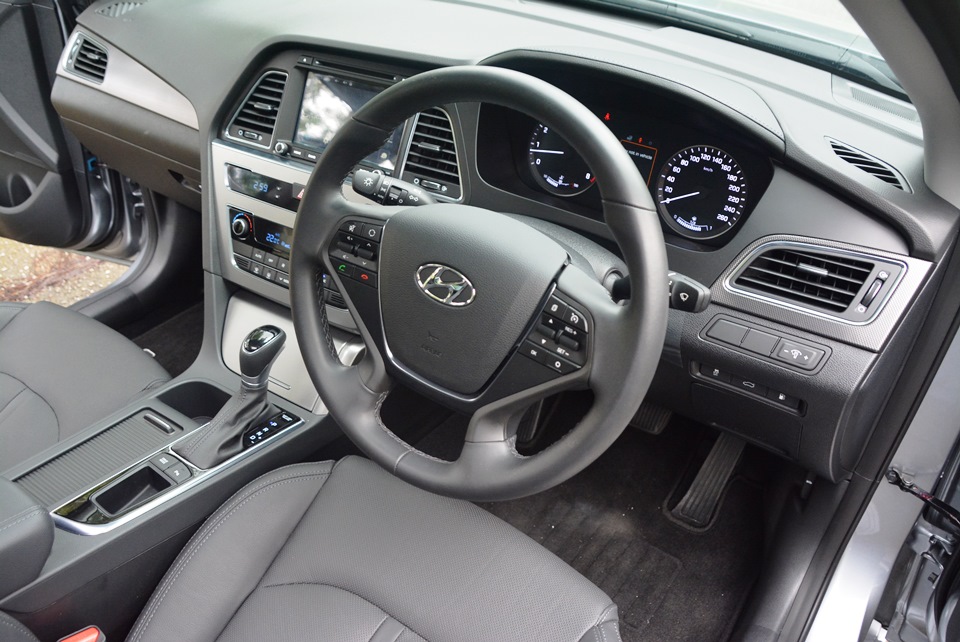 Typically, the mid-range model comes across as the most sensible choice on paper; for RM149,860.60, which is roughly the ballpark of the Accord and Teana in their mid-range guises, the Elegance B variant adds 6 airbags, Super Vision instrument cluster with 4.2-inch colour LCD trip computer, a factory-fitted Android touchscreen system (more on this later), front parking sensors, reverse camera, and a locally-fitted in-car camera.
Topping the range is the RM158,068.60 Executive model as tested in this review. In line with its top dog billing, the variant exclusively gets 18-inch alloy wheels, bi-xenon headlamps, active cornering lights, electric front passenger seat, and panoramic sunroof. For comparable money, your alternatives include the Toyota Camry 2.0G and Mazda6 2.0 SkyActiv-G, both of which offer more advanced powertrains featuring direct injection technology.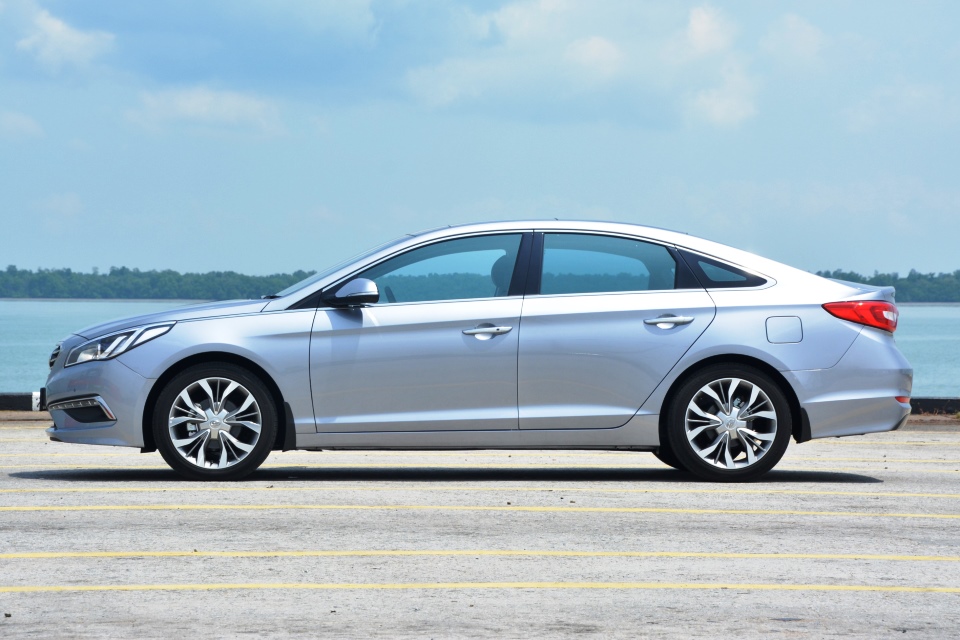 Specifications
The new Sonata LF is a clean-slate redevelopment from its YF predecessor. A little more than half its body work is comprised of high strength steel, contributing to a chassis which Hyundai understandably claims is significantly stronger than before. Suspension architecture continues to boast an all-independent set up, but steering assist follows the seemingly natural progression in switching from hydraulic to electric.
Engine is carried over from the predecessor model, however, with the naturally-aspirated 2.0-litre four-cylinder Nu engine introduced during the YF's mid-life facelift in 2013 now being offered as the LF's sole powertrain option. Mated with Hyundai's in-house 6-speed automatic transmission as standard, the all-aluminium powerplant with port fuel injection and dual variable valve timing generates 152hp @ 6,200rpm and 194Nm @ 4,000rpm, a significant drop from the YF's 161hp and 194Nm.
Whilst these remain entirely adequate outputs in the context of the Sonata's segment and price range, where qualities such as refinement and comfort are given distinctly greater priority over outright performance, questions need to be asked on why the engine catalogue is not further widened – more powerful versions of the Sonata exist elsewhere in the world, and would certainly expand its appeal to the upper reaches of the market.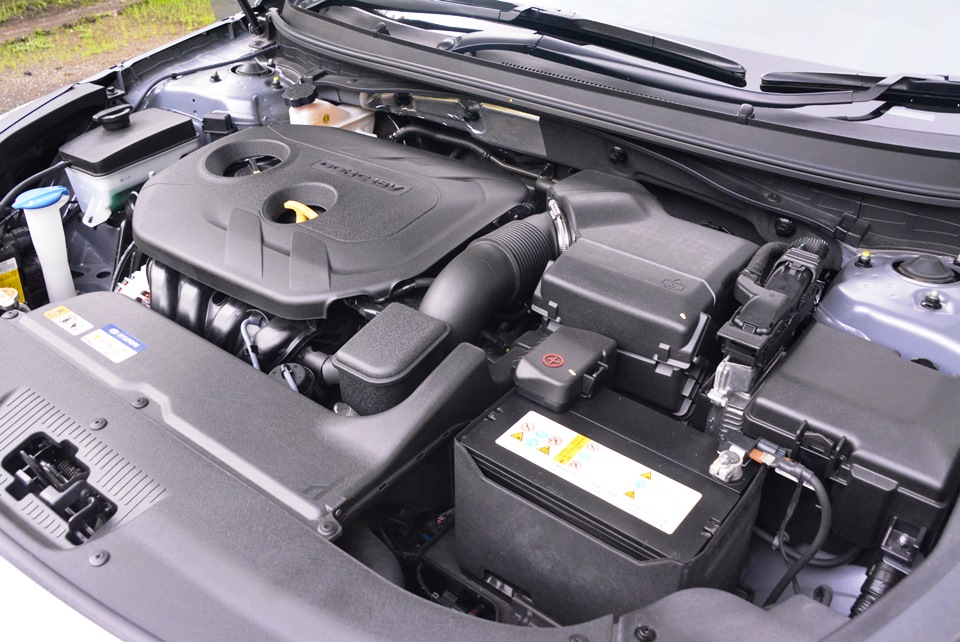 Exterior
Having leapt from the inoffensive yet unimaginative NF of 2004 to the expressive yet polarizing 'Fluidic Sculpture' YF of 2010, Hyundai appears to have found a happy medium between the two extremes with the LF here. Official company lingo calls it 'Fluidic Sculpture 2.0′, and the effect is a more matured and resolved evolution of the YF's styling.
As mentioned earlier, smart keyless access is standard across the board, and accompanying this essential facility is the equally thoughtful Smart Trunk feature, offering the convenience of handsfree opening of the bootlid. Unlike similar systems, Ford's implementation comes to mind, Hyundai's version requires no waving or kicking action – just stand behind the car with your key fob present, the boot pops open on its own after three seconds.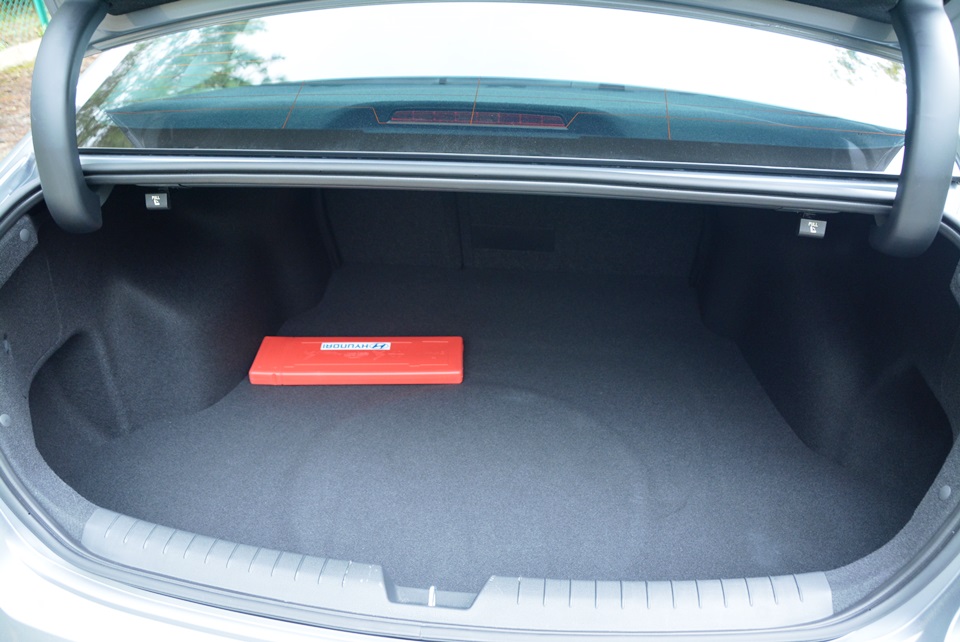 Interior
There generally isn't much that goes wrong in Hyundai cabins these days, and the Sonata is no exception. It offers spacious accommodation and manages to cover the relevant basics of ergonomics without looking dull and dreary in the process. Like many recent Hyundais that seemingly try to cater to European tastes, the Sonata's indicator stalks are placed on the left of the steering column.
Selection of materials are on par with segment standards, while controls are laid out in an efficient and intuitive manner. The wide centre console is also well compartmentalized to accommodate small items, namely keys and mobile devices. Cupholders are average-sized, however, and will not accommodate anything with diameters wider than a regular soda can.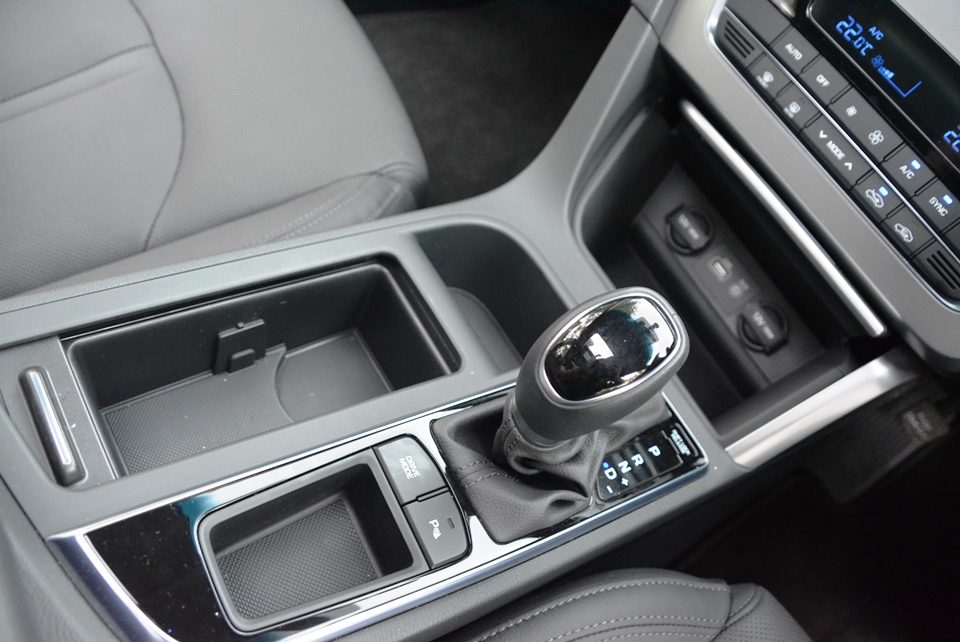 A notable selling point of the cabin is its Android-based centre touchscreen. Being factory-fitted from Korea, its superior integration to the vehicle is immediately noticeable upon operation. Link it to your phone, it is as good as a tablet with data connection. I was especially pleased to finally have an in-car touchscreen which supports Waze (which you'll have to download from Google Play), but that joy proved shortlived – the unit simply refused connecting with my phone's data tethering after our second day with the test car. Conceptually, we'd say this unit offers a near-ideal in-car entertainment solution for our times; in reality, there are a few bugs to sort out. It would be fantastic if the unit could accommodate a data SIM card on its own and not be reliant on tethering for its Internet-based functionalities.
Stepping out of the cabin, we noticed that the doors of our test car opened without giving out a 'pop' or any form of tactile feedback as you pull the latch from inside. It moves ajar slightly without giving out any noise or sensation – it feels almost as if as the door did not respond to your action of opening it. We have yet to try out another vehicle, but on our test car, this characteristic was consistent with all four doors.
Driving Experience
There certainly was plenty of room from which the Sonata YF could have improved upon with regards to its driving experience, which was underwhelming in both performance and dynamics. An on-paper reduction of 9hp from the YF hardly sounded like a promising start in this respect, but in reality the engine feels smoother on the move, and the automatic transmission accordingly better calibrated.
Where the YF used to feel strained and thrashy at higher revs, the same engine is now quieter across the range and pleasingly happier to be worked. It is far from being the segment's benchmark powertrain, but a definite improvement from the predecessor and is crucially not dreadful to use. Performance is satisfactory when taken in context, but we need to once again ask the question on why a higher-powered alternative is not offered at least as an option.
Better balance is obvious in the ride and handling department too. Lessons from the YF were evidently taken to heart and the result is that the Sonata LF steers with far greater confidence and composure than its predecessor. Damping feels spot-on with and the Sonata rides over poor surfaces with pleasing dignity and authority. We must commend on its excellent suppression of noise as well – even if the Sonata is not the most dynamic car for the money, it is a very pleasing place to be in for long journeys.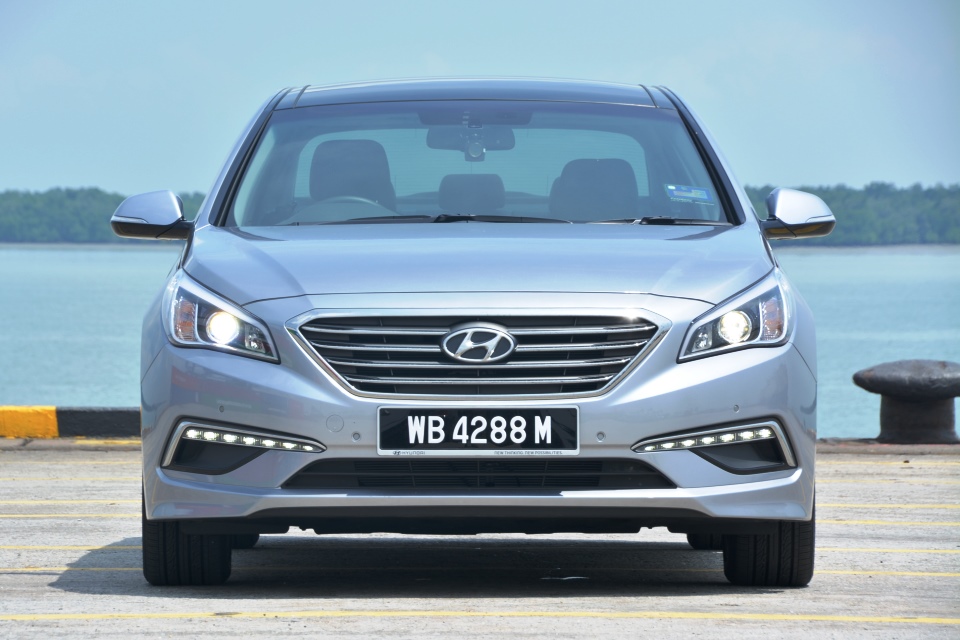 Verdict
The new Sonata is a highly commendable product, one that manages to be greater than the sum of its parts. On paper, it seemed to move on little from the YF, but the reality is that Hyundai has focused much of its attention on honing the LF's refinement, and the result is a driving experience that feels more satisfying and cohesive than what its predecessor managed.
In many ways, the LF is an opposite product to the YF. Whilst the predecessor model had looks that promised more than its moving gear could deliver, the LF delights by under-promising on paper and over-delivering on the road.