Home
Motorsports
Porsche 919 Hybrid full-sized mock-up to be auctioned for charity
Porsche 919 Hybrid full-sized mock-up to be auctioned for charity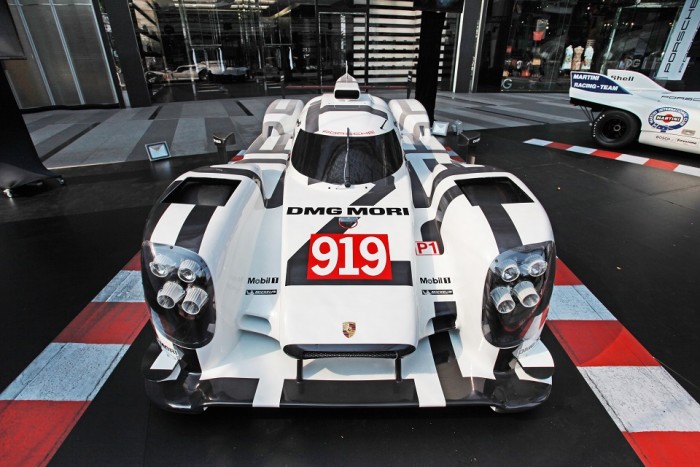 Fancy owning a piece of Porsche's motorsport heritage? Your chance to do so is here at a relatively attainable price and with the very happy coincidence that your money will benefit a charitable cause in the process.
From today, 8 June, until this coming Sunday, 14 June, interested bidders can visit http://www.919hybridauction.com and submit their bids for a full-sized 1:1 scale replica of the Porsche 919 Hybrid racer. Only 13 of these mock-ups were made by Porsche, and the unit being auctioned will be the only one that will be sold for private collection.
Bidding starts at SGD10,000, and proceeds will go to SportCares, a Singapore-based charity that works on various sporting initiatives to empower various people such as underprivileged children, at-risk youth, needy seniors, and the disabled to better lives.
Conclusion of bidding will coincide with the end end of the 24 Hours of Le Mans race where Porsche is competing with three 919 Hybrid race teams and 120 team members, in front of 2,500 media representatives from 49 countries and 270,000 spectators will be on site.
Martin Limpert, Managing Director of Porsche Asia Pacific, said, "It is an amazing honour to have the rare 919 Hybrid mock up car brought to the region, creating awareness of our comeback to Le Mans in 2014, as well as to emphasize our strong roots in motorsports – our spirit. Porsche is engaged in motorsports out of principle, rather than pride. Racing is the laboratory of our vision. The 919 Hybrid replica visited six countries in our region in almost a year and has been well received by Porsche enthusiasts and fans. Now we would like to do more for the society and hope that the 919 Hybrid auction will generate funds to help the ones in need."
Pictures: Official Porsche release.