Hyundai Sonata 2.4 – Challenging the status quo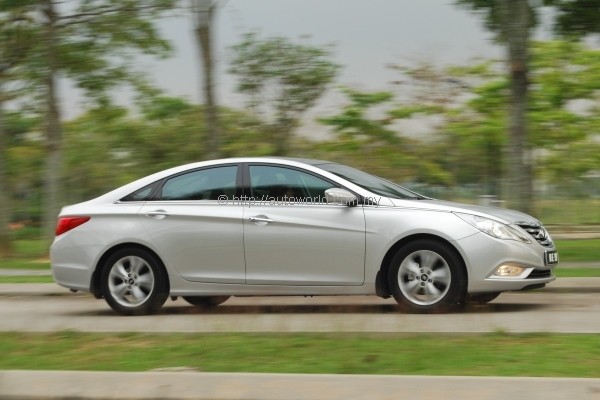 Korean cars can never seem to run away from cliches. About a decade ago, jokes on Korean cars cover everything from poor build quality, high fuel consumption, expensive parts, to poor resale value. Once upon a time, buying a Korean car almost had a stigma attached to it. Your smart alec relatives will always have to ask why didn't you buy a Japanese car instead.
These days, however, the commonly associated cliche on Korean cars makes for more pleasant reading if you're on the payroll of Hyundai or Kia. Quite simply, you can't get past reading a Korean car review these days without reading about how the current crop of Korean cars are massively improved over that of the previous generation.
In many markets, Hyundai and Kia are sitting either on par or on top of Honda, Toyota and Nissan already. Confidence in the Hyundai camp is at an all time high, and it is backed by an irresistible momentum that is fueling impressive improvements in their cars.
The progressive improvements made by Hyundai and Kia have long since seen their cars match the Japanese in terms of reliability and to a certain extent, build quality. It is only in recent years, however, that they are catching up in terms of design, refinement, and most importantly, brand image.
It is on the backdrop of this strong surge that Hyundai unveiled the sixth-generation Sonata last year. Malaysia was among the first recipients of this model in right-hand drive guise when it was launched in June 2010.
Prices & Variants – How the D-segment shapes up
In what we see as a clear attempt to match the Accord and Camry blow-for-blow, Hyundai sells the Sonata in three variants – 2.0 Standard, 2.0 High Spec, and 2.4 – almost exactly mirroring Honda and Toyota's offerings. Model-for-model, the Sonata undercuts the Camry and Accord equivalent and adds more equipment to boot.
Prices for the Sonata start at RM135,888, which gets you the entry-level but hardly skimpy 2.0 Standard that comes equipped with dual airbags, semi-leather seats, 17″ alloys, auto cruise, iPod connectivity, rear air-conditioning and electric folding mirrors. A 2.0 High Spec variant sits in between, but at the higher end of the spectrum is the 2.4-litre model that goes for RM163,888.
Nissan's addition of the Teana to the mix complicates matters somewhat for the Sonata. Not only does both the Teana 2.0-litre variants almost match the Sonata 2.0, the Teana also offers a 2.5-litre V6 engine at less than RM5,000 more than the Sonata. Fortunately for Hyundai, however, Nissan's opening prices for the Teana are introductory and Edaran Tan Chong Motor Sdn Bhd have indicated that prices will eventually be revised upwards.
The Test Car
Our test car for this review is the top spec 2.4-litre model, which clocked nearly 12,000km of mileage since entering service as HSDM's official press demo car over four months ago. This is, however, not our first encounter with the Sonata. We were there for the Sonata / Tucson media drive to Malacca in August, and HSDM also provided us with another unit of the 2.4 for judging in our CIMB Autoworld Car of the Year Awards 2010 road tests.
At the four corners, the car is shod with 215/55 R17 tyres, but unlike units delivered to customers which will wear Hankook or Kumho rubber, our test car came with Michelin Primacy LC tyres. No official explanation was offered for this discrepancy, although we expect only slight differences in our impressions compared to having the Korean tyres to evaluate the car in.
The Overall Package
As before, the number one key selling point of the Sonata is value; bang-for-buck. Most equipment offered at the least money. Unlike last time, however, this latest iteration of the Sonata throws stunning good looks into the package as well. Its bold design lines instantly make all its D-segment rivals look boring and square.
And there's more to it than just looks. Step inside, and you'll be greeted by a similarly well-designed cabin with well thought-out ergonomics and excellent build quality. Close visual inspection shows up some budget considerations, but materials still feel good to the touch. The dashboard's top piece, in particular, looks nastier than it is to touch.
As mentioned earlier, there is a generous offering of kit on board, especially if you opt for the top-spec 2.4-litre model as per our test car here. Stuff exclusive to this variant are power adjusting front seats, auto-leveling HID lamp, and single-zone automatic climate control. In addition, there is also ESP with Hill Assist Control, panoramic sunroof, and push-button start. Surprisingly, Bluetooth connectivity is omitted.
In the engine room of our Sonata 2.4 test car is the now-familiar 2,359cc Theta-II Dual CVVT powerplant which churns out 176hp @ 6,000rpm and 228Nm @ 4,000rpm. In our market, the Theta-II also sees action in the Tucson, Santa Fe, as well as the upcoming Kia Sorento. It also shares the same block as Mitsubishi's 4B12 engine found in the Lancer Sportback, rated at a lower 168hp/226Nm. Paired with the Theta-II is Hyundai's in-house developed 6-speed automatic transmission said to be maintenance free under normal usage.
On the Road
Thus far, the Sonata's package appears promising, and the way it looks further heightens your anticipation as you get behind the wheel. Put the lever to 'D', move off, and you will immediately be impressed at the serene peacefulness of the cabin. Although top end refinement is not the Theta-II's forte, at the low-to-mid range, the engine spins relatively quietly with minimal intrusions of noise into the cabin.
The engine provides more than enough grunt to make brisk progress, and because of the extra oomph, the transmission does not hunt like how it sometimes does with the 2.0-litre model. Straight line pace is not what the Sonata lacks; it has more than enough in reserve for you to drive deep into radar-gun-beeping territory.
Show it some curves or imperfect roads, however, and faults begin to show up. Among the three NVH elements – noise, vibration and harshness – Hyundai was able to successfully nail the first two, but there remains a degree of harshness in its ride. To some that may hint at a sporty-biased chassis tuning, but then you will also soon find out that hard driving is not the Sonata's forte either. Push it hard at a corner, and you will find understeer setting in way too early for comfort.
In honesty, the Sonata rather missed the mark in terms of its driving dynamics. The argument that ride and handling is not Hyundai's forte does not exactly hold water either, because other Hyundai cars that I've tested recently – i10 1.25, i30 and Tucson all handled rather well. The i30 2.0 in particular, was a joy for me to drive, and it is most unfortunate that Hyundai was not able to replicate that new-found prowess with the Sonata.
Conclusion
Faultless the Sonata is not, but let it not detract from the fact that this is still a vastly improved model over its predecessor. There are still faults and bugs for Hyundai to iron out for the Sonata to be a true Japanese beater, but Hyundai certainly deserves the plaudits for being one of the most improved manufacturers in recent years.
Though they remain ahead, the Japanese should remain mindful that the gap between them and the Koreans is no longer as big as it used to be. If Hyundai maintains the same rate of progress, the next generation Sonata will really be a force to be reckoned with. In the present, however, the latest Sonata did not hit the bulls-eye, but believe us, this was a very narrow miss.