Peugeot 308 CC to kick-start 2011 for Nasim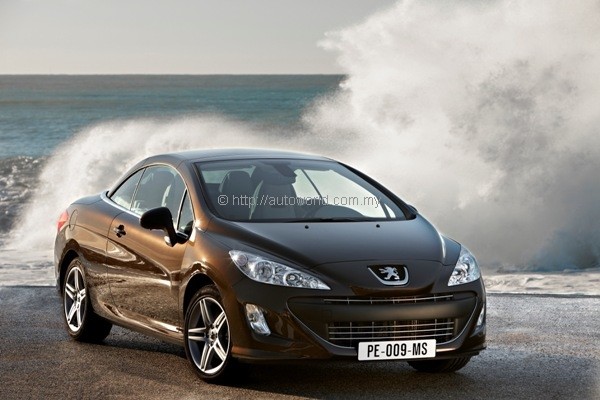 Nasim Sdn Bhd, official distributor of Peugeot in Malaysia, is planning another busy year ahead, with three new models set for launch in 2011. First of the three, to be launched on 6 January 2011, is the 308 CC two-door convertible. Indicative pricing is in the region of RM200k, and the car will be featured at a Nasim roadshow to be held at Bangsar Shopping Centre on 7-9 January 2011.
"Our previous coupe cabriolet, the 207 CC, was the market leader in the segment and we believe the new 308 CC will be just as popular in this niche market," said SM Nasarudin SM Nasimuddin, CEO of Nasim.
"Peugeot was the first carmaker to introduce the coupe cabriolet with the 401 in the 1930s and the new 308 CC further reinforces Peugeot's position as a market leader in this segment," Nasarudin added.
Like its run-of-the-mill 308 hatchback sibling, the 308 CC features generous levels of equipment, starting with dynamic directional xenon headlamps, LED rear lights, and 18-inch alloy wheels on the outside. It also has a two-piece electrically-operated hard-top with a folding time of 20 seconds.
Inside, the leather-clad interior offers a retractable high resolution 7-inch screen, JBL Hi-Fi system, dual zone air-conditioning and electric front seats with memory functionality for the driver. Six airbags are available in total, with the side head airbags housed in the seat deployed laterally from the head restraint.
The drivetrain on offer is the familiar 1.6-litre BMW-PSA engine with direct injection and twin-scroll turbochargers offered in the 156hp / 240Nm state of tune as per the 3008, 5008 and the recently updated 308 Turbo. Like the aforementioned cars, the 308 CC also gets the Aisin-supplied AT6 6-speed automatic transmission with Tiptronic software.
Pictures: Official Peugeot release.