New Hyundai Sonata facelift for 2013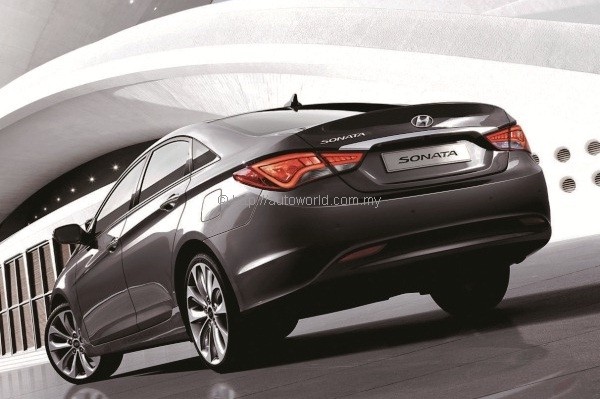 Hyundai's challenge in the D-segment has been renewed with a newly-facelifted Sonata YF ready to once again crank up the pressure on the established Japanese players. The new 2013 Sonata features updated looks, a mildly-revised dashboard, additional equipment, and also a new engine for its 2.0-litre variant.
From the outside, observers can identify the new Sonata by its revamped front grille, new wraparound LED-illuminated tail lamps, and new front fog lamps. The 2.4-litre variants get cat-eye shaped HID headlamps with additional LED lights incorporated into the front fog lamp assembly. Design of the alloy rims have similarly been revised, and they are upsized in the 2.4 to measure 18 inches across.
Inside, Hyundai has reconfigured the dashboard controls and added deep blue LED backlights to improve overall ergonomics. Dual-zone climate control has been added to the 2.4. A notably useful feature, although one might hope never having to call upon its services is the Lukas Blackbox Veideo Recorder which provides real time visual recording of the situation in front of the car. This feature will prove immensely useful in settling road accident disputes.
Perhaps the biggest news with regards to the new facelifted Sonata is the introduction of the new 2.0-litre Nu engine to replace the previous Theta II of identical capacity. The Nu engine is 30% or 33.6kg lighter than the Theta II and is claimed to be 1% more fuel efficient. Quoted outputs for the new engine are 161hp @ 6,500rpm and 194Nm @ 4,800rpm, compared to the Theta II's 165hp and 198Nm. The 2.4, meanwhile, retains its 2,359cc version of the Theta II.
Safety-wise, Hyundai packs six airbags into the 2.4, although the 2.0-litre variants make do with only two. The 2.4 also gets Amplitude Selective Dampers (ASD), which Hyundai claims to offer a smoother ride and sharper handling, and stability control with hill start assist, the latter feature also offered in higher-specced versions of the 2.0.
The pricing for the Hyundai Sonata Facelift 2.0L and 2.4L variants are as follows:
– 2.0L Elegance – RM137,888 (OTR)
– 2.0L Executive – RM145,888 (OTR)
– 2.0L Executive Plus – RM149,388 (OTR)
– 2.0L Sport – RM151,888 (OTR)
– 2.4L Premium – RM173,888 (OTR)
– 2.4L Sport – RM176,388 (OTR)
*Pricing is valid only for Peninsula Malaysia and is inclusive of insurance and road tax
HSDM offers a 5-year or 300,000km (whichever comes first) extended warranty on all its new passenger vehicles. Hyundai's extended warranty is in accordance to its manufacturing warranty. A 24-hour road assist service is also now available to new and existing Hyundai vehicles.