New 2.0 TFSI to debut in next-gen Audi A4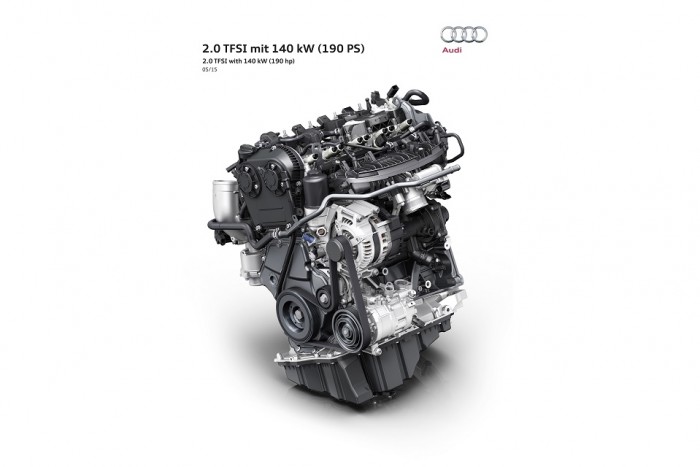 Among the highlights of the next generation Audi A4 due to be unveiled globally this year will be a new 2.0-litre TFSI engine that is able yield fuel consumption better than 5.0 l/100km whilst still generating 190hp and 320Nm. The new engine is being showcased at the Vienna Motor Symposium and the new A4 will be the first model to receive it.
Carrying Audi's familiar 1,984cc displacement, the turbocharged four-cylinder engine owes its diesel-like combination of economy and outputs to adjustments of its combustion cycle that sees the inlet valve closing earlier than usual – before the piston reaches its bottom dead centre position.
Instead of the usual 190-200 degree crank angle, the new Audi engine operates on a 140 degree intake time, which is lengthened to 170 degrees by the Audi Valvelift system in high load conditions. Audi claims that this shortened intake time lowers medium pressure in the cylinder allowing the engine to run on a higher compression ratio. Optimal charging is achieved by increasing boost from the turbocharger.
Fuel system runs on direct injection complemented by additional port injectors used during part throttle load for more efficient air-fuel mixture formation.
Dr. Stefan Knirsch, Head of Engine Development at Audi, says, "The new engine enjoys the consumption benefits of a downsizing engine in partial load operation, while at higher loads it has the advantages of a large-displacement engine. The result is optimal efficiency and performance characteristics across the entire engine speed range."
Currently, the Audi A4 in Malaysia is available with a choice of 1.8- and 2.0-litre TFSI engines. The 1.8 generates 170hp and 320Nm; mated with a CVT and front-wheel drive, this variant has rated consumption of 5.8 l/100km. The 2.0, meanwhile, makes a more potent 225hp and 350Nm; mated with a 7-speed dual clutch gearbox and carrying the burden of all-wheel drive, its consumption is rated at 6.7 l/100km.