Audi A4 1.8 TFSI Test Drive Report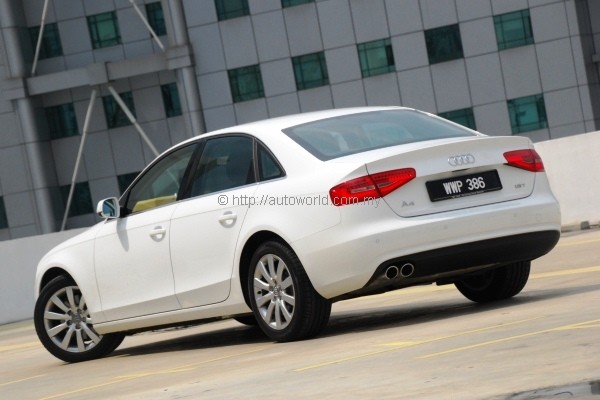 To most manufacturers, the mid-life facelift of a model is a relatively inexpensive way of injecting freshness into their line-ups. It is sensible too. Three years, which is the average time it takes for a facelift to occur, is too short a time for a model to be fully replaced as much of its design remains relatively up-to-date. Why would you still want to ditch something usable?
Yet, fickle-minded consumers are always in want of the newest thing, so if a product is not entirely new, it stands a better chance of raking sales if it at least appears new. Car makers take facelifting exercises to varying degrees, from purely cosmetic, to value-added features, to extensive technical alterations. The price tag correspondingly inches a few thousand upwards.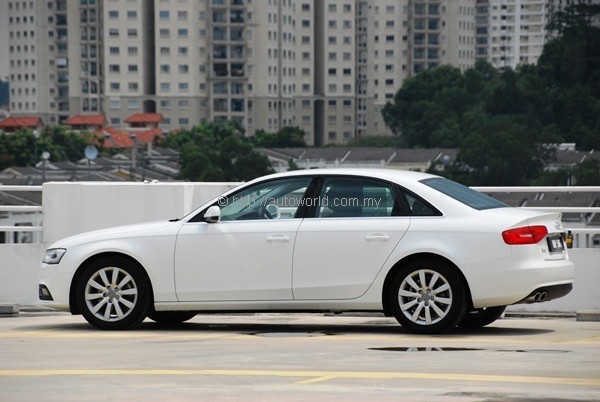 A4's shape is clean, handsome, and should age well.

The current generation Audi A4 has been in the market for nearly four years, and right on cue comes the facelifted version which we are reviewing here in its base 1.8 TFSI guise. First bit of good news is that local distributors Euromobil has kept the price tags of both variants unmolested, and as far as the 1.8 is concerned, buyers even get to enjoy an uprated engine.
Price of the 1.8 TFSI variant is listed at RM235,000 on the road in Peninsula Malaysia without insurance, but our test car, which is trimmed with a higher grade Milano leather inside, is worth RM239,000, and all of Euromobil's stocks are ordered in this configuration as standard. You can do with the standard hide, but it will be on a per order basis.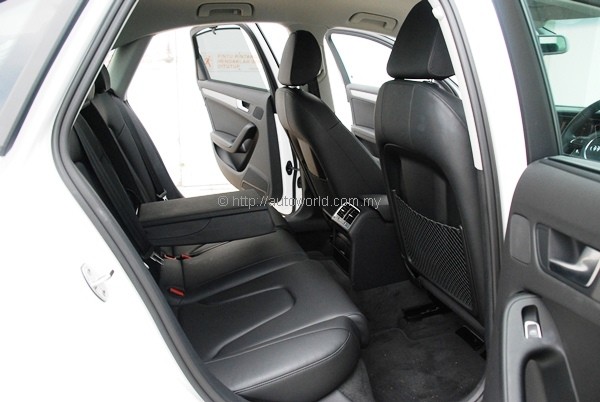 Rear passenger room.

Some 75% of A4 sales in Malaysia is accounted for by the 1.8, and despite a vast difference in price tag, equipment deficit against the 2.0 TFSI is rather small. You'll have to do without the S-line kit, keyless comfort access, tyre pressure monitoring system, four side airbags and audio from Bang & Olufsen. The RM75k difference between the two variants then, is largely used to pay for the bigger 2.0-litre engine, S-tronic dual clutch transmission, and quattro all-wheel drive.
A quick run-through of the A4's equipment in 1.8 TFSI guise reveals Xenon headlights, LED daytime running lights, triple-zone climate control, electric rear blinds, immobilizer, ABS, EBD, traction control, stability control, ISOFIX mounts, electronic parking brake, auto lights and wipers, and cruise control.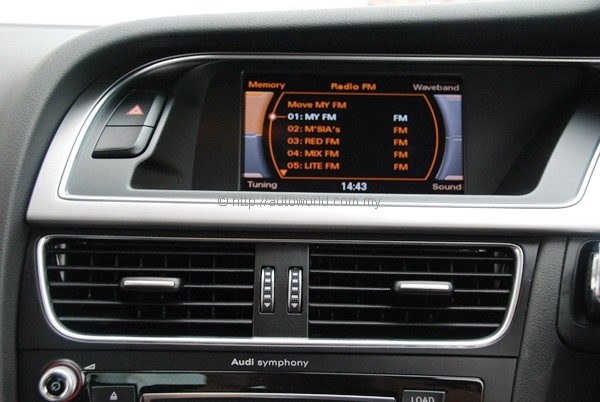 Basic MMI unit has no sat nav.

Whilst the 2.0-litre model continues to use the Golf GTI's 211hp engine, the 1.8 mill tested here has received significant tweaks, boosting outputs from 160hp and 250Nm to a heady 170hp @ 3,800 – 6,200rpm and 320Nm @ 1,400 – 3,700rpm. Fuel economy is rated at 5.8 l/100km and carbon dioxide emissions have been slashed by an impressive 21%. The engine incorporates auto start/stop technology, and having tested the BMW's handiwork with this technology as well, we can testify that Audi's start/stop system is smoother and less obtrusive.
In fact, the word 'smooth' pretty much summarizes the A4's driving experience as a whole. The engine and transmission combo is a text book example on how to get a CVT right. The engine's healthy spread of torque from down low allows the vehicle to build up speed using minimal revs. Refinement, needless to say, is top notch, and you don't really feel the annoying rubber band effect that is typical of CVT-equipped vehicles.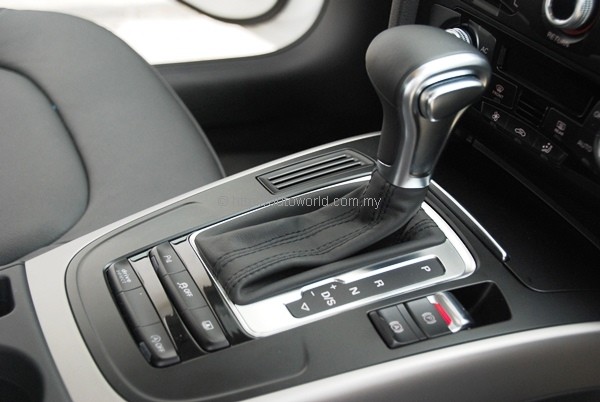 Multitronic CVT has 8 virtual ratios.

Ride and handling is competently sorted out, and it must be noted that Audi has grown increasingly skilled in dialing out the inherent nose-heavy handling characteristic from the dynamic repertoire of its cars. There is also a good balance in pliancy and firmness with regards to its ride quality, so you get a car that is stable at high speeds and does not jolt your passengers at every road imperfection.
No review of an Audi would be complete without a mention of its interior, and once again, the folks at Ingolstadt have demonstrated an expertise in building cabins that is light years ahead of its closest rivals. Even the hardest grade of plastic used on the dashboard feel solid and good to the touch, giving you an unmistakable feeling of quality. There is a wonderful sense of occasion about the cabin, with every button and knob exuding superb tactile feel.
The A4 still loses out to the BMW 3 Series in terms of its dynamic repertoire, but take corner sweeping abilities out of the picture, the Audi immediately becomes a very attractive preposition. Cabin quality is one area where Audi takes a clear lead over not just BMW but all of its rivals in general – it looks the most expensive, yet it is priced the cheapest. There are still good reasons to buy the C-Class or 3 Series, but here in the A4 is one good reason why you shouldn't be so quick to sign on Mercedes or BMW's order books.


Further Details:
– Audi A4 1.8 TFSI price and specifications
– Audi vehicles' prices and specifications in Malaysia
– List of official Audi branches and dealers in Malaysia.