New BMW dealership opens in Setia Alam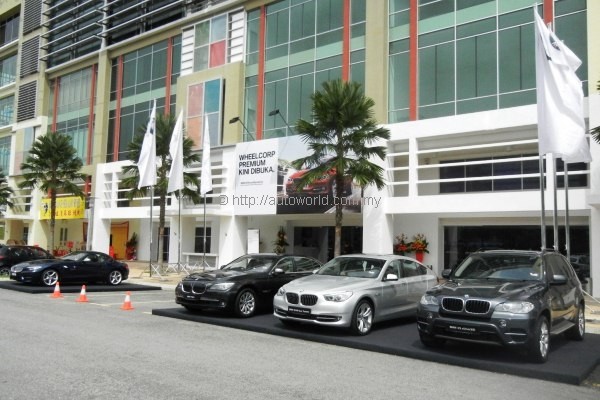 We have not seen BMW dealerships housed in shoplots in a while, but one was just opened today at Bandar Setia Alam, Klang, by Wheelcorp Premium. Spanning three shoplots in Section 13, Setia Alam, the showroom occupies a total built-up space of 12,600 sq ft.
It may not have its own compound, but Wheelcorp's outlet is a full-fledged 4S (Sales, Service, Spare Parts, and Systems) dealership with floor space for five display vehicles, three service bays offering BMW Fastlane Service, a lounge, discussion room, and Isetta bar. It employs a total of 15 sales and service personnel.
Welcoming Wheelcorp Premium to BMW Group Malaysia's network of dealerships, Mr. Geoffrey Briscoe, Managing Director of BMW Group Malaysia said, "We are pleased to be able to serve our customers in the premium prefecture of Bandar Setia Alam and the surrounding areas of Klang with our new partner, Wheelcorp Premium. As a business potential, our research has shown that this prime area has the market capability of delivering more than 500 cars as well as an after sales business turnover of over RM 25 million in the next couple of years."
Mr. Michael Liew, Managing Director, Wheelcorp Premium Dealership, meanwhile, said, "Our main objective with our new BMW 4S facility here in Setia Alam is to strengthen and enhance the BMW customer experience, providing quality sales experiences and service facilities to new and existing customers in the area. It is of no secret that the Setia Alam and the Klang area are growing premium communities in the greater part of the Klang Valley and we at Wheelcorp Premium are building our presence at the right point of this growth stage."
The facility that opened today is a temporary location, and Wheelcorp plans to eventually relocate to a newer bigger 4S facility built on a 1.1 acre land also in the Setia Alam vicinity.
"Our future BMW 4S facility which will be located along Jalan Setia Murni will see us extend our capabilities with the BMW Group to offer BMW Premium Selection as well as BMW Body and Paint solution. With the new three storey dealership, we will be able to display up to 12 vehicles on the ground floor and up to 30 vehicles on the mezzanine floor with eight service bays for vehicle maintenance," said Liew.
The current Wheelcorp Premium BMW 4S Centre is located at:
No.22-1, 23-1 & 23A-1,
Jalan Setia Prima S, U13/S,
Setia Alam Seksyen 13,
40170 Shah Alam,
Selangor Darul Ehsan.
The future Wheelcorp Premium BMW 4S Centre will be located at:
No 1, Jalan Setia Murni AH U13/AH,
Setia Alam Seksyen U13,
40170 Shah Alam,
Selangor.
For further inquiries, customers can call Wheelcorp at +603 3358 3913.
Further Details:
– BMW car prices and specifications in Malaysia.
– List of BMW Group Malaysia official dealers and branches.