Home
Motorsports
Proton R3 Motorsports Driving Experience gets underway with first training session
Proton R3 Motorsports Driving Experience gets underway with first training session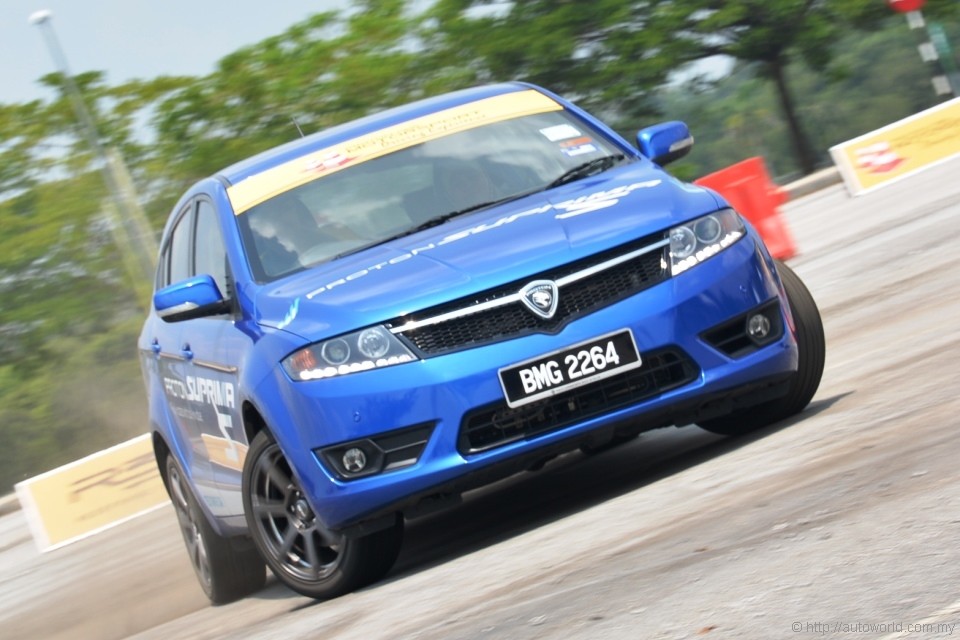 It may not surprise you to hear this, but our standard driver training curriculum is barely adequate to cover the basics. In an age where cars are being equipped with increasingly advanced features, it is worrying to have a syllabus that teaches drivers to shift gears based on vehicle speed – as if as all cars have the same gear ratios. I remember being taught to shift to second gear at 20kph, third gear at 30kph, and so on.
Our road fatalities statistics are worrying – the numbers show that an average person is likelier to die on our roads rather than a war zone. Millions have been spent to set up automated enforcement systems whilst the root cause remains sadly neglected – driver competence. There is shockingly little emphasis on equipping drivers with correct techniques of car control and ways to react in an emergency situation.
Defensive and advanced driver training programmes are slowly gaining traction in the country offering to equip drivers with additional skills behind the wheel, and we strongly recommend these programmes to everybody. In fact, we even regularly hold defensive driving courses in collaboration with Kenvin Low's Asia Advanced Driving Academy. Several other advanced driving schools offer similar programmes as well, so do various car companies who organize these as customer engagement exercises.
Proton's R3 division is kick-starting its own series of driver training programmes with the inaugural R3 Motorsports Driving Experience recently held at the Malaysia Agro Exposition Park Serdang (MAEPS), a venue once used for Formula Drift back in 2009.
Participation is open to all members of the public for a fee of RM880, and whilst the curriculum was little different from other defensive driving courses we have attended, the instructor line-up is notable, boasting Malaysia's rallying legend Karamjit Singh in its ranks.
The maiden session had a total of 40 participants, and after brief introductory module highlighting the correct seating positions, the class was broken into four groups of ten participants each. Throughout the day, the four groups rotated themselves amongst four training exercises that covered brake-steer-avoid, straight line hard braking with ABS disengaged, slalom course with oversteer, and cornering lines. Training cars were provided by Proton with one car assigned to each module.
Typical brake-steer-avoid exercises we have encountered in other training programmes involve accelerating hard on a straight line to a pre-determined point where the driver is then required to slam the brakes with full might and swerve the vehicle and bring it to a complete stop in a box offset to the original path. This is an exercise to demonstrate the effectiveness of anti-lock braking systems (ABS). Proton's exercise had a unique twist in having two boxes – one left and one right – for the driver to stop in. A marshall stands in the driver's line of sight, protected by nothing more than a formation of cones, indicating almost at the last moment which box to go for.
Remaining three exercises of the day follow the familiar format seen in other driver training programmes. A lunch break is slotted in between the third and fourth modules, and after completing all four practical training exercises, participants get to put their newfound skills to the test with a simple time attack challenge that combines elements of all four modules, including the unique brake-steer-avoid challenge with its flag-bearing marshall. Heavy rain befell our session during the time attack challenge, but the participants of the day were too fired up to let bad weather get in the way.
The day concluded with presentation of certificates to participants and also trophies to the three fastest time attack runs. We observed noticeable enthusiasm and satisfaction amongst the participants, which is the most pertinent indication of an event's success.
This being the maiden session of the series, the R3 Motorsports Driving Experience was a commendable effort. The training curriculum is not revolutionary, but it is sound and imparts the right skills for participants. Venue selection, meanwhile, is excellent, even if it doesn't have the plush and glamour of Sepang – the wide open space ensures plenty of run-out, which translates to a huge margin of safety for the various training exercises. The car-to-participant ratio requires improvement, however, as we spent more time waiting than driving.
For an event with cars and tyres provided, the RM880 participation fee is very reasonable; the chance to rub shoulders with the likes of Karamjit Singh priceless for any motorsports enthusiast. Proton R3 plans to keep this programme as an ongoing series, and for drivers with higher skill sets, more advanced modules are being developed.
Addendum (29/4/2014): Proton R3 has informed us that its next Motorsport Driving Experience is targeted for 21-22 June 2014, two classes if numbers permit. There will be an early bird discount of 10% starting today till 1 June for anyone who pays within this period. From 2 June onwards, the price will be RM880.