Home
Motorsports
Porsche Infineon Carrera Cup Asia 2004 Season Launch Preview
Porsche Infineon Carrera Cup Asia 2004 Season Launch Preview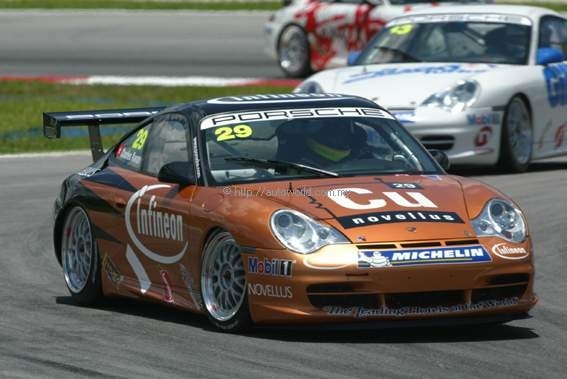 Malaysia (February 13, 2004) – The region's leading sports car racers will have the chance to shake down their Porsche 911 GT3 Cup machines in preparation for what promises to be a thrilling season of the newly-renamed Porsche Infineon Carrera Cup Asia at Sepang International Circuit, Malaysia, on February 14 and 15.
With a prestigious title sponsor on board for the new season, global semiconductor giant Infineon Technologies AG, the series looks set to capitalise on its convincing debut last year with several new faces joining the impressive field.
Porsche Asia Pacific is delighted with the success of the series after its first season, as Regional Marketing Manager Henrik Dreier explained: "The Porsche Infineon Carrera Cup Asia has proved itself to be one of the most professional and thrilling race series in the Asia-Pacific region. Due to its huge media coverage, it is also an integral part of our communication mix. It helps to position Porsche as an exciting and performance oriented brand in an emerging region. In addition it also serves as an event platform for our customers and all other Porsche enthusiasts."
"Infineon Technologies is a global leader in semiconductor solutions, especially in the area of automotive technologies. We have been collaborating closely with world-class motorsport teams, as the sponsor and technical partner, worldwide." said Loh Kin Wah, President and Managing Director, Infineon Technologies Asia Pacific. "The success of Porsche Carrera Cup Asia and Team Infineon-Novellus last year has strengthened our will to be the title sponsor for the race series in 2004. By nurturing the growth of motorsport in Asia, we will further enhance our position as the world's leading supplier of automotive electronics."
As the Porsche Infineon Carrera Cup Asia embarks on an 11-round season, kicking off as a support race to the Petronas Malaysian Formula 1 Grand Prix in March and visiting Thailand, Korea, and China, the testing session is seen as important preparation for both experienced series competitors and newcomers alike.
Drivers will have the benefit of Porsche AG factory driver Marc Lieb, who will be on hand to offer advice and provide demonstration laps. Lieb, a hugely talented and successful driver, took his Porsche 911 GT3 RS to victory in the FIA GT Championship last year.
Returning to the series this year in a bid to capture a second title is reigning champion Charles Kwan of Hong Kong, once again backed by Team Infineon-Novellus. The winning team clinched the title at the Macau Grand Prix in November last year, but only after the fight for the championship came right down to the wire.
Runner up in 2003, Briton Nigel Albon also returns to the series for a second crack at the championship having lost out to Kwan by only four points last year. Thailand's Charoensukhawatana Nattavude, a former Asian touring car champion, was a title contender last year before a sudden run of bad luck saw him finish third at the end of the season.
Other familiar faces who will be hard at work preparing for the new season at Sepang at the weekend will be Thailand's Vutthikorn Inthraphuvasak, Chonsawat Asavahame, Bill Heinecke and Anil Thadani, Max Chen of Taiwan, and joining Charles Kwan in a strong Hong Kong contingent, Alex Yan, brothers Siu Tit Lung and Siu Yuk Lung, and Patrick Ma.
Returning to the series, but this year as a full-time registered driver, is Hong Kong's Matthew Marsh. The 35-year-old notched up an impressive six top five finishes in eight rounds last season, including two podium places and a memorable pole position at the final round at Macau ahead of the eventual champion and former Formula 1 driver Alex Yoong. He is expected to be a front runner this year, especially with the added incentive this time of being eligible to score championship points.
Several new drivers joining the series are expected to increase the already-intense competition amongst the field as they bring with them a wealth of motorsport experience and some notable successes.
From Malaysia comes 27-year-old Rizal Ashram Ramli who has notched up victories and podium finishes in Porsches competing on home ground. He will be looking to get as familiar as possible with his new racing machine during the test days in order to give the established series drivers a run from the word "go".
Sri Lankan Dilantha Malagamuwa, 40, has 14 years' racing experience under his belt, with over 100 victories in various racing disciplines, including stints in single seater, GT and endurance racing. He was the first non-Japanese Asian to compete in Formula Nippon and has raced in the Daytona and Bathurst 24 hour events.
Ringo Chong of Singapore brings with him a wealth of experience from the Malaysian Super and Touring Car Championship. The 37-year-old racer is a professional product and driver trainer.
Dr. Toshihide Hashimura of Japan, who finished 6th overall in the 2001 Porsche Carrera Cup Japan, joins the Asian series this year. He has also competed in the Japan GT Championship and his participation in the Porsche Infineon Carrera Cup Asia is testament to the regard in which it is held across the region.
Porsche Infineon Carrera Cup Asia General Manager, Ian Geekie, who brings three decades' of motorsport experience to the series, is understandably upbeat about the season ahead: "The series just keeps getting better and better," he said. "Not only are we guaranteed another season of some of the best motorsport action ever seen in the region, but we have some truly exciting new drivers to add to our already-impressive field, plus the support of a major international sponsor, Infineon Technologies."
Geekie also believes that the series is an example of one-make racing at its very best: "Our drivers are true sportsman, dedicated to racing to their maximum ability. They can depend on the reliability and speed of the Porsches and concentrate on honing their skills and getting that extra edge through talent and determination. As we saw last year, this makes for really great racing."
Joining the list of prestigious series partners this year is globally active development and systems automotive industry partner, ZF Sachs. Sachs products are produced or sold in 38 locations in 19 countries worldwide, and are also equipped on the Porsche 911 GT3 Cup cars used in the series. The company has been closely connected with motorsport for decades, and is a high-tech supplier and development partner in Formula One.
Supporting the series are two of the most recognised names in international motorsport, Mobil1 and Michelin. Mobil and Porsche have been partners since 1996. Close co-operation in research and development has to led to every new Porsche engine being filled with Mobil1 high-performance lubricant. Porsche Infineon Carrera Cup Asia drivers also have the advantage of high technology tyres, supplied by series partner Michelin, that have consistently improved the performance of many teams in international motorsport. The partnership between Michelin and the Porsche Infineon Carrera Cup Asia has emerged from a worldwide agreement signed between Porsche AG and the Michelin group in 2001.
The Porsche Infineon Carrera Cup Asia runs as part of the Asian Festival of Speed, organised by Malaysian-based Motorsport Asia Limited.
About Infineon
Infineon Technologies AG, Munich, Germany, offers semiconductor and system solutions for the automotive and industrial sectors, for applications in the wired communications markets, secure mobile solutions as well as memory products. With a global presence, Infineon operates in the US from San Jose, CA, in the Asia-Pacific region from Singapore and in Japan from Tokyo. In the fiscal year 2003 (ending September 2003), the company achieved sales of Euro 6.15 billion with about 32,300 employees worldwide. Infineon is listed on the DAX index of the Frankfurt Stock Exchange and on the New York Stock Exchange (ticker symbol: IFX). Further information is available at www.infineon.com
Ends.
Submitted by AutoFX Concepts Sdn Bhd.
Issued by PR Plus Limited on behalf of Motorsport Asia Limited. For further information please contact Nikki Kemp at PR Plus in Hong Kong on telephone (852)+25756995/fax (852)+28381260 or email: prplus@hk.super.net.