Perodua Axia – First Driving Impressions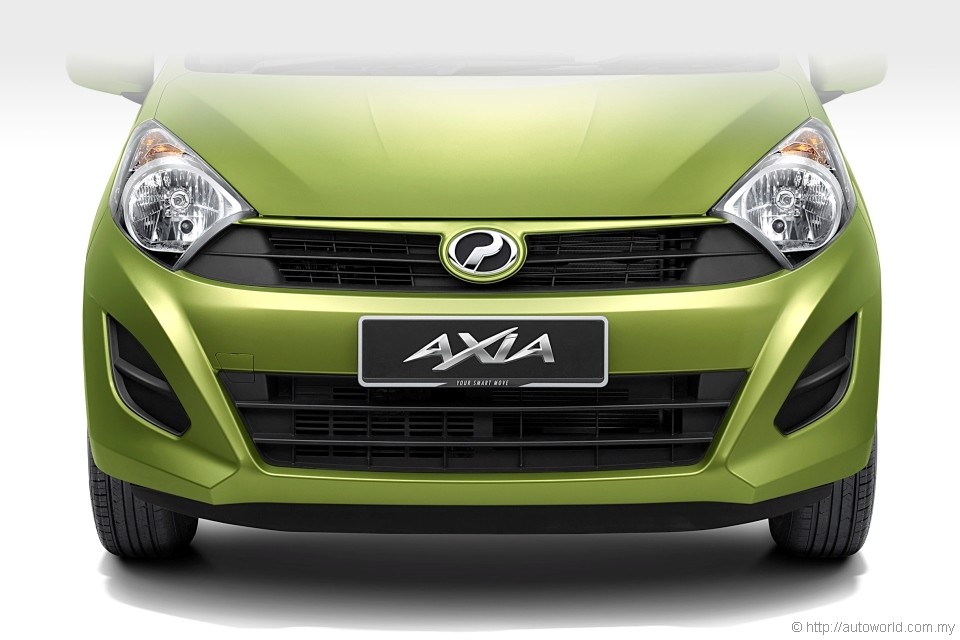 The country's most talked about car at the moment is none other than the Axia, Perodua's new sub-compact hatchback that is now tantalizingly close to being launched. Bookings are now being taken and the company has also confirmed that the car will see the light of day next month.
Ahead of the car's scheduled launch, Perodua invited members of the Malaysian press to take the Axia on a short drive within the MAEPS compound in Serdang yesterday. A picture and specification embargo is in place, so you'll have to strain your imagination a bit based on our worded description of the car in the following paragraphs.
Prices & Specifications
As we disclosed yesterday, the Axia lines up with a total of four trim levels priced from RM24,900 to RM44,900. The base Standard E model is available only with manual transmission, whilst at the other end, the Advanced version is exclusively auto. In between, the Standard G and SE trims are available with both transmission choices, bringing the total possible spec variation to six models.
All variants of the Axia are powered by the brand new 1KR-DE2 1.0-litre three-cylinder engine from Daihatsu with rated outputs of 67hp and 90Nm. It is a mechanically simple engine, making do without variable valve timing, but it does boast of aluminium construction, a first for Perodua.
Among the variants on offer, Perodua expects the majority of demand to centre around the core Standard G and SE variants. Dual airbags and power windows will be standard for all models, but ABS and EBD are exclusive to the SE upwards. The entry level Standard E model doesn't even get alloy rims or radio. So, not the last word in generosity, but for the price, there can be few complaints.
Exterior
Measuring 3,640mm long, the Axia's body is notably enlarged from the Viva's but still within the ball park of A-segment norms, closely matching the Suzuki Alto, Hyundai i10, and Mitsubishi Mirage. Its overall proportions correspond faithfully to segment norms as well, its silhouette tracing a familiar two-box shape. By and large, its appearance is inoffensive and springs no surprises.
Between variants, lamp clusters and bumper design are clearly differentiated; the two lower variants get halogen reflector headlamps matched to a bumper with flowing lines, whilst the SE and Advanced models upgrade to projector headlamps and a more aggressive-looking bumper with sharper design. The two upper models are further differentiated by colourless tail light lenses and side mirror-mounted indicators.
Interior
Interior packaging is where the Axia scores its highest marks. As mentioned in earlier coverage, the rear hatch opens to 260 litres of luggage space, which is actually more than what's offered in a Myvi. On one of the display units at yesterday's event, Perodua was even able to show us how four cabin-sized suitcases can fit in there, albeit with the necessary removal of the top parcel shelf.
For passengers, available cabin space is generous, with rear leg room particularly impressive; it won't give the Honda Jazz a run for its money, but neither will anyone coming from vehicles one segment up suddenly find themselves in claustrophobic surroundings.
Centre console storage space is satisfactory, with three cup holders lining the centre tunnel complemented by a small indentation beneath the hand brake lever. There is another cubby hole at the base of dashboard adjacent to the cigarette lighter, but its lack of depth and horizontal orientation make it difficult to imagine how it might be of any great use.
A notable design feature to watch out for in the upper variants is a thoughtful 'handbag hook' (our term) protruding from the right side of the front passenger seat. It incorporates a simple fastener and is attached directly to the seat frame. According to Perodua engineers, this hook is provided for female drivers to securely hang their handbags at the most inaccessible location possible for potential 'smash-and-grab' assailants. This 'handbag hook' complements two smaller 'teh tarik hooks' placed behind the front seats, also directly attached to the seat frame.
Driving Experience
Our 'drive' session was more akin to a quick run round the block, because that is exactly what it was. We had drive time in both the manual and automatic versions, and first impressions is a car that is significantly lighter-footed and more refined than the Viva, which is now available only in its 850cc guise.
Typical of Perodua vehicles, the automatic seems like the easier version to live with. It takes off strongly from standstill and gear changes were relatively smooth as far as our sedately-paced drive session was concerned. In the stick shifter, precision of throws is much better than that of the Myvi and Alza, both of which give unpleasant rubbery changes. Clutch action is light, but the biting point on our test car was vague and locating third from second was a process decidedly lacking in smoothness.
Perodua vehicles, other than perhaps the Kelisa, are not typically known to offer driving enjoyment of any sort. The Axia does not threaten to break that stereotype and makes no such pretenses. Its soft suspension soaks up imperfections competently and allows a fair bit of body roll, which serves to discourage overly enthusiastic driving. If you do push it anyway, however, mechanical grip available is adequate.
Conclusion
Being the top-selling car brand in a country for nearly decade is an achievement that can lull any company into a false sense of security, or worse complacency. Such malaise is not evident in Perodua, which continues to publicly adopt a humble persona even if the underlying confidence from within is unmistakable.
The continued faith shown by buyers toward Perodua vehicles demonstrate that the company has a good grip on the things that make Malaysian buyer tick and works hard to deliver them. The Axia seems to hit all the right pressure points of consumers, purposefully focusing on qualities that matter, whilst ignoring issues that don't. We don't expect it to provide much thrills from behind the wheel, but we fully expect to see it flood our roads in no time.
Pictures: Official Perodua release.