Mazda Biante Test Drive Review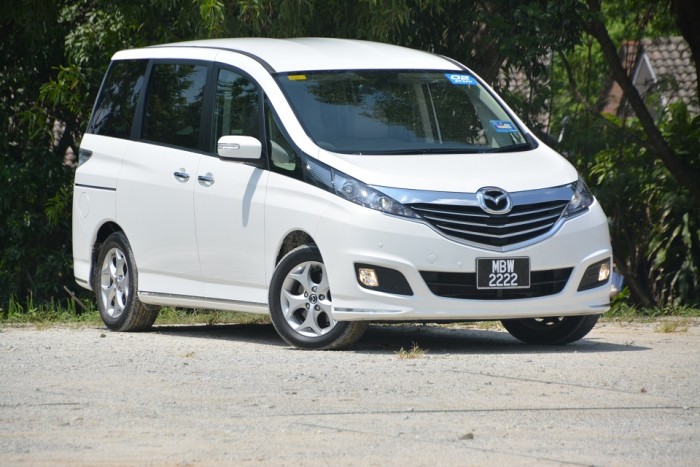 Not all MPVs are the same. Despite the same basic premise of being able to carry more than typical five-seater passenger cars, packaging nuances mean that two similarly-priced and sized seven-seater people carriers can exude widely differing scopes of appeal that extend well beyond the simple matter of taste.
Mazda seems to understand the subtleties involved, which is why it feels confident to pitch two seemingly different MPVs at a similar price point and engine capacity side-by-side. A price difference of RM7,000 separate them, but both the Mazda5 and Mazda Biante offer the same basic premise – a seven-seater MPV powered by a 2.0-litre petrol engine.
The respective pitches of the two products also could not be more different. The Mazda5 is a lower-slung vehicle that keeps one eye on dynamics and offers a level of driving enjoyment that makes for passable impressions of a Mazda3. The lanky Biante, on the other hand, was conceived to maximize interior space and is a natural rival for Nissan's popular Serena S-Hybrid C26.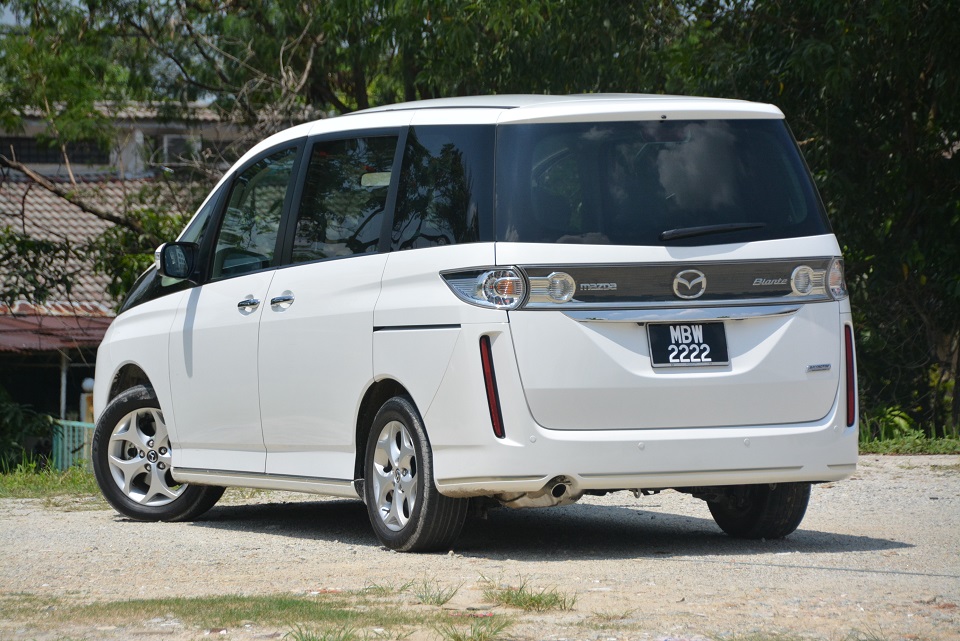 Pricing & Specifications
The Biante's pricing of RM150,056.60 with insurance makes it a significantly costlier alternative to the Serena S-Hybrid, which is locally assembled and consequently benefits from EEV incentives to hit the road between RM133k and RM143k depending on trim. It should be remembered, however, that when the Serena was a CBU model and had benefited from hybrid vehicle exemptions, its pricing was on parity with the Biante, which remains fully imported from Japan.
Equipment levels exceed its Nissan counterpart slightly, with the Biante matching the Serena's standard fitment of keyless entry, powered sliding rear doors, dual frontal airbag, and electronic stability control whilst adding steering-mounted controls and front parking sensors. Reverse camera, a cost fitment in the Serena, is standard in the Biante, being part of a locally-fitted Pioneer touchscreen navigator audio system.
Like its stablemate, the Mazda5, the Biante belongs to a transitional generation of Mazdas straddling between the old MZR guard and the newer shinier metal of the Kodo-styled SkyActiv era. It sits on a pre-SkyActiv platform, but is powered by the 2.0-litre SkyActiv-G petrol direct injection engine with rated outputs of 149hp and 190Nm, dropped to the front wheels via the matching 6-speed SkyActiv-Drive automatic transmission. Claimed fuel consumption is 7.4 l/100km on the combined cycle, making it an Energy Efficient Vehicle based on its 1,664kg kerb weight, according to the definition of our National Automotive Policy.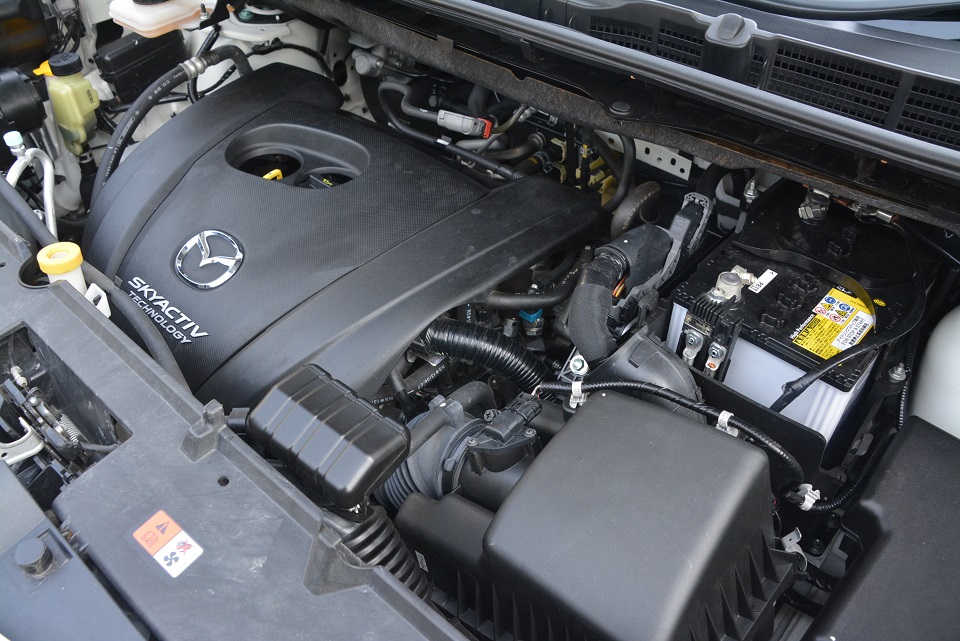 Exterior
It is never easy to style a vehicle that is taller than it is wide, even less so when its shape is pre-dictated to be little more than as a box on wheels. Compared to its most direct rival, the Serena S-Hybrid, the Biante is shorter in both length and height, but spans wider across its bow. The overall visual consequence is less lanky proportions and a stance that looks more reassuringly planted.
Styling details applied on the Biante bear resemblance with neither the previous-generation Nagare-inspired sheet metal nor the current-gen Kodo look. The big Mazda logo on the grille aside, there's little that establishes a family look for the Biante relative to its stablemates. We particularly like the panel on the front fender that visually links the headlamp cluster to the vehicle's glass area; it does not serve any practical purpose, but it certainly gives the Biante a distinctive silhouette.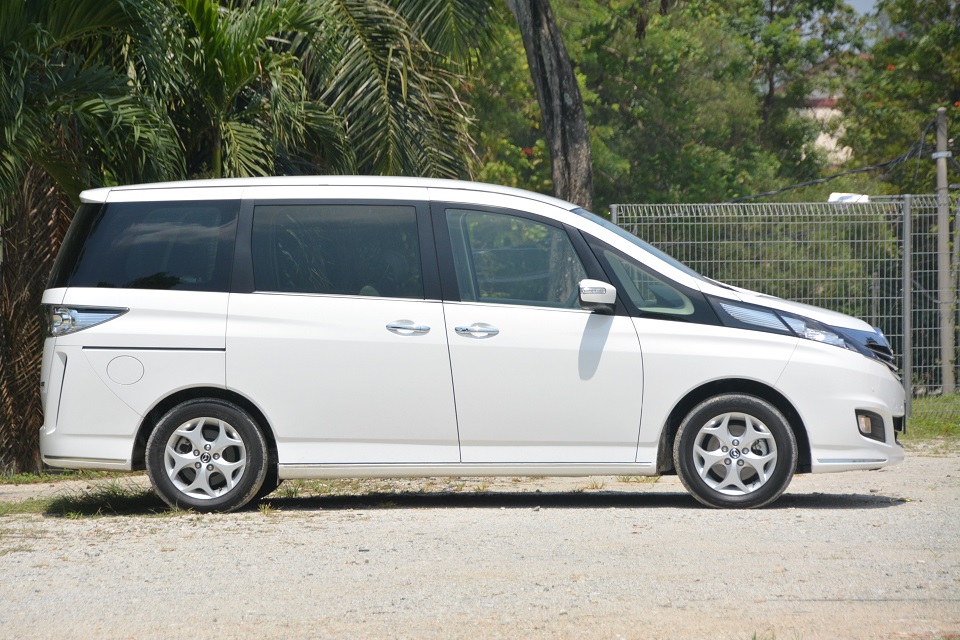 Interior
Like any good MPV for the price, the Biante's three rows of seats offer a variety of configurations. An aisle separate the driver and front passenger, whilst the middle row seats not only adjust forward and backwards, they can be pushed aside as well, creating a walkthrough cabin from front to back. Powered sliding doors and a flat cabin floor further help to maximize accessibility across all three rows.
Even with all three rows of seats up accommodating passengers, there is a usable amount of luggage space behind the third row – definitely enough for a week of groceries. Neither is it found wanting for leg and headroom for all occupants. What it lacks is the option to stow the back bench away to create a fully flat loading floor. Also unsatisfactory is the fixed headrest of the third row middle passenger that is a major hindrance to rear visibility. We also found the sliding and folding mechanisms of the seats to lack both the smooth and intuitive operation that you would find in a Nissan or Honda vehicle.
Driving Experience
The Mazda5 is one of the finest-driving MPVs this side of a Ford S-Max. For obvious reasons, holding the Biante to the same dynamic standards would be a touch unreasonable, and we shall not. What's surprising however, was how little we actually had to lower our expectations for the Biante to accomplish a passing grade in our examinations.
Despite operating on a relatively detuned state, the Biante's 2.0-litre SkyActiv-G motor, hardly felt like an inadequate match up to the Biante's frame. Consistent with our past experiences with this engine family, power delivery is linear and pleasantly smooth, with an abundance of torque down low ensuring that progress is not strained at low engine speeds. From as low as 1,800rpm, the engine pulls with almost diesel-like effortlessness albeit minus the hard-hitting punch.
Unusual for its segment, the Biante is independently sprung all-round, and the benefits of that is noticeable in the handling department. We won't advocate any spirited B-road runs in this, but the additional composure it has compared to the Serena S-Hybrid, which runs on a rear torsion beam, is significant. Around corners, the Biante simply feels more planted and inspires greater confidence than you would expect a vehicle of its proportions. Ride quality, too, is adequately comfortable and entirely appropriate for the application.
Verdict
It may seem frivolous to talk about qualities such as driving dynamics in the context of a vehicle engineered with the specific purpose of ferrying up to eight people at one time, but we think that confidence and composure on the move are qualities worth having in vehicles of any class, and the Biante offers a healthy dose of both. Besides better dynamics, the Biante also trumps the Serena with an engine that is both mechanically smoother and more refined; Nissan's MR20DD can feel really strained at high revs, a problem which Mazda's SkyActiv mill does not suffer from.
Most family buyers shopping for an MPV at this size and price will find it hard to look past the Serena S-Hybrid, which is both significantly cheaper than the Biante and has a better executed interior to boot. Even if one argues that the Biante offers better equipment, one can also argue that by virtue of having a bigger price tag, the Mazda is supposed to give more. The final analysis for most, however, will simply boil down to the fact that the Serena offers more real estate inside.