Diesel-powered Mazdas complete 1,000km journey
Slowly but surely, diesel engines are gaining acceptance amongst Malaysian motorists for not only commercial and heavy vehicles, but also passenger cars as well. The two most often quoted advantages of diesel engines are the richness of low- to mid-range torque and exceptional fuel consumption.
The latter virtue is often demonstrated through specially-organized fuel economy challenges and the usual target set is to have such journeys stretched to 1,000km without refueling. BMW famously put us through one such exercise back in 2009 and we got amazingly close to the target despite not being particularly gentle on the throttle – from Kuala Terengganu, we drove to Kuantan and Port Dickson before having to refuel at Ipoh.
A similar challenge was thrown at us earlier this week by Mazda, who flew this writer among ten Malaysian motoring journalists to join 20 Thai counterparts in Bangkok with the aim of bringing a convoy of diesel-powered Mazda2s and CX-5s across the Malaysian border without having to refuel. The organizers plotted a 1,041km-long direct highway route southbound stopping over at Surat Thani before crossing the border at Sadao into Bukit Kayu Hitam the next day and finally refueling at Changlun, 7km into Malaysian territory.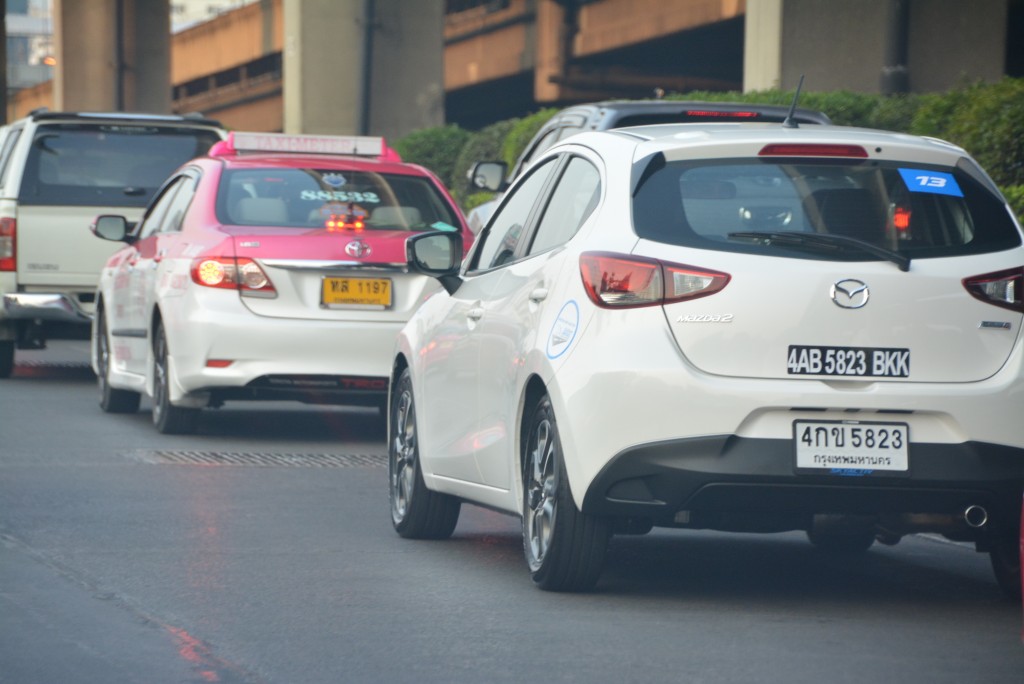 The Cars
Much like its petrol counterparts, Mazda's SkyActiv-D turbodiesel engines are notable for their unique 14.0 compression ratio; whilst that's an unusually high compression for petrol engines, for diesels, it is unusually low.
According to Mazda, the reduced compression ratio of their diesel engines have a number of benefits of reducing NOx and soot, and helping to optimize combustion timing. Additionally, operating at lower compression also reduces physical stress on the engine and this allows for the use of lighter parts, which in turn allows smoother acceleration.
The CX-5, incidentally assembled in Malaysia, uses the same 2.2-litre SkyActiv-D engine which we tried out in a one-off Mazda6 demo vehicle brought in by Bermaz last year as part of a long-term durability testing programme.
Meanwhile, the smaller 1.5-litre mill powering the Mazda2 happens to be the newer powertrain of the pair, and it consequently is more advanced, additional improvements over the 2.2 such as the adoption of variable geometry turbocharging, stepped piston top, and high-dispersion fuel spray from its injectors to minimize heat loss through the engine wall.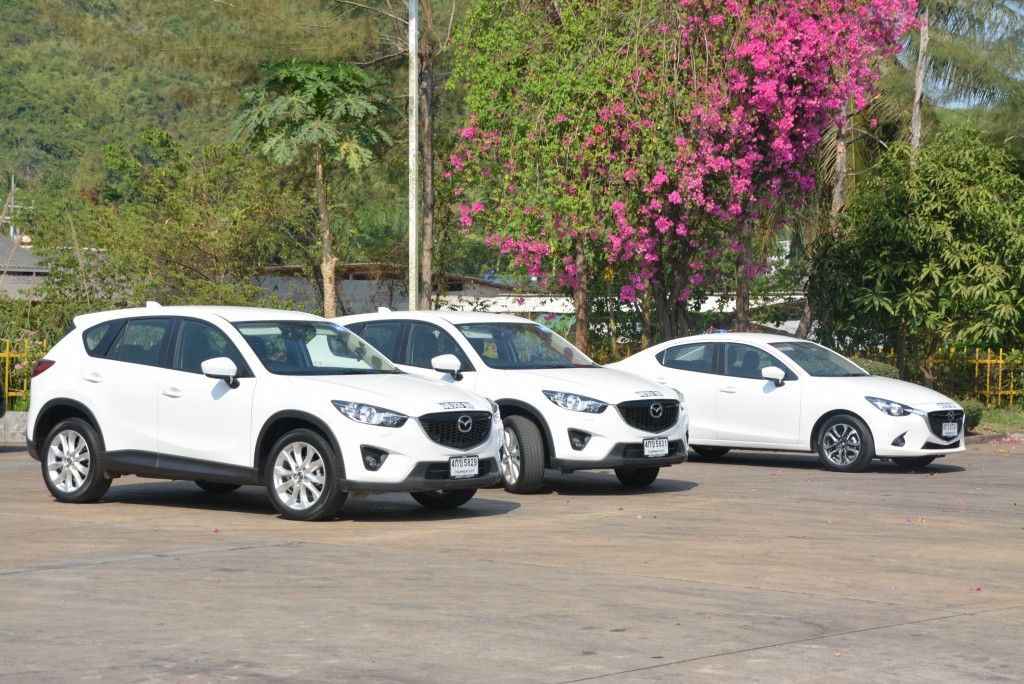 The Rules
Nothing brings out the competitive spirit among motoring journalists quite like a fuel economy challenge, although in the interest of a full disclosure, we should reveal that prizes such as the iPad Air, iPhone6, and Microsoft Surface Pro were up for grabs by participants that clocked the best consumption numbers.
To prevent mechanical tampering and surreptitious refueling, the bonnet and fuel lid of each car were closed with anti-tampering stickers. Air conditioning controls were sealed too, with each car's climate control set at the same temperature and fan speed. We are grateful for this restriction – some drivers are crazy enough to compete with air-conditioning off. The side mirrors were affixed with anti-tampering stickers as well, to prevent some drivers from closing them in misguided attempts to improve aerodynamics – an approach which, for the record, is not only unsafe but actually ineffective for the purpose of saving fuel.
A total of seven time control stations were placed along the entire route; participants must reach these stations on time or be slapped with a penalty of 0.3 l/100km for every five minutes which they are late. Cars that accumulate 30 minutes of lateness in total are disqualified. From our experience participating in fuel economy challenges, this time control mechanism is critical in ensuring that the event remains on schedule.
The other importance of imposing strict time control is that it forces participants to maintain a certain minimum speed, albeit with ultra-refined throtttle control. Together with the stipulation that air-conditioning must remain switched on at all times, this ensures that the fuel consumption numbers achieved by participants are realistically attainable in day-to-day driving.
The Drive
Competing cars were flagged off from the Wearnes Mazda Bangkok dealership on 7:00am of a busy Monday morning straight into rush hour traffic. A few cars took wrong turns in the midst of the unforgiving hustle and bustle, but the route turned relatively straight forward once on the highway. The first time control station was placed at a rest stop in Pranburi some 222km from flag-off. This writer and his drive partner (Durrani Sharom of BH Auto) clocked in with just a minute to spare, those that took wrong turns at Bangkok city weren't so lucky.
From Pranburi, participants were then given just over an hour to cover 73km to reach the lunch stop at PloenSamut. Timing-wise, this was probably the tightest leg of the journey; we drove as fast as 100kph on some stretches of the highway, and after being caught behind a couple of frustratingly slow pick-up trucks, we arrived just in time to avoid being slapped by a penalty.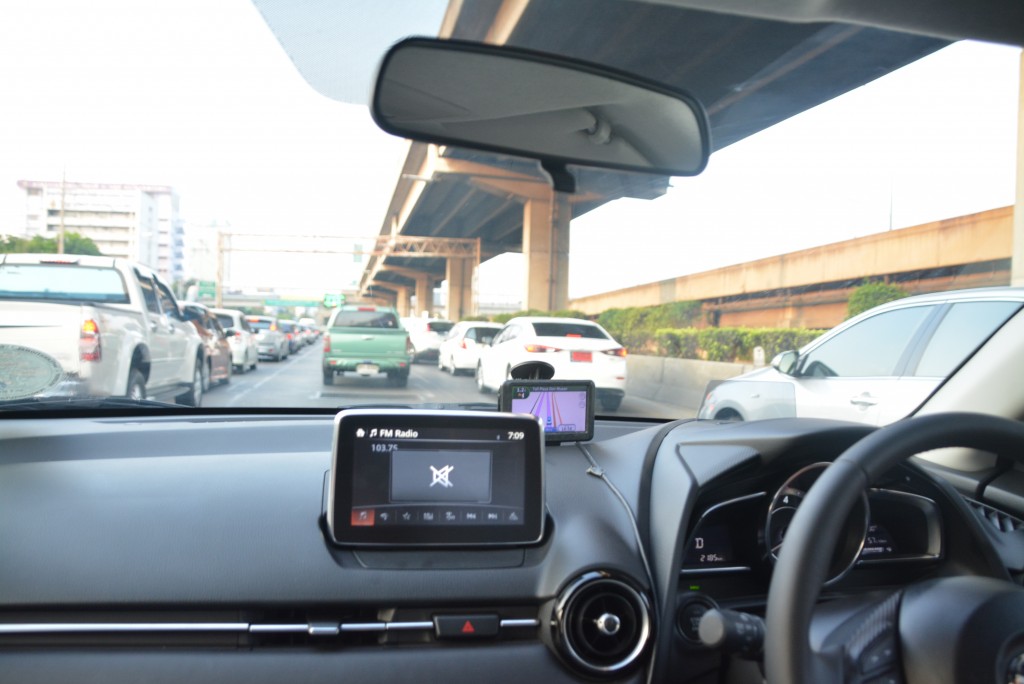 After lunch at PloenSamut, the journey continued to Surat Thani with one time control stop at Chumphon. At this stage, the cars had covered 658km of ground and participants adjourned for a night of well-deserved rest.
Another 7:00am flag-off followed the next day, and the convoy made brisk pace to the border passing by Chamai for the day's first time control, Larn Ta Chu for lunch, and finally Sadao to regroup before crossing into Malaysia. The lengthy queue at border control sapped considerable amounts of fuel as the cars remained idle whilst queuing. Many participating cars even resorted to switching their engines off to save a few more drops.
From border control, the final refueling stop was just 7km away at the small town of Changlun. Whilst four cars were unable to last the distance (requiring to be refilled earlier and consequently disqualified from the challenge), those that made it arrived with much to spare. On our car, the trip computer actually projected enough remaining range to take us to our second night stop in Penang, an idea which the organizers toyed with at the conceptualizing stage of this event but quickly discarded due to logistical concerns of driving into Penang at peak traffic hour.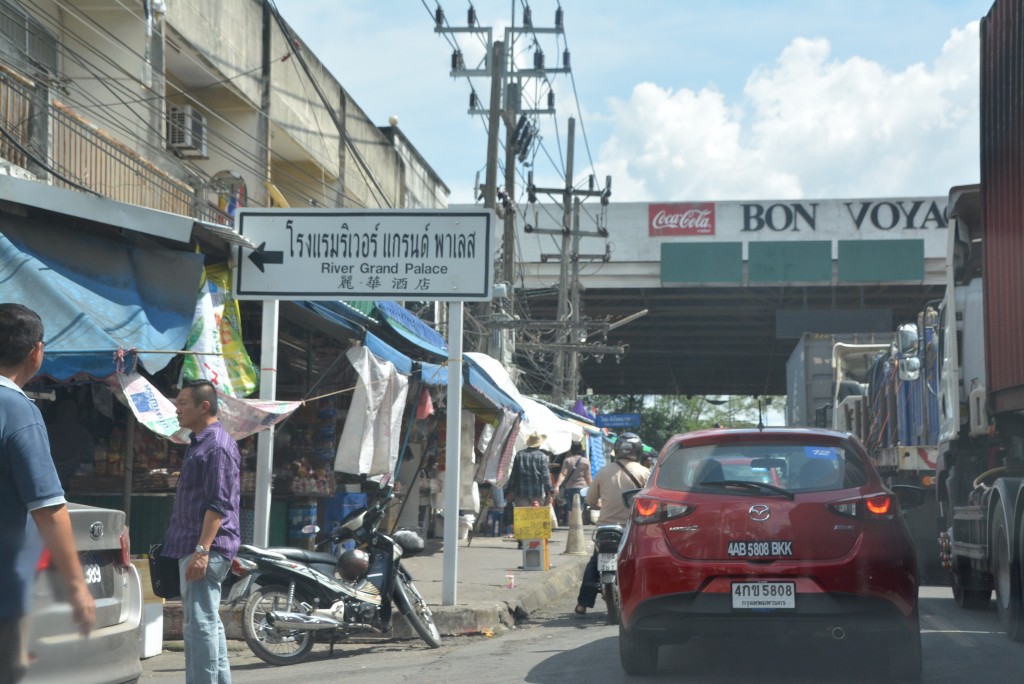 The Results
At the Shell station in Changlun, each car was refueled to the absolute brim with the amount of fuel pumped in divided by the plotted route of 1,041km to obtain its official consumption.
Among the Mazda2 cars that finished, official fuel consumption ranged from as low as 2.72 to 3.53 l/100km; adjusted for lateness penalties, the numbers range from 3.01 to 4.66 l/100km. For the record, Durrani and me managed 3.24 l/100km on our Mazda2.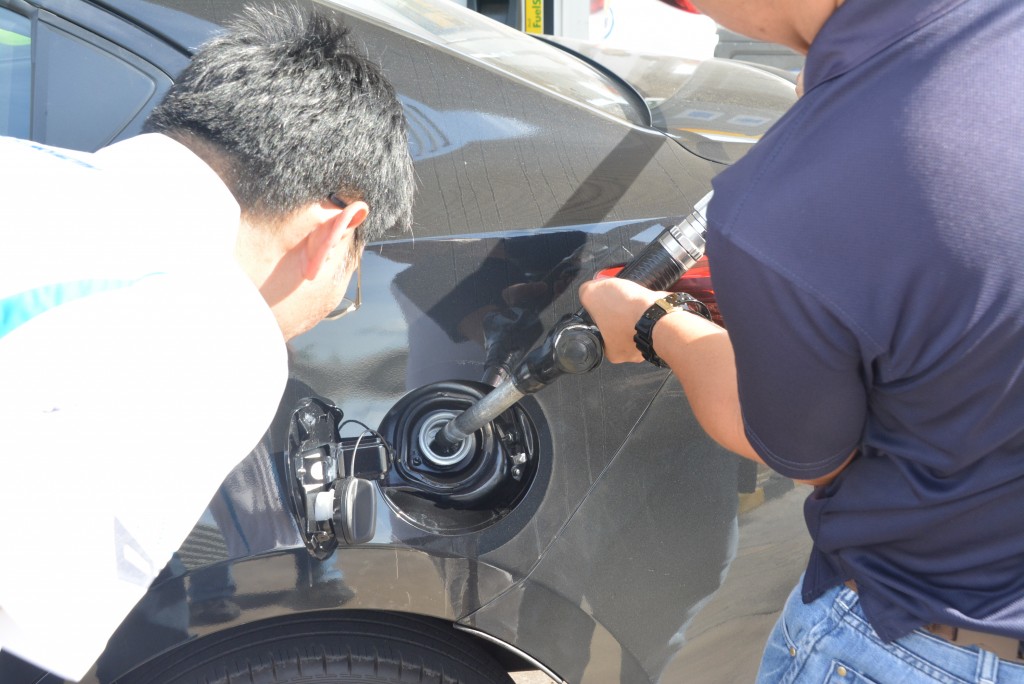 The CX-5s, meanwhile, all managed to duck below 5.0 l/100km, although after adjusting for penalties, their numbers ranged between 4.93 and 6.04 l/100km.
As with all fuel economy challenges, it is important to stress that fuel consumption numbers that come from these events are obtained under competitive conditions. The circumstances that govern these drives are not necessarily realistic to be consistently reproduced in our day-to-day commute. We reckon, however, that a sensible and light-footed driver could conceivably come close to the higher numbers given the right circumstance.