Mazda6 2.2 SkyActiv-D Test Drive Review
After a lull in the previous decade, Mazda is now living in good times. Overall sales of 9,197 units last year in Malaysia may seem insignificant in the bigger picture, it is nevertheless a 45% increase from what it managed in 2012. Much of this growth is spurred by the new SkyActiv-powered CX-5 and Mazda6, both of which have been critical and commercial successes.
The CX-5 has a waiting period that is stretching to months whilst it was confirmed recently that the Mazda6 had overtaken the Nissan Teana in sales to firmly establish itself as a key player in the D-segment. Mazda currently offers the 6 with a selection of three fully-imported petrol variants, namely the 2.0 sedan, 2.5 sedan, and 2.5 Touring, but recently a fourth diesel-powered alternative came our way.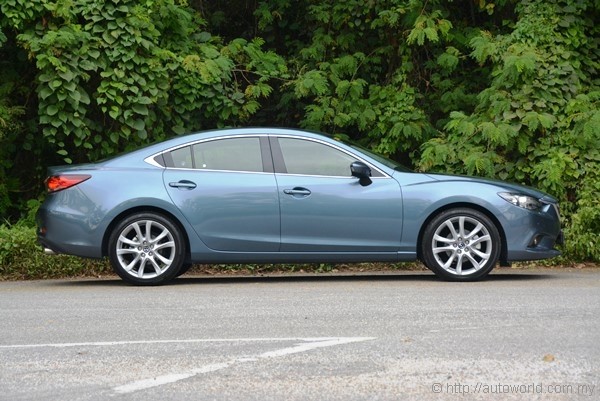 Nothing on the exterior marks it apart from a regular Mazda6 2.5.

Prices & Variants
This diesel version of the Mazda6 is actually not on sale yet. Our test car for this review is a one-off demo unit brought in by local distributors Bermaz Motor to evaluate its performance before ultimately making a decision on whether or not to introduce diesel-powered Mazda SkyActiv models in the future.
Checks with official Mazda websites of Australia and the United Kingdom point to price premiums in the region of 5-10% of the 6 Diesel against its 2.5-litre petrol sibling. Fully imported, the 6 Diesel as tested here might breach the RM200k threshold if specced on par with the existing 2.5, but more attractive pricing might be possible when Mazda CKDs the 6. The only other diesel model in the segment, the Peugeot 508 GT, goes for RM200k – RM210k, and that's the price point which the 6 Diesel must aim for if it does come.


Specifications
Currently the only diesel-powered member of the SkyActiv engine family, the 2.2-litre SkyActiv-D displaces 2,191cc and operates on a 14.0 compression ratio like its petrol siblings, the difference being that it is now an unusually low ratio for a diesel engine as opposed to being unusually high for a petrol.
Globally, the diesel engine is offered in two states of tune, 148hp and 172hp; our test car gets the latter, and its maximum torque is rated at 420Nm @ 2,000rpm. Mazda UK quotes a rated fuel consumption of 4.8 l/100km for both versions of the engine; with a kerb weight of 1,578kg, the 6 Diesel qualifies very comfortably as an energy efficient vehicle (EEV) under the new National Automotive Policy (NAP 2014).
Like its petrol siblings, our test car comes with Mazda's in-house 6-speed SkyActiv-Drive automatic transmission, albeit with slightly taller ratios and a much taller final drive to cater for the diesel engine's lower revolutions. Some markets offer the option of a 6-speed manual, but that transmission is not likely to ever see the light of day in our part of the world.


Driving Experience
There are some criticisms to the driving experience of the 6 Diesel, but none of them relating to the excellent SkyActiv-D powertrain. Unlike punchy European turbodiesels, response from Mazda's mill is measured and acceleration is consequently very linear. Many a time, it felt more like a very torquey petrol engine rather than a diesel. It lacks the kick of a BMW oil burner, but if smooth progress is your thing, the Mazda SkyActiv-D satisfies that requirement.
Being a diesel engine, fuel economy is naturally a strong virtue. Loaded with three people and luggage for a night, the 6 Diesel took me from the Klang Valley into Penang Island and back with one tank of fuel, a feat accomplished with most of the journey covered at speeds above the national limit, hitting 170-180kph at some stretches. For the most part, the car was most comfortable settling at cruising speeds between 120 and 130kph.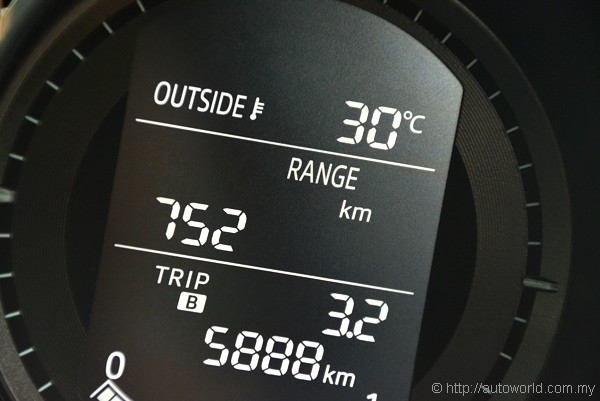 With its 60-litre tank, cruising ranges of 700-800km are easily achievable.

Yet, for all of the diesel powertrain's excellence, there are signs that the 6's dynamics are better suited to the higher-revving and lighter 2.0- and 2.5-litre petrol engines. Ride quality, for a start, seems harsher than I recalled of the 2.5-litre model, which had the same 225/45 R19 low profile tyres of our test car. Over undulating surfaces, the 6 Diesel seemed to miss some of the petrol model's composure and crispness, even feeling fidgety.
There was also the issue of road noise, which was loud enough to necessitate the raising of voices in conversation. I personally suspect that Mazda may have specified a stiffer suspension for this diesel variant to cater for its increased weight and performance over the petrol models. If this car gets the green light to arrive, I submit my recommendations for smaller rims and higher profile tyres – downsizing 17 or 18 inches might do a world of good, simultaneously delivering a more pliant ride and reducing road noise.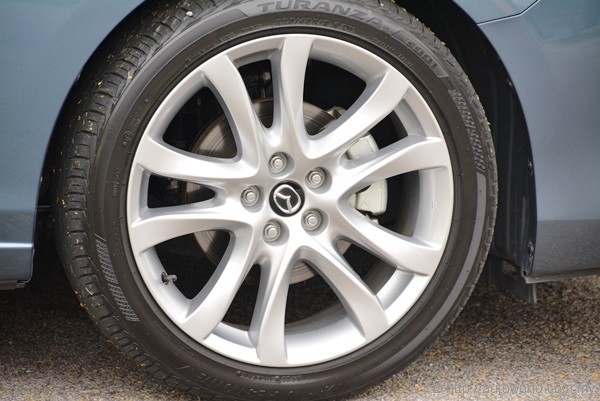 Ride felt harsher than we remembered in the petrol versions. Smaller rims might help.

Verdict
The Mazda6 in truth feels like a better resolved and more cohesive package with the petrol engines, but the SkyActiv-D powertrain's merits and appeal certainly cannot be ignored. It is an impressively refined powertrain; its characteristics uniquely appealing to drivers who prefer the linear power delivery of a petrol and want the fuel economy of a diesel.
Long term durability of the engine with Euro 2 fuel remains a question mark for now, and that's what Bermaz is seeking to answer by bringing this test car in for evaluation. The vehicle had over 5,000km on its clock when we took its keys and it operated without any hitches throughout our journey. We hope the 6 Diesel eventually makes it to Malaysia; if only we had clean diesel at our disposal, this would be a question that did not even needed any asking. If the Government is really serious about making Malaysia an energy efficient vehicle production hub, Euro 4 diesel must be introduced without delay.