Volkswagen Cross Coupe GTE Concept premieres in Detroit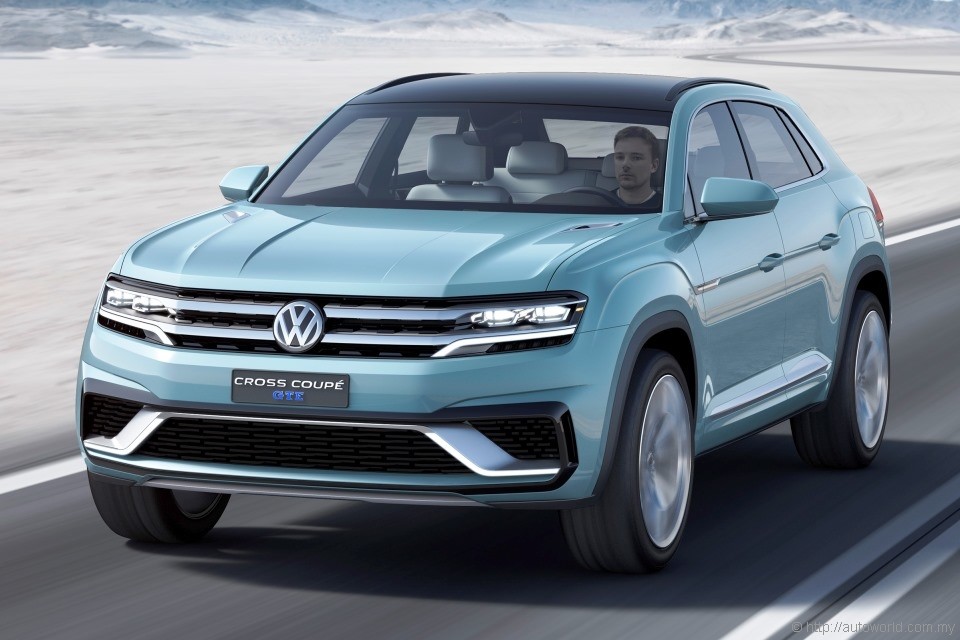 Volkswagen continues to demonstrate the impressive flexibility of its MQB platform with the introduction of yet another concept vehicle previewing a potential new crossover SUV model. Debuting at the ongoing North American International Auto Show in Detroit is the all-new Cross Coupe GTE concept, a mid-sized five-seater SUV.
Together with the seven-seater Cross Blue concept shown previously in Detroit, the Cross Coupe GTE shows a future range of SUV models operating on MQB underpinnings. The Cross Coupe itself is in fact an evolution of an even earlier Cross Blue Coupe concept with many of its outlandish styling cues appropriately toned down to production readiness.
Whilst we expect the usual mixture of turbocharged four-cylinder direct-injection engines to power the production model, the concept on display features a plug-in hybrid powertrain setup mating a 3.6-litre V6 petrol direct injection engine with two electric motors – one driving each axle.
Contribution from the naturally-aspirated V6 engine amounts to 276hp and 350Nm, whilst the electric motors chip in with 54hp/220 Nm and 114hp/270 Nm respectively; net system output is rated at 355hp. Lithium-ion batteries, mounted along the vehicle's centre tunnel, supply 14.1 kWh of energy to give it an all-electric cruising range of 32km. Performance vital stats read 209kph top speed and six seconds flat to dash from rest to 97kph.
Meanwhile, Volkswagen has also confirmed that a production version of the Cross Blue seven-seater will be launched in 2016 and will be built at Volkswagen's Chattanooga plant in Tennessee, USA.
Pictures: Official Volkswagen release.