Mercedes-Benz E 300 BlueTEC Hybrid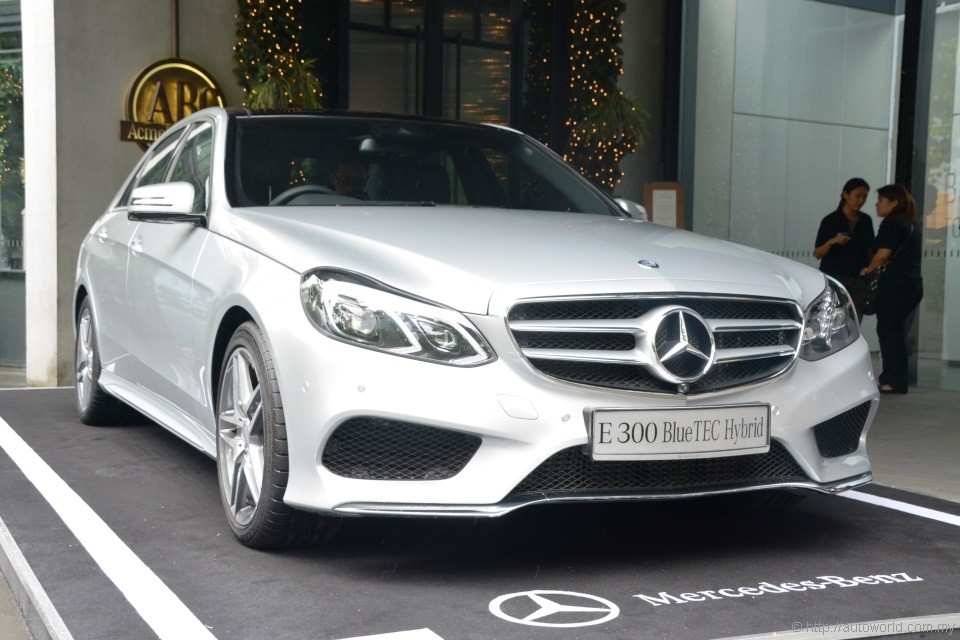 The Mercedes-Benz S 400 L Hybrid's entitlement to full duty exemption was one of the headline developments under the new National Automotive Policy this year, and it prompted speculation from many that Mercedes-Benz Malaysia (MBM) was getting ready to bolster its range with more hybrid-powered models.
The company was keen to dispel these rumours at the time, but eventually changed its mind, paving the way for the introduction of the locally-assembled E 300 BlueTEC Hybrid today.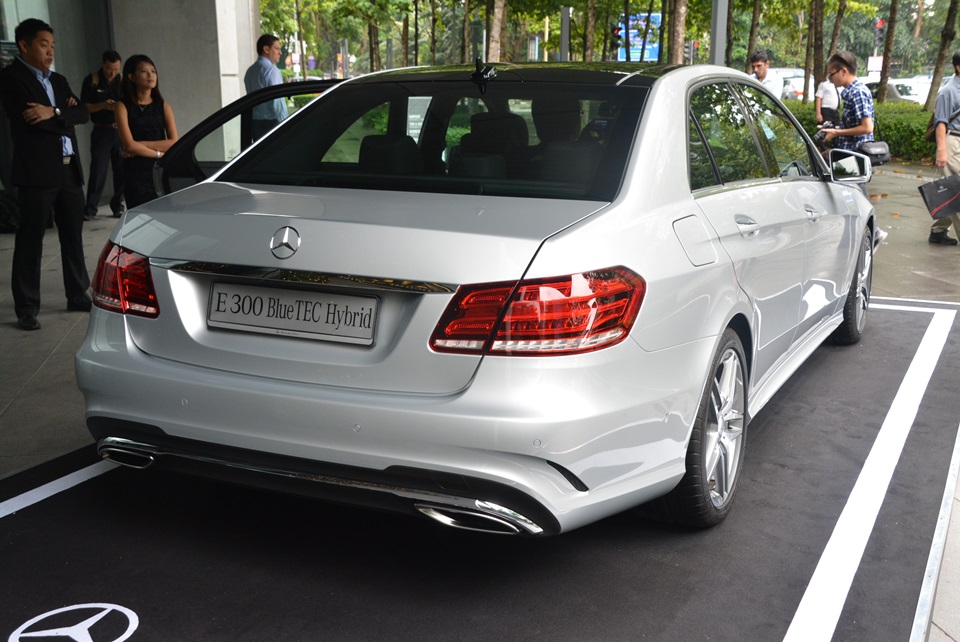 Speaking at a media preview organized prior to the vehicle's official launch, MBM President and CEO, Mr Roland S. Folger said, "The E 300 BlueTEC Hybrid represents the continuation of our hybrid offensive strategy, as we further consolidate our lead position in the luxury and efficiency category. It is the first diesel hybrid model from a premium manufacturer, which also marks the return of Mercedes-Benz's diesel engines in Malaysia."
Despite having offered diesel variants of the E- and S-Class in the past, Mercedes has omitted more recent versions from the Malaysia line-up due to concerns of low quality fuel sold in our market. The E 300 Hybrid now being sold by MBM however, is specifically prepared by headquarters Daimler AG for conditions of the Malaysian market. MBM officials refused to comment on the technical aspects of the adaptation process, but we suspect it involves removal of the diesel particulate filter.
Prior to its introduction today, Mercedes-Benz personnel had conducted five years of extensive but secret testing of its 2.1-litre OM651 turbodiesel that serves as the combustion engine half of the E 300's hybrid powertrain. The company had also sent random sampling of diesel fuel from the pumps of various brands of fuel back to Germany for testing.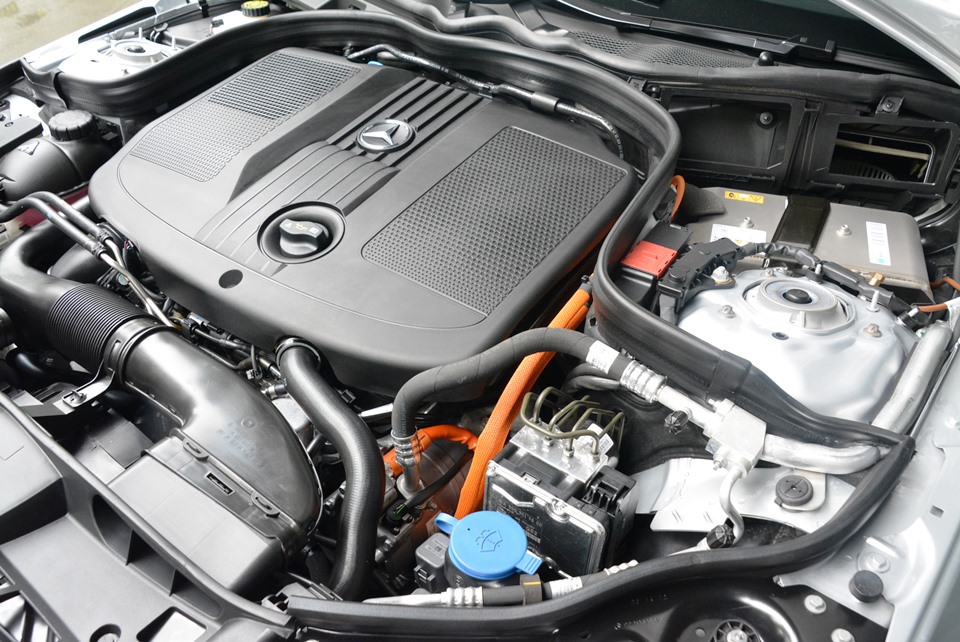 For its application in the E 300 Hybrid, the four-cylinder two-stage turbocharged OM651 oil burner generates 204hp and 500Nm, which are sent astern by Daimler's in-house 7G-Tronic automatic transmission that features one crucial alteration – its torque converter makes way for a 3-phase AC motor that provides 27hp and 500Nm to supplement the diesel engine's outputs. A wet clutch is integrated into the assembly to disconnect engine from driveline for full electric driving mode.
Supplying electricity to the motor is a 0.8kWh lithium ion battery that enables the E 300 Hybrid to hit speeds up to 35kph on all-electric mode for all of one kilometer. If that does not sound impressive to you, it is worth noting that the objective of this setup is simply to allow the electric motor to handle low speed driving at parking lots, bumper-to-bumper traffic, and start-up acceleration, where fuel usage is generally the greatest. The electric motor is in fact able to sustain 'sailing mode' at speeds up to 160kph – so long as acceleration is not called for, the combustion engine stays switched off.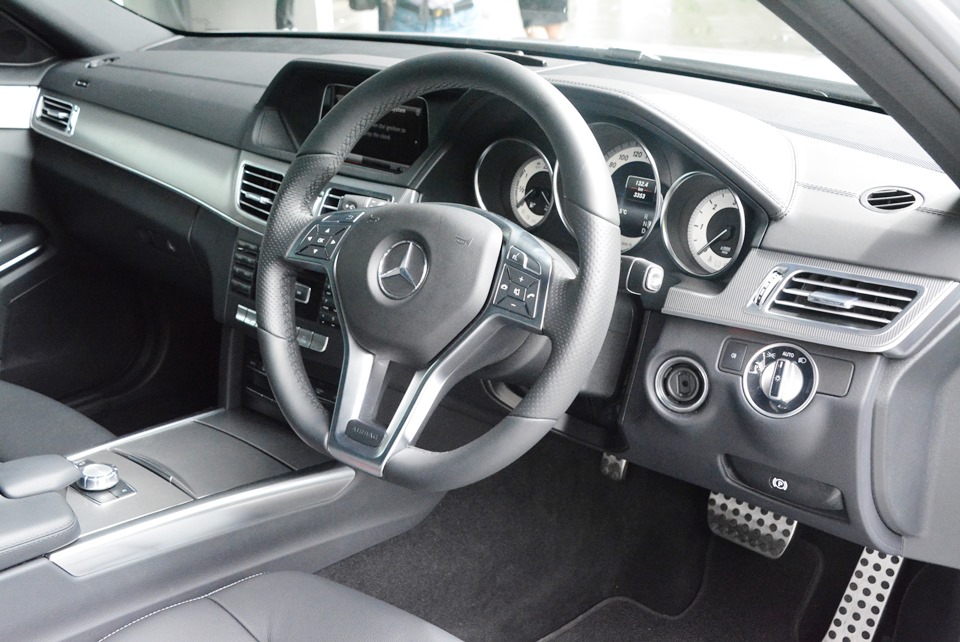 With the diesel engine being an already economical powertrain to start with, and the hybrid stepping in to cover for situations when fuel wastage is greatest, the E 300 BlueTEC Hybrid is an unsurprisingly frugal vehicle, with an officially rated fuel consumption of 4.1 l/100km on the combined cycle. Specified with the enlarged 80 litre fuel tank as standard, this is a vehicle that will effortlessly cover four figures on the trip meter between refills. At full pelt, it hits a top speed of 242kph and completes the century sprint at 7.1 seconds. It is important to note, however, due to alterations to suit our conditions, the quoted CO2 emission figure of 109 g/km is not applicable for Malaysia.
Despite its '300' badging, the E 300 BlueTEC Hybrid sits higher up the E-Class hierarchy than the petrol-powered E 400, and it is specced accordingly to reflect that order. Indeed, MBM's product team has opted to spec the works on the E 300 Hybrid, blessing it with the AMG Sports package consisting of full body kit, 18-inch light weight alloys, enlarged front disc brakes, AMG Sport steering, stainless steel pedals, and twin exhausts with bumper-integrated rectangular stainless steel pipes.
Equipment-wise, the E 300 Hybrid comes with keyless entry, 360-degree surround view camera, rear seat entertainment with two 20.3cm monitors, autonomous emergency braking, and active park assist with automatic control of steering and braking for parallel and perpendicular parking.