MMM rolls in enhanced Mitsubishi Pajero Sport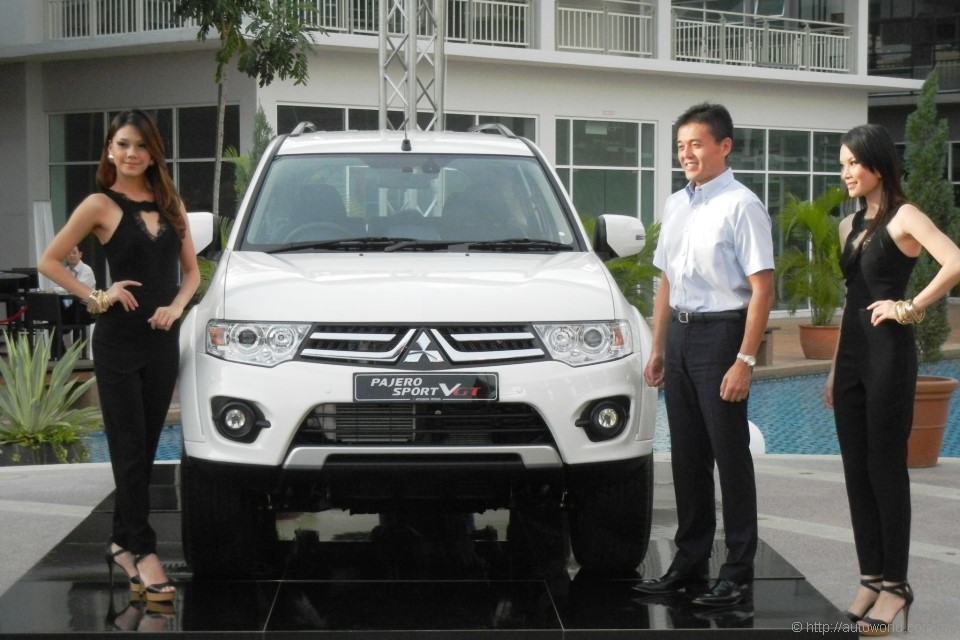 Launched in 2009, the Triton-based Mitsubishi Pajero Sport has been enhanced with a facelifted variant that was officially launched today by Mitsubishi Motors Malaysia. As before, the Pajero Sport continues to be available with a choice of two variants – GL and VGT – with additional equipment and touched-up aesthetics to refresh the overall package.
Both variants are powered by the 2.5-litre 4D56 turbodiesel engine, albeit in different states of tune. The GL model, which is rear-wheel driven, gets the engine in its standard 134hp / 314Nm state-of-tune mated to a 4-speed automatic transmission. It is worth noting that the Pajero Sport was initially offered with this engine and Super Select 4WD as standard, a configuration that is no longer available.
Instead, the Super Select drivetrain is now offered exclusively with the more powerful VGT variant, which sports the same engine as the GL, but a more advanced variable geometry turbocharger to produce a more potent 176hp and 350Nm. The VGT is also available only with automatic transmission, but with one ratio more than the GL and the added convenience of magnesium paddle shifters.
Unlike most part-time 4WD systems available in the market, Mitsubishi's Super Select system used by the Pajero Sport incorporates a viscous power coupling that enables on-road usage of 4WD mode when needed. It consequently has four driving modes as opposed to the usual three of 2H, 4H, and 4L. The Pajero Sport essentially has two 4H modes – with the centre differential being either locked (4HLc) or unlocked (4H). The VGT model also comes with a Hybrid Limited Slip Differential.
Beyond the engine and drivetrain differences, however, little separates the GL and VGT variants of the Pajero Sport, with Mitsubishi specifying a largely identical kit count for both. Amenities exclusive to the VGT are actually limited only to 17″ rims (16″ on the GL), security tinting, rear spoiler, and trim inserts on the dashboard and door trim – none being items of great concern, except perhaps for rear disc brakes, which are exclusive to the VGT.
New equipment introduced in the 2013 vintage include side-mirror mounted signal lamps, roof rails, auto headlights, auto wipers, and the familiar RV meter of the Triton – which is essentially a multi-info trip computer displaying the usual fuel consumption data plus additional readings such as air temperature, compass, barometer, and altimeter.
Appearance-wise, there are new rims to report; the tail lights remain in an unaltered configuration, but the indicators are now covered in white rather than amber lenses; and the front fascia has been subtly reworked with a new front bumper and a more expressive grille with more prominent showings of chrome.
Available in 4 colours, Black Mica, Cool Silver Metallic, White Pearl and Quartz Brown Metallic, the new Pajero Sport VGT is priced at RM176,980 while the GL is priced at RM155,500 on-the-road with insurance. Owners get to enjoy a 5-year/unlimited mileage km warranty as well as Mitsubishi's 2-Years free maintenance package (Prices are quoted based on Peninsular Malaysia, Individual Private).