Ford's Zest for Quality, Then and Now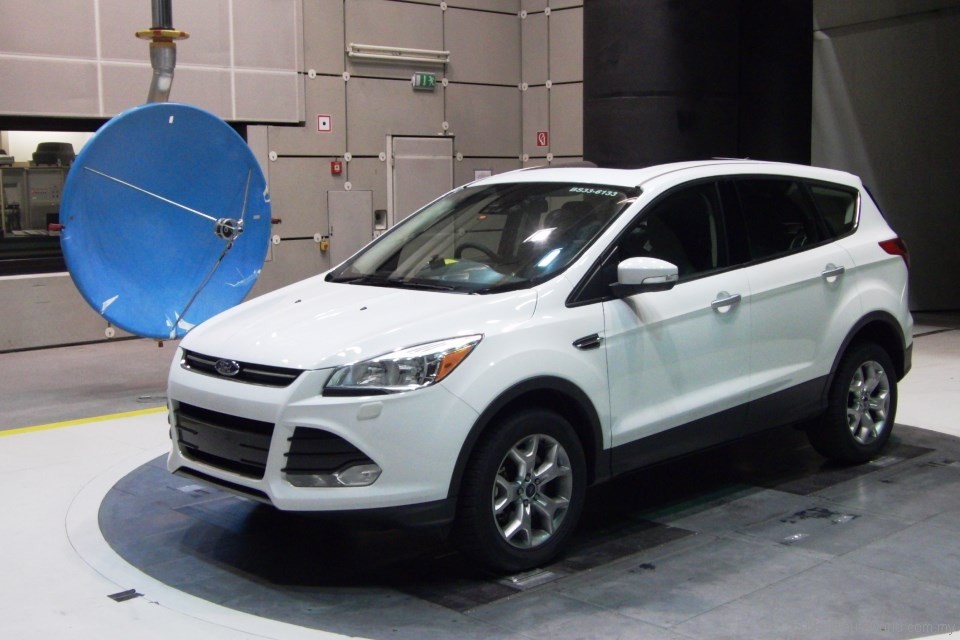 Competition in the automotive industry is fierce – and has been since the early days of mass-produced automobiles. More than 110 years ago, Ford Motor Company founder Henry Ford knew even then the importance of being a standout among the crowd, delivering high-quality products that people wanted and valued.
Currently, all of Ford's new vehicles share a common thread. They deliver on the four pillars that form the bedrock of the Ford brand: Quality, Green, Safe and Smart. An unwavering emphasis on quality, the long-held cornerstone of Ford's business strategy, began with Henry Ford and continues to this day.
Henry Ford passed on his passion for superior vehicles and craftsmanship to his eldest grandson, Henry Ford II. In 1949, as then-president of Ford Motor Company, Ford II declared his similar single-minded focus when he launched the company's new "Quality and Demand Go Hand in Hand" campaign, extolling the company's commitment to build quality into Ford products from the very first step of production. Articulating the company's core business focus, Ford II declared, "Quality will determine whether we lead the field or are also-rans in the tough competition."
In 1981, Ford launched its iconic "Quality is Job One" advertising campaign, further reinforcing Ford's dedication to improving the quality of its products to customers. The campaign and slogan ran for nearly 10 years, becoming one of the most recognised automobile advertising slogans in the United States at the time.
Ford's Group Vice President, Global Quality and New Model Launch Bennie W. Fowler continues Ford's quality obsession into the present day, stating "quality is part of Ford's DNA." His team's responsibility is to always go further in delivering quality to customers. They consistently coordinate across Ford's expansive global network, listening to employee feedback as well as customers' wants and needs. That information is then used to design and construct consistently excellent products, utilising superior materials and raising the bar across the industry in order to exceed customer expectations worldwide.
Recently, Fowler estimated that more than $2 billion in warranty spend has been eliminated, attributed to efforts to reduce vehicle defects and training more than 20,000 Ford employees worldwide in standardising and implementing quality processes. As Fowler stated, his approach to quality encompasses not only the product itself, but the entire customer experience: "I want to deliver a perfect vehicle every time. Every time you get into a Ford product, I want you to be happy and excited you bought a Ford vehicle. And I just won't rest until that happens."
A significant aspect of Ford's current quality prioritisation efforts is in the company's One Ford transformation, utilising global platforms for all Ford vehicle design and processes, standardising quality control, boosting productivity and driving continuous improvement worldwide.
Some of Ford's recent quality achievements include:
In 2013, for the second straight year, Ford dominated U.S. News & World Report's "Best Cars for the Money" rankings, taking home the most awards of any brand, with six Ford vehicles noted as offering consumers the most bang for their buck, including the all-new Ford Escape, recently launched in Malaysia as the all-new Kuga.
Ford ranked highest in Polk's first-quarter 2013 Owner Loyalty report, scoring a brand loyalty rate of 65.1 percent among new vehicle owners who returned to market during the first quarter of 2013. Ford ranked ahead of its nearest competitor, Toyota, by more than six percentage points.
J.D. Power Vehicle Dependability Study ranked the Ford Ranger as the most dependable vehicle in its segment in the 2013 study of three-year-old vehicles. Additional Ford vehicles also were ranked highest in their segment in 2013 J.D. Power APEAL Study, based on consumer satisfaction after 90 days, as well as in the J.D. Power Initial Quality Study, which examines owner-reported issues in the first 90 days.
From recognised product quality and value to worldwide quality process training, innovative features, in-depth research, creative testing methods and superb quality control, Ford's zest for quality still stands strong. Now in its 110th year, Ford's unwavering commitment to quality is evident in the many facets of its business such as attention to driver-focused details, investments in innovative testing technology as well as industry leading collaborations as demonstrated by the following examples.
Driver-Focused Details:
Driving Pleasure. Outstanding driver-focused handling systems across the line-up, including Electronic Stability Programme, Hill Start Assist, rear parking sensors with park pilot, Torque Vectoring Control, tailored shock absorber and front suspension and more.
Interior luxury. Expressive, modern interiors with refined detailing and stylish touches to convey a premium look-and-feel throughout the cabin, including ergonomically designed instrument panel, surfaces and knobs. Leather-wrapped steering wheels, ice-blue panel lighting, Ford's exclusive SYNC™ technology and other class-leading, segment-defining features.
Quiet sanctuary. Wind-tunnel tested aerodynamics minimise road noise while perfecting interior acoustics.
Head-turning looks. Sophisticated, vibrant exterior colour options that express individuality and personality. Stylish exterior details including alloy rims, distinctive front grille, laser-cut headlamps and more. New seat fabrics and designs across the line-up, including high-quality full leather and leather-and-fabric in select models.
Thoughtful features. Bi-Xenon HID automatic headlamps include Ford's "follow-me-home" function, remaining bright for a few moments after you exit the vehicle. Other examples include Ford's Smart Keyless Entry with Ford Power Start system which allows you to lock or unlock the driver's door automatically and start the engine with the push of a button – no need to fumble with the key.
Innovative Testing Technology:
Industry leader in robotic testing and inspection. In 2013, Ford was the first automaker to develop robotic technology used to operate vehicles during high-impact on-road and off-road testing, ensuring vehicles meet Ford's exacting durability standards. In 2011, Ford made a $100 million investment to improve customer satisfaction, including the introduction of laser robots in its inspection plants to improve vehicle quality and precision, attaining better-fitting parts, reducing wind noise and detecting air leakage.
Industry-first dirt-detection technology. Launched in three Ford assembly plants this year, Ford's dirt-detection technology uses high-resolution cameras to generate a 3D model, helping Ford technicians identify and eliminate dirt particles on vehicle paint surfaces, improving paint quality and surface finish for Ford customers around the world.
Industry's first use of 3D mapping. This year, Ford engineers began using 3D mapping technology to analyse more accurately the rear axle parts of Ford trucks during assembly, comparing against a computer model to ensure more precise construction, leading to a smoother, quieter ride.
Thought Leadership:
Cross-industry collaboration. Throughout 2013, Ford has been joining various architecture foundations and industry panels to discuss and strategise on how vehicles and buildings are expected to be stylish and artful, but must reflect universal appeal while offering practical access to daily-use features.
As Henry Ford said of his Ford Motor Company in 1938, "We have had just one main purpose…to give the people transportation of the most dependable quality at the lowest possible cost." Quality has been a component in every Ford vehicle since the company's inception, since Henry Ford put in motion his dream to build a car for the great multitude. Given the many ways Ford is prioritising quality and developing it as its competitive advantage, this is set to continue – today, tomorrow and the next 110 years to come.
Pictures: Official Ford release.