Kawasaki Z250 launched in Malaysia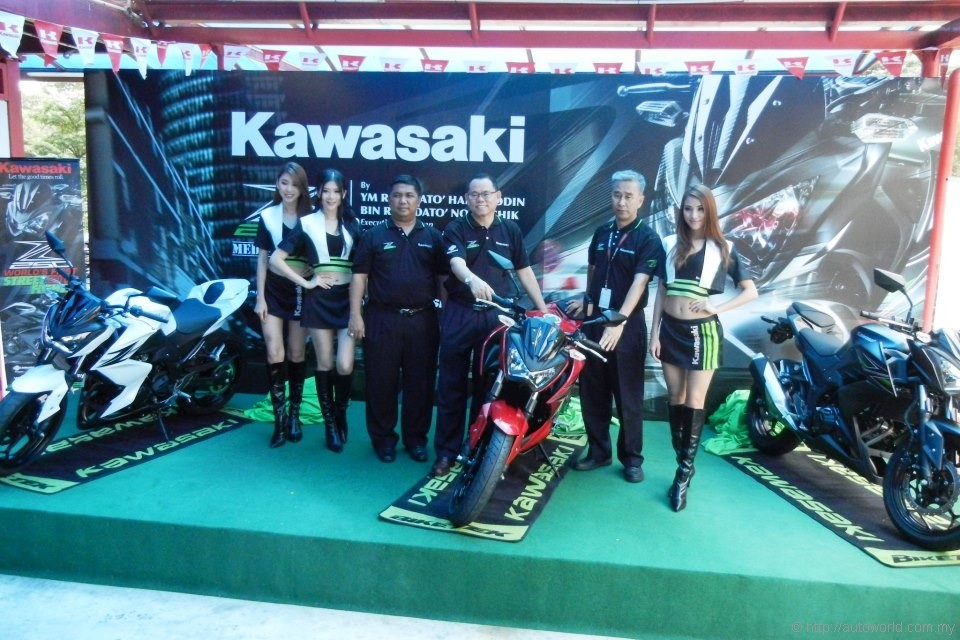 Kawasaki Motors (Malaysia) Sdn Bhd today launched the new Z250 Street Fighter, an extension of the Z model series offered for the first time in the 250cc category. Based on mechanical underpinnings of the Ninja 250 bike, the Kawasaki Z250 gives riders on B2 licenses the opportunity to step up to super-biking without having to go full B.
Outputs of the 249cc twin-cylinder fuel injected engine are unchanged from its application in the Ninja 250, with power and torque quoted at 31.5hp @ 11,000rpm and 21.0Nm @ 10,000rpm respectively. Liquid-cooled with eight valves and twin camshafts, the Z250's four-stroke engine features digital ignition, fuel injection, and dual throttle valves. Starter is electric-operated. A six-speed transmission drives the rear wheel.
Measuring identical lengths (2,010mm) and wheelbases (1,400mm), the Z250 is nevertheless wider (750mm vs 715mm) and taller (1,025mm vs 1,110mm) than the Ninja 250 which it is based upon, although it also tips the scales lighter (168kg vs 172kg). The Z250's added width over the Ninja is the result of a wider handlebar. Compared to the Ninja, the Z250 is designed to accommodate its rider in a more upright riding position.
Despite the shared hardware, the Z250 sports a more aggressive appearance than the Ninja to justify its naked street-fighter bike preposition. Up front, for example, the dual headlights of the Ninja are merged into a single more compact (and menacing) assembly. Behind the cowling is an instrument panel consisting of a large analogue tachometer complemented by a multi-function LCD screen. The screen is backlit in Amber lighting.
Available with a choice of three colours – black, red, and white – the Kawasaki Z250 is covered by a 1-year / 10,000km warranty. Display units are available for viewing at all Kawasaki dealerships nationwide, with the bike priced at RM21,589.