EV charging station launched at BSC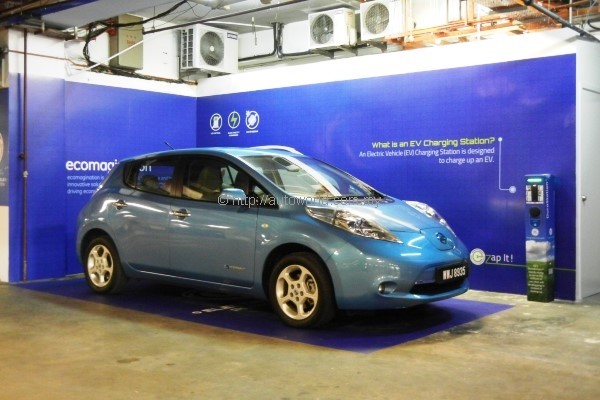 The groundwork is gradually being laid for a new age of electric vehicles with local Nissan distributor Edaran Tan Chong Motor Sdn Bhd (ETCM) having teamed up with First Energy Networks Sdn Bhd (FEN) to set up an electric vehicle (EV) charging station in the Bangsar Shopping Centre (BSC) parking lot.
The BSC charging station follows the introduction of earlier charging stations currently operating in Kuala Lumpur-based shopping centres KLCC and Lot 10, as well as a third charging station that opened at Petronas Solaris, Serdang. Situated at Level LG of BSC's parking, the charging station is a GE DuraStation Level 2 charger, which is able to fully charge a 24kWh battery in 4-8 hours. Comparatively, the earlier Level 1 chargers require 12-18 hours.
Installation of the new EV charging station builds up to the impending launch of the Nissan Leaf scheduled for the third quarter of the year. The Leaf will join the Mitsubishi i-MiEV that was launched earlier this year as the only two fully electric vehicles officially available to Malaysian motorists.
"Zero-emission is our commitment and therefore we are looking to gradually expand our EV Charging Infrastructure to more strategic and relevant places to make it a reality, initially focusing on the Klang Valley area. We are happy to team up with BSC for a green initiative like this and hope to see more people embracing the all-electric Nissan Leaf as part of their lifestyle in the near future. We are also proud to have GE as part of the this initiative," said Dato' David Chen, ETCM's newly-appointed Executive Director.
For the short term, users will be able to recharge their EVs in these public charging stations for free, but the eventual increase in usage of electric vehicles coupled with the accompanying growth of the charging station network mean that consumers will eventually have to pay for the use of these stations.