New Porsche 911 Turbo makes world debut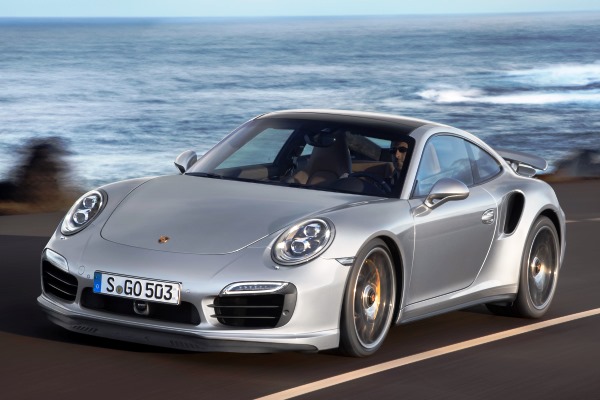 The latest 991-generation Porsche 911 welcomes new members to its family with introductions of the Turbo and Turbo S variants. Technical highlights of the new entries include all-wheel drive, rear axle steering, adaptive aerodynamics, 7-speed dual clutch transmission, and a turbocharged six-cylinder engine.
Displacing 3.8 litres, the rear-slung flat-six is boosted by twin variable geometry turbochargers and fed by direct injection to produce 520hp in the Turbo and 560hp in the Turbo S. Fuel saving technologies such as auto start/stop and thermal management help reduce consumption numbers measured in the New European Driving Cycle by 16% to 9.7 l/100km for both models.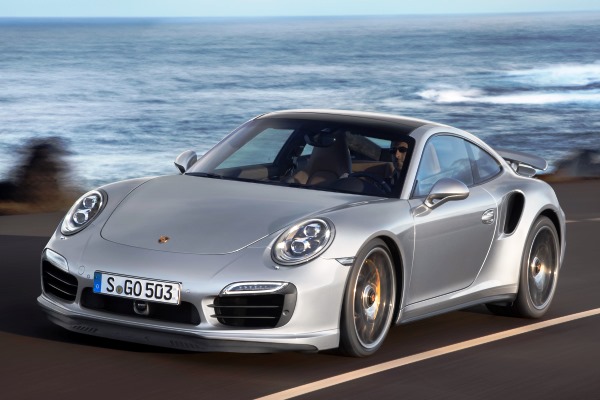 Drive goes to all fours via a new all-wheel drive system which Porsche dubs PTM operated by an electronic multi-plate coupling. The 7-speed PDK dual clutch gearbox is standard with manual transmission not offered altogether. Porsche quotes devastating century sprint times of 3.2 and 3.1 seconds for the Turbo (with Sport Chrono Package Plus) and Turbo S respectively. Top speed is 318kph.
To simultaneously improve high speed stability and low speed maneuverability, Porsche has also introduced rear-wheel steering in the 911 Turbo. Similar to the Integral Active Steer of BMW's F10 5 Series, the rear wheels turn opposite direction to the front at speeds up to 50kph and in parallel direction above 80kph. Maximum rear steering angle is 2.8 degrees, and according to Porsche, this corresponds to a virtual shortening of the vehicle's wheelbase by 250mm at low speeds for better maneuverability and conversely lengthening it by 500mm at high speeds for better stability.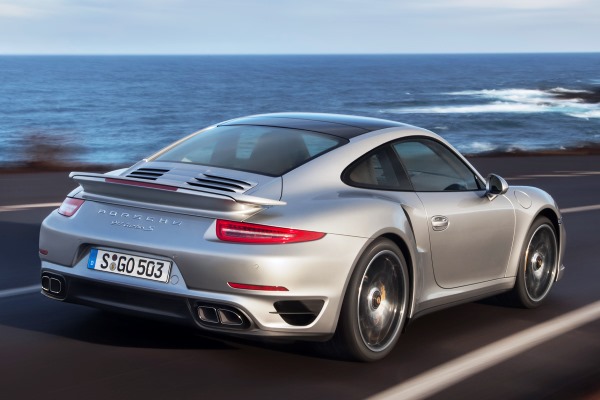 The new 911 Turbo is also equipped with an active aerodynamic package to improve down force at high speeds. At both front and rear, the spoilers are equipped with pneumatically-operated three-stage adjustment mechanisms. Porsche claims that these aerodynamic enhancements alone helped contribute a two-second reduction of its Nurburgring North Loop time over its predecessor.
A statement issued from Porsche's international media website confirmed that the new 911 Turbo and 911 Turbo S is scheduled to arrive in Malaysia by the fourth quarter of 2013. Prices have yet to be announced.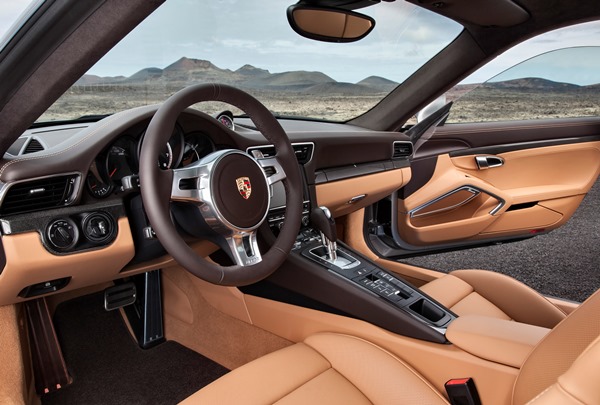 KON
Pictures: Official Porsche release.