Home
Motorsports
Ragginger Extends Points Advantage with Third Successive Victory
Ragginger Extends Points Advantage with Third Successive Victory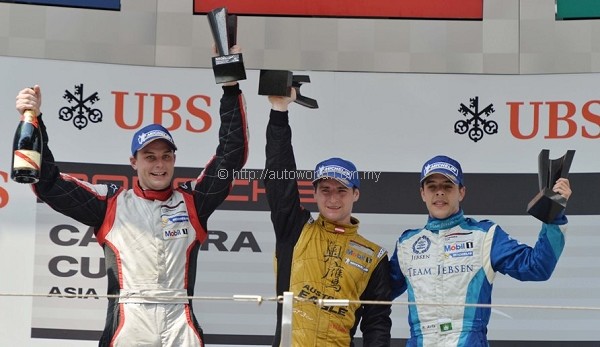 Shanghai. Team Eagle's Martin Ragginger rounded off a perfect weekend at the 2013 FORMULA 1 UBS CHINESE GRAND PRIX by taking his third successive victory in the Porsche Carrera Cup Asia. His trio of wins, and perfect record of pole positions, gives him a strong lead at the top of the championship points table but series newcomer, Earl Bamber of Craft Nexus Racing, continued his impressive debut with his second runner-up finish of the weekend. Third across the line was Macau's Rodolfo Avila of Team Jebsen, who made a scorching getaway off the grid and powered his way to a podium finish.
In Class B, it was Mentos Racing's Egidio Perfetti who took the toughest victory of his career so far, simultaneously attacking and defending in what was a frenzied – but fair – 12 laps on the 5.4km Shanghai International Circuit. Perfetti took the Class B win and eighth overall, with Dorr McElrea Racing's Yuey Tan second in the category and OpenRoad Racing's Christian Chia taking the final podium spot.
Ragginger now has a ten point lead over closest challenger Bamber on the championship leaderboard, with LKM Racing Team's Keita Sawa in third, two points clear of Avila. In the chase for Class B honours, Perfetti is 14 points ahead of Tan, who jumps to second after the Shanghai double header, with Malaysian newcomer Alif Hamdan third.
For Ragginger, it was an ideal weekend, but the Porsche ace is aware the competition is only going to get more fierce as the season continues: "I still have to work a little on my start, even after so many years there's still need for improvement. The car was very good right from the beginning and I felt very confident in it. Today I put on a little bit more pressure and a lot of pressure in the first couple of laps. After I made it past I could pull away a little, but still kept pushing throughout the race."
Although Bamber had to settle for second again, he knows victory is well within grasp: "The start was absolutely fantastic, and a really great battle for the first couple of laps. Today I didn't quite have the pace and knew it would be tough as we're on older tyres. We're moving forward, with two second places, so maybe we'll get a win in Zhuhai."
For Avila, it was a great end to a tough weekend: "We had good race pace, and a big improvement from Sepang and yesterday. We're quickly catching up, but still have some work to do both on the car and on me as a driver. I really think I can close the gap to the leaders, especially compared to how I felt when the weekend started."
Perfetti was exhausted after an epic race: "Lots of battles! Quite a clean race but a lot of being passed and then overtaking. I had some problems on the back straight, that's where the guys were catching up to me, but at the double left I got them back."
As he had in Round 2, Bamber shot off the start like a rocket, grabbing the lead from pole-man Ragginger. Sawa also got away well and was challenging the Austrian for second when Avila saw his chance and dived past. Basetex Racing's Zhang Da Sheng was on the tail of Avila chased by Budweiser Kamlung Racing's Tung Ho-Pin who was sandwiched between him and Team Carrera Cup Asia's Darryl O'Young. In the high-speed battle, the three were so close that contact between Zhang and Tung set of a chain reaction which saw O'Young and Zhang Da Sheng spin, with the Hong Kong driver retiring. Zhang Da Sheng made an impressive recovery to fight back through the field, eventually crossing the line in seventh.
Back at the head of the field, Ragginger was piling the pressure on to his rival, with Bamber once again defending superbly. At the end of the opening lap though, Ragginger remained glued to Bamber's bumper, making his move on Lap 2 and seizing the lead.
Team Yongda Dongfang's Benjamin Rouget and Zhang Zhiqiang of Team C&D were in a crowd-thrilling battle for sixth, when Tung spun ahead of them and rejoined behind the battling pair, keeping his distance as they fought tooth and claw. Lap six saw Zhang Zhiqiang run into the back of Rouget for which he was handed a drive-through penalty.
Perfetti closed in on Kamlung Racing's Peter Li Zhi Cong, getting by on Lap 6 and then pulling away in front. However, a lap later he had Zhang Da Sheng, Zhang Zhiqiang and Li swarming all over him, defending well until Zhang got the better of him on Lap 8, and Zhang Zhiqiang took his drive through penalty. Li took the fight to Perfetti, who firmly closed the door.
The Porsche Carrera Cup Asia truly shone at China's most prestigious motorsport weekend, treating the crowds to an unforgettable weekend of thrilling GT competition from its talented international field.
The Porsche Carrera Cup Asia will be back in action next month at the Zhuhai International Circuit in China's Pearl River Delta, for Rounds 4 and 5.