Mitsubishi Pajero Sport VGT Test Drive Review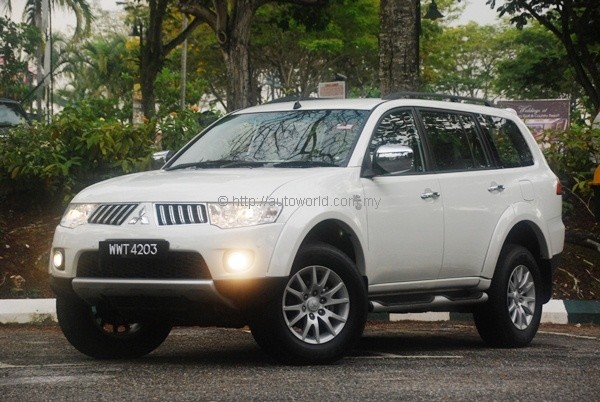 We tested the Mitsubishi Pajero Sport VGT back in October 2011 shortly after its launch at Kota Kinabalu, Sabah, and our conclusion back then was that despite offering almost identical levels of equipment with the lesser GS model, the VGT's RM6,000 premium is quite adequately justified by its added power and extra ratio of its automatic transmission.
More than a year on today, we re-evaluate the Pajero Sport's case with an official demo unit that has nearly 20,000km on its clock tested in the hustle and bustle of congested Klang Valley traffic. In the time that has lapsed since our previous review however, prices have went up and the cost of owning a Pajero Sport VGT now totals up to RM175,997.10 with insurance.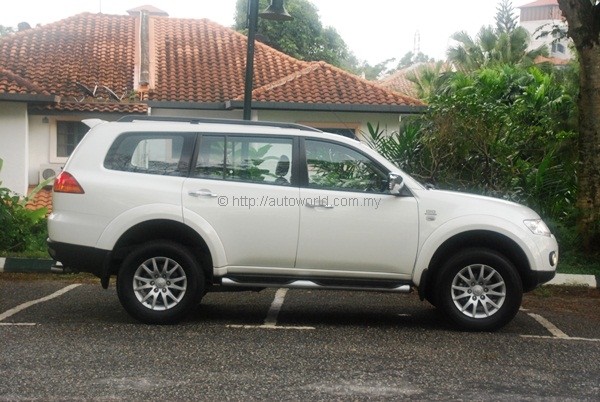 Like the Triton upon which it is based, the Pajero Sport has impeccable road manners.

The new figure represents a four grand increase from its launch price of RM171,990, but your other option in the range, which is the rear-wheel driven Pajero Sport GL, has also similarly seen its asking price raised from RM149,500 to RM152,517.10. The previous GS 4WD non-VGT model has been discontinued.
Recapping on what it has to offer, the Pajero Sport's range-topping variant is powered by a 2.5-litre variable geometry turbo engine pushing out 176hp @ 4,000rpm and 350Nm @ 1,800 – 3,500rpm. Standard transmission is a 5-speed automatic, and its offroading prowess is aided by Mitsubishi's Super Select 4WD system, which belies its underlying sophistication by using the old-fashioned method of mechanical lever operation.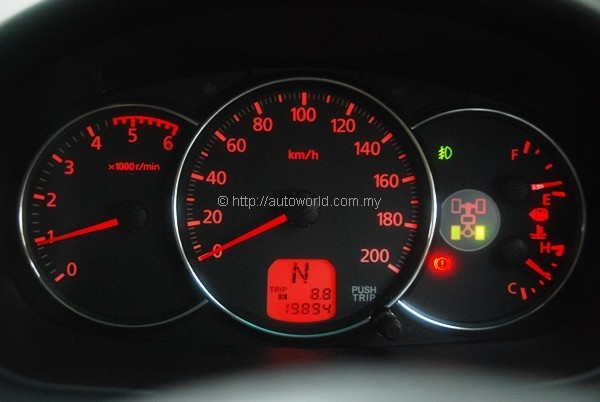 Instrument panel is clear and legible, but could do with fuel consumption readouts.

Unlike most part-time 4WD systems, the Pajero Sport's four-mode Super Select 4WD features a viscous central coupling that allows 4WD mode to be engaged on tarmac without damaging the driveline. This is especially useful to summon extra traction in slippery conditions. There is then the further option of mechanically locking the centre diff to a 50:50 torque spread in high or low ratios to handle really tough off-roading conditions. The Pajero Sport may not be the newest kid in the block, but this flexibility of its drivetrain remains unrivaled within its price range.
Mechanical underpinnings are based on the Triton's ladder-frame chassis, but the pick-up truck's rear leaf springs are replaced with coils to give better ride comfort. It was therefore unsurprising that the Pajero Sport carries similarly impressive levels of ride comfort like the Triton, which is quite capable of holding its ground even against newer opposition.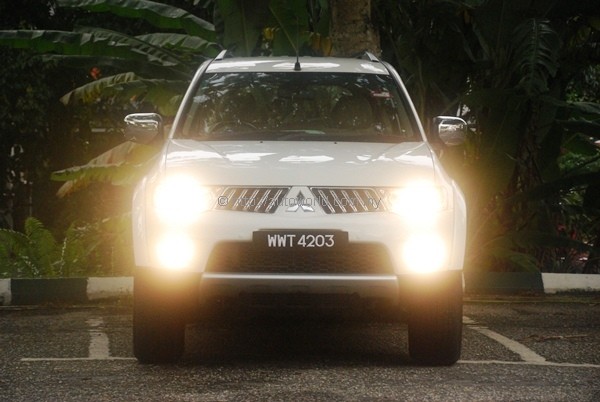 Front fascia is virtually identical to the Triton's.

The Pajero Sport's lanky 1,840mm overall height means enthusiastic cornering tendencies will have be kept in check, but its dynamics are indeed a revelation. High speed stability and composure are beyond reproach, and more impressive is its ride quality, which handles bumps and potholes with complete authority – I didn't even bother to slow down for bumps or avoid pot holes with this test car. Now the Pajero Sport is no Range Rover to be sure, but Mitsubishi certainly nailed the balance between hardiness and pliancy spot on here. Compared to the Triton, the Pajero Sport rides better, but the former's lower centre of gravity gives you the confidence to corner it harder and faster than the latter.
On the highways, the Pajero Sport further distinguishes itself as an exceptional cruiser, capable of sustaining speeds between 150 and 160kph with minimum effort. The chassis felt impressively stable, and the engine hardly strained; the automatic transmission's fifth gear and generous torque of its diesel engine has blessed the VGT with excellent cruising legs.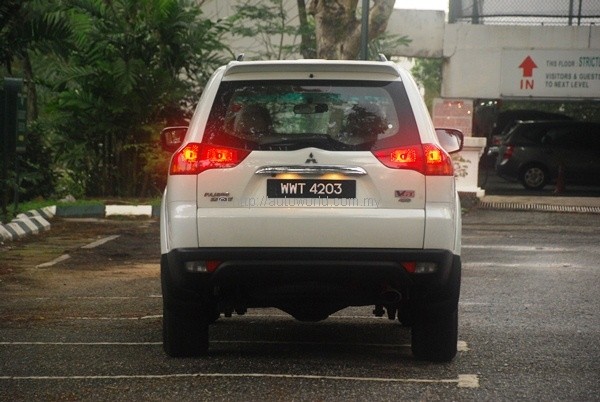 The Pajero Sport is tall, and from the rear it has a lanky appearance.

Some marks however are lost on trunk roads, as noticeable turbo lag hampers brisk response. Although the engine's peak torque of 350Nm is spread impressively wide from 1,800 to 3,500rpm, turbo lag is still a reality you will have to live with if your revs drop below that 1,800rpm mark. It is not severe, but it is noticeable, and that one-second delay between you stepping the accelerator and the actual start of acceleration must be factored in when you plan your overtaking on single-carriage two-way roads.
As noted in earlier reviews, the Pajero Sport offers exceptional refinement and dynamics for a body-on-frame SUV. Other than a relatively slow steering rack, its chassis is superbly engineered, and although the engine suffers a little from lag down low, it is relentless once it gets on song. The Super Select 4WD is a particularly good selling point, giving you the best of both worlds between permanent and part-time 4WD systems, allowing you to more effectively tackle a wider variety of conditions rough or smooth. In short, we are looking at an SUV of many talents here.