BHPetrol Launches Advanced New SynGard 6000 Engine Oil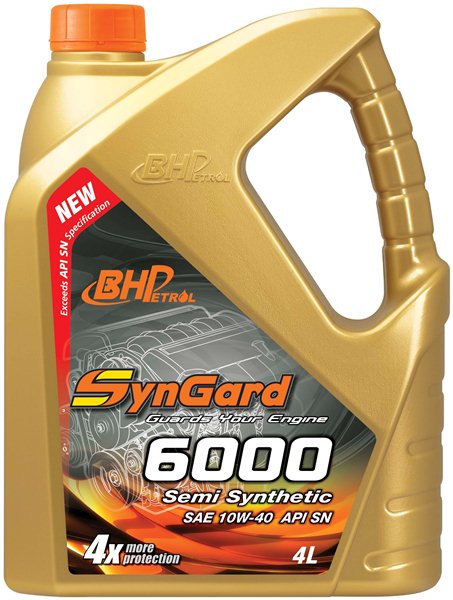 Boustead Petroleum Marketing Sdn Bhd (BHPetrol) has added the new Semi-Synthetic SynGard 6000 to its range of engine oils for vehicles and machineries. The new oil is claimed to not only meet American Petroleum Institute (API) standards for wear protection, but exceed it by a factor of our.
Deputy General Manager (Lubes) BHPetrol, Mr Soh Lip Peng said, "We are confident that Malaysians will benefit from our Semi-Synthetic SynGard 6000, particularly given the enhanced nature of the new engine oil which will provide superior protection for car engines and lead to better performance. We hope to be able to help ensure more efficient journeys for motorists and we look forward to continue delivering top quality products to Malaysian drivers."
The SynGard 6000's formulation includes a special deposit control agent claimed to possess excellent anti-sludge capabilities and enhanced engine cleaning power. These control agents attach themselves to the particle deposits and prevent the formation of sludge in the engine that hinders overall performance.
"Engines commonly experience the most wear-and-tear at the start of the ignition key. As such, it is important for engine lubricants to be able to reach and protect the engine's most vital parts in the shortest possible time. With our Semi-Synthetic SynGard 6000, all these issues can be resolved as our lubricant will provide a permanent solution and is capable of keeping the mechanisms of the engine smooth and steady for a perfect drive." concluded Mr Soh.
SynGard 6000 is available at all BHPetrol service stations and over 3,000 workshops as well as spare part outlets in Peninsular Malaysia. SynGard retails for RM123.00 for a 4-litre pack. Consumers will also receive KFC vouchers worth RM13.60 with every 4-litre purchase of SynGard 6000.