Perodua updates Alza Advanced Version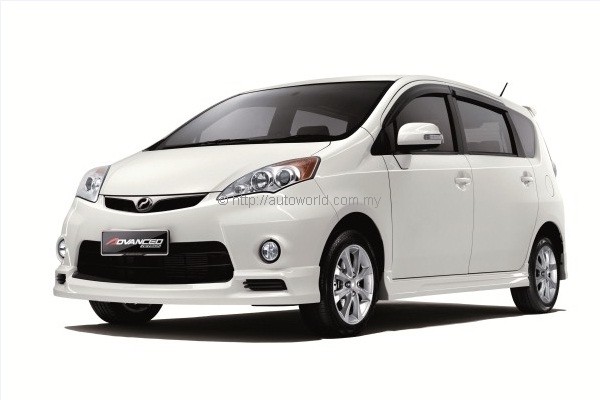 Perodua has introduced an improved version of its top-spec Alza Advanced Version offering mild updates over the existing model with effecting a price increase. The new Alza AV adds a built-in touchscreen multimedia unit, new design for its leather seats, PVC coil mats, and a more prominent 'Advanced Version' badge to help you announce to the world that your Alza is worth RM70k.
Functions integrated to the new multimedia unit include GPS navigation, reverse camera, and also a unique 'Yellow Pages' app where users can be guided to the location of any company registered with the listing service provider. It also comes with a TM Wi-Fi Hotspot locator for users to seekout the nearest TM-operated wi-fi hotspots.
Available only in automatic transmission, the prices of the new Alza Advanced Version are unchanged at RM69,503.50 for solid paint and RM70,003.50 for metallic paint, both figures are on-the-road with insurance in Peninsula Malaysia. Colour choices are Mystical Purple, Ebony Black, and Ivory White.
The new Alza Advanced Version was introduced to members of the press earlier today in a media briefing held to announce Perodua's business performance in the first half of 2012. For the first six months of 2012, Perodua managed to sell 93,000 vehicles, a 17% year-on-year increase from 2011 and accounting for 31% of the period's estimated TIV.
"However, sales numbers from 2011 are not a true comparison as the entire automotive industry was impacted by the lack of parts from Japan due to the disasters that hit the island nation in March last year," Perodua Managing Director, Datuk Aminar Rashid said.
"When compared with 95,000 units sold in 1H10– which we benchmark ourselves against – our sales are down by 2%, mainly due to the New Guidelines of Responsible Lending introduced by Bank Negara Malaysia in January this year," he added.
Bank Negara's decision to tighten hire-purchase regulations was always going to hurt Perodua the hardest as its customer base includes a large number of lower income earners. The company has been working tirelessly to address the impact of the new guidelines to its business, and Aminar has bullishly declared that it remains on course to meet its 188,000-unit sales target for the year.
According to Aminar, pro-active steps taken by the company to minimize loan rejections resulted by the guidelines include educating and assisting its customers in making the appropriate document preparation. The company also maintained constant communications with finance companies to standardize documentation processes to minimize processing time. Since the New Guidelines came into force, loan rejection rates went from 20% in November 2011 to 27% in January 2012 before easing to 24% in June.
In the after sales business, service intake has risen 2% from 876,000 vehicles for the first six months of 2011 to 896,000 vehicles in the corresponding period this year. The improvement in service intake has also increase Perodua's service market share to 53% from 51% last year. Meanwhile, parts and accessories sales have jumped 15% to RM112.6 million for the first 6 months of the year from 97.6 million in the same period last year.
"In this regard, I would like to thank the financial institution for their cooperation and I hope they continue to extend their cooperation for the benefit of the entire automotive eco-system," Aminar said.
Another interesting and praiseworthy development to report from the company is that effective 1 July 2012, all new Perodua vehicles rolling out of the factory have been fitted with dual frontal airbags and seat-belt pre-tensioners as standard. All models, including the modest Viva 660BX, benefit from this upgrade with no increase in price. This upgrade comes in line with the Government directive that all new vehicles must comply with the new R94 road safety regulation.
Pictures: Official Perodua release.
Further Details:
– Perodua car prices and specifications in Malaysia
– List of official Perodua dealerships and service centres