Perodua acquires land from UMW for HQ expansion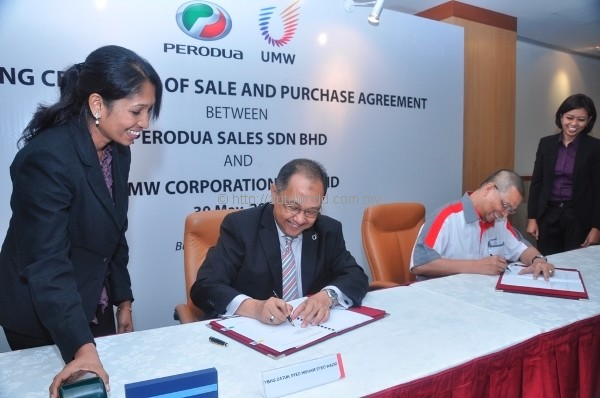 Perodua has acquired a piece of land adjacent to its headquarters in Sungai Choh, Rawang, spanning 64 acres from UMW Corporation Sdn Bhd at a price of RM16.7 million. The company plans to use the land to expand its infrastructure to create a new community centre that includes construction of a new mosque, childcare centre, mini gym, additional parking space, and utilities.
"The plans we have in place for this land will be a great boost to our staff welfare an is part and parcel of our promise to place people first in whatever we do," Perodua Managing Director Datuk Aminar Rashid Salleh said during the signing ceremony between Perodua and UMW Corporation.
The new infrastructures are scheduled for completion in the latter half of 2013. The aforementioned mosque is designed to hold 4,500 people at a time, and Aminar added that Perodua is in discussion with religious authorities to ensure that it benefits not just Perodua staff working in the factory but also the community at large.
The child care centre will be operated by trained and certified professionals, and the company hopes that it will give workers peace of mind considering its proximity to the workplace. Discussions are also underway with developers to build new accommodation units for workers.
"The concept, if accepted and approved, will create a Perodua Community area, which will not only improve productivity but will create a "peace of mind" atmosphere among Perodua staff since their workplace is near their home", Aminar said.