GE and Naza co-host electric vehicle experience event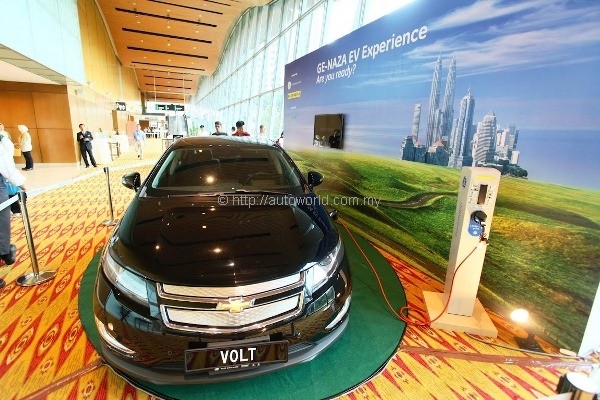 General Electric (GE) and the Naza Group of Companies co-hosted the 2012 GE-Naza Electric Vehicle Experience last week bringing together key stakeholders and industry players to discuss issues pertaining to the deployment of electric vehicles (EV) in Malaysia. The event was held as part of the 2012 GE Innovation Day in Kuala Lumpur showcasing GE's innovations co-created with local partners.
Supported by the Malaysian Green Technology Corporation (MGTC), the event featured a plenery panel discussion involving individuals such as Datuk Maruan Mohd Said, Chief Operating Officer of Naza Quest Sdn Bhd; Mohamad Madani Sahari, CEO of Malaysia Automotive Institute; and Azli Mohamed, Director of Growth Initiative – Malaysia, GE ASEAN, among others.
Discussions covered the topic of 'Building an EV ecosystem' focusing on EV technology applications, infrastructure requirements as well as incentives, regulations, policies and strategies needed to accelerate the growth of EVs in Malaysia.
Stuart Dean, Chief Executive Officer of GE ASEAN said, "We have made great strides in our Ecomagination strategy over the last seven years worldwide with revenue from clean energy exceeding USD21billion. This growth is twice as fast as the Company average. In Malaysia, we have a long term commitment to support government efforts in green technology."
"Our collaboration with NAZA in Malaysia to develop EVs, support Malaysia's national commitment of a 40% reduction of carbon emissions by 2020. Our investment of resources and innovative capabilities through co-creation opportunities across ASEAN will see us teaming up with some of the region's best infrastructure companies to build for the future and transform environments," he added.
GE and Naza signed a Memorandum of Understanding last year on a collaboration with regards to EVs in Malaysia. Scope of the MoU included joint-lobbying, education to create awareness amongst public and government, utilizing GE technologies in Naza's electric vehicle manufacturing lines, and running electric vehicle pilot tests in Malaysia. GE's technology in the EV infrastructure ranges from charging stations and software to circuit protection and transformers.
As an added bonus, guests and customers at the event were given the opportunity to test drive Chevrolet Volt electric vehicle.
Pictures: Official Naza release.