Over RM61k given out in Caltex-Maybankard campaign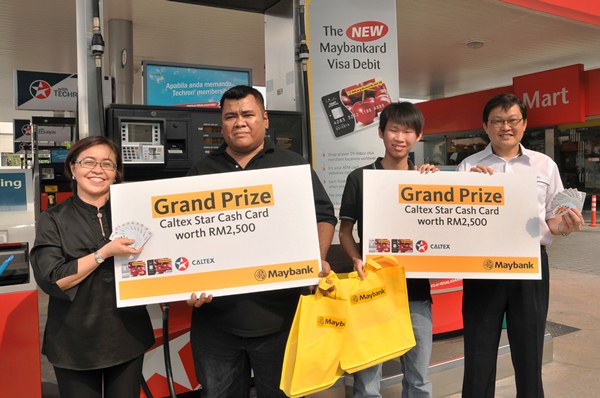 A total of RM61,250 in cash and Caltex StarCash cards have been won by 152 Caltex customers in the Win up to RM120,000 Maybankard Debit campaign. Organized to promote the usage of cashless payment methods, the contest draws to a close on 15 June 2012.
Since the contested started in December 2011, Caltex stations nationwide have engaged in more than 40,000 Maybankard Debit transactions – 33% more than the corresponding period of 2010. Customers qualify for one automatic entry after a minimum transaction of RM30 at any Caltex station nationwide use Maybankard Visa Debit or Maybankard MasterCard Platinum Debit.
A total of 76 winners per phase are selected based on the highest number of transaction within the period. Each phase will have one Grand Prize winner and 75 bi-monthly winners. The grand prize winner wins RM2,500, while other winners receive RM250 in phase 1; RM500 in Phase 2; and RM750 in Phase 3.
The Grand Prize winner will be paid via Caltex StarCash Card, a pre-paid card that can be used for purchases at Caltex stations nationwide. Bi-monthly prizes will be paid via cash and will be credited into the cardmember's debit card account. The first two grand prize winners have recently been announced – Ngai Seng Hei, 26, from Bandar Bukit Raja, Klang, and Faizal Zulkarnain, 40, from Bandar Baru Salak Tinggi, Selangor.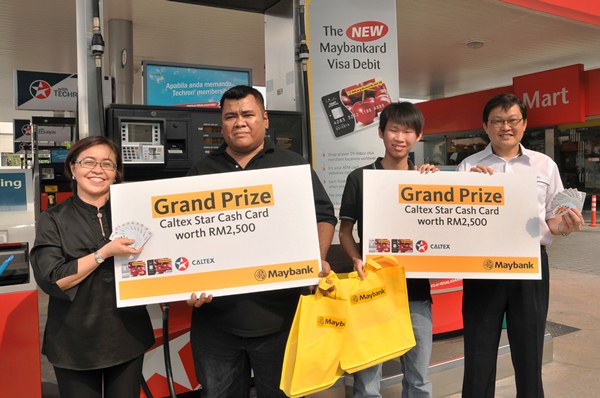 Picture: Official Caltex release..
See also: Cash and Gold to be won from Peraduan KeEMASan dengan Caltex