Inokom opens first commercial vehicle centre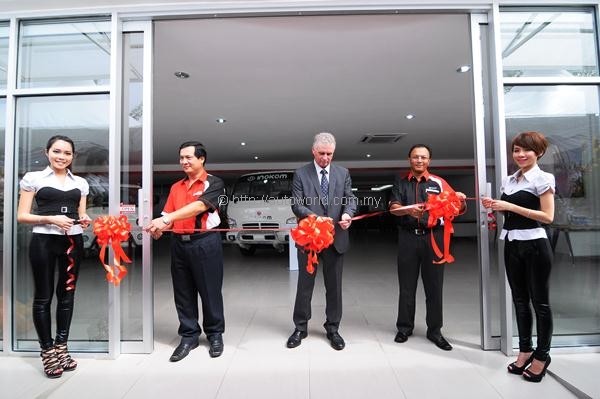 It was back in 2000 that the locally-made Inokom brand of commercial vehicles hit the roads in Malaysia. Since then, more than 10,000 Inokom commercial vehicles have been sold in Malaysia, and the company has just invested RM1.5 million to build an all-new commercial vehicle sales and service centre worth RM1.5 million in Shah Alam.
With 15,000 sq ft of space available, the Inokom Commercial Vehicle Centre is fitted with electrical, air and hydraulic supply lines that drop from above rather than rise from below – a design consideration to enable the centre to service the largest of trucks. The hydraulic lifts are heavy duty, and are claimed to be designed with the ability to hoist a fully laden truck that may need immediate repairs.
Daily capacity of the centre is between 15 and 20 vehicles. Inokom has promised that fast moving spare parts will be amply stocked to ensure fast turnover of service vehicles. Prices of parts are said to be 'very competitive' in order to appeal to cost conscious fleet operators. Drivers waiting for their trucks to be serviced can relax in an air-conditioned lounge complete with light refreshments and large glass areas for them to view the servicing of their vehicles.
For sales purposes, the facility houses a fully air-conditioned showroom and discussion room for viewing of the latest Inokom trucks. It is manned by trained sales personnel supervised by the Branch Manager to ensure satisfactory communication of product information and prices to customers.
Inokom is currently represented by a network of 40 authorized sales and service centres located throughout the country. The company is looking to upgrade some of these centres to full-fledged 3S centres like this one in Shah Alam as demand increases.
At the centre's launch last week, the company also launched the new AD3 Turbo which complies to Euro II emission standards. The turbocharger is claimed to have liberate an additional 40% of torque for this 5-tonne truck with minimal sacrifice in fuel consumption over the existing AD3 Euro 1 variant.
Pictures: Official Inokom release.