Honda 2012 Gold Wing now in showrooms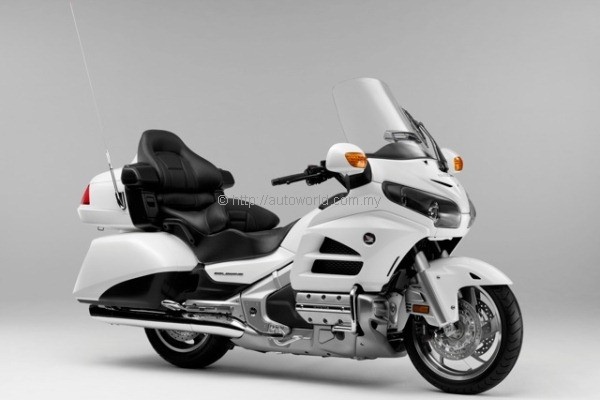 Boon Siew Honda Sdn Bhd has officially launched the Honda 2012 Gold Wing luxury touring bike for the Malaysian market after giving the market a preview at the MotoXpo 2012 in February this year.
"We are proud to present the Honda 2012 Gold Wing, which provides incredible smoothness, efficiency and comfort to cruise great distances. The Honda 2012 Gold Wing will provide the ultimate cruising experience for bike enthusiasts in Malaysia," said Managing Director and Chief Executive Officer of Boon Siew Honda, Mr. Satoshi Okada.
Powering the Gold Wing is a 1,832cc liquid-cooled flat-six engine equipped with Honda's PGM-FI fuel injection system and a HECS3 oxygen-sensing catalytic converter to ensure Euro III emission compliance. An opposite-spinning five speed transmission with overdrive helps cancel the side-to-side torque effect inherent of the boxer engine architecture. Reverse gear is push button-activated.
Designed with long-distance touring in mind, the 2012 Gold Wing has over 150 litres of luggage capacity at its rider's disposal. Small personal items can be kept in a small 2.8-litre central storage compartment. The Gold Wing also comes with a surround sound system capable of MP3 and WMA playback with iPod, iPhone, and USB connectivity.
Improved materials line the seats, which have waterproof covers and built-in heating function. A separate foot warming system helps further regulate temperature while riding. Meanwhile, the windscreen can be adjusted through six settings over 100mm of travel for better wind and weather protection.
Safety features are further boosted with the Antilock Braking System (ABS) to reduce the braking effort should the system detect that wheel is about to lock up and the Combined Braking System (CBS) tackles the task of delivering the perfect balance of front and rear braking.
Available in two colours – Pearl Fadeless White and Graphite Black – the Gold Wing is priced at RM174,900 on-the-road. As an added bonus, Boon Siew is offering two free services with each purchase of the Gold Wing – at 1,000km and 12,000km.
Pictures: Official Boon Siew Honda release