Volkswagen Golf R Test Drive Report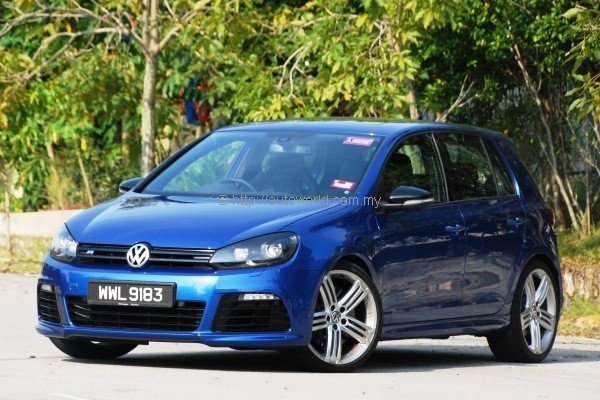 You would think, that with 208hp and 280Nm in a compact bodyshell weighing 1,414kg, the Volkswagen Golf GTI in its standard format ought to provide enough oomph and driving pleasure for anybody. I certainly think so, but there are many who beg to differ, which is why we have tuning shops offering their services to 'chip up' your GTI to the region 350 horses and beyond. I've heard of 500hp projects.
Quite why anyone thinks routing that much power to the front wheels is a good idea is beyond me, but fact is that such modifications will have the effect of ruining the finely calibrated balance of the stock setup and also place additional stresses on the brakes, suspension, and most of all, transmission, to cope with the added power. You also void your warranty in the process.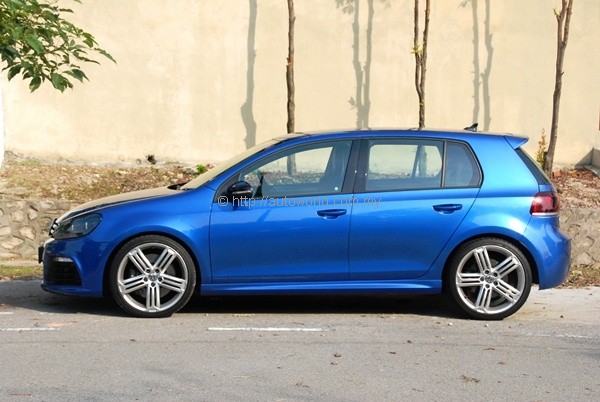 An alternative to modding a Golf GTI.

Then there's the question of money. You can't get any cherry tree mechanic to re-tune your Golf GTI as you like, and that means handing it over to someone with an air-conditioned shop and a laptop, and these guys don't come cheap. A five-figure bill will likely be yours to swallow after that. Reliability is another question mark, and when you have a transmission as sophisticated as Volkswagen's DSG, boosting engine outputs beyond the transmission's rated power and torque is just asking for trouble.
So, what do you do if you really want something more powerful than the Golf GTI? Well, Federal Auto has a few decently-priced 'power-up' options for you from ABT, or another option for you to consider is the Volkswagen Golf R, which at RM270,060 is RM69k costlier than a standard GTI, but it satisfies your lust for power without voiding your factory warranty.


To be clear, this is way more than a souped-up GTI. It does not even share the same engine. In the engine room sits the Mk V GTI's EA 113 2.0-litre turbocharged engine making 252hp @ 6,000rpm and 330Nm @ 2,400 – 5,200rpm. This is a detuned setup for hot tropical climates compared to the 267hp and 350Nm available in European markets. We don't suggest you chip this either.
Standard transmission is a 6-speed wet clutch DSG, and power goes to all four corners through Volkswagen's Haldex-developed 4Motion all-wheel drive system that the company claims to be significantly improved over the one used in the predecessor Golf R32. Certainly something no tuner can shoehorn into your GTI.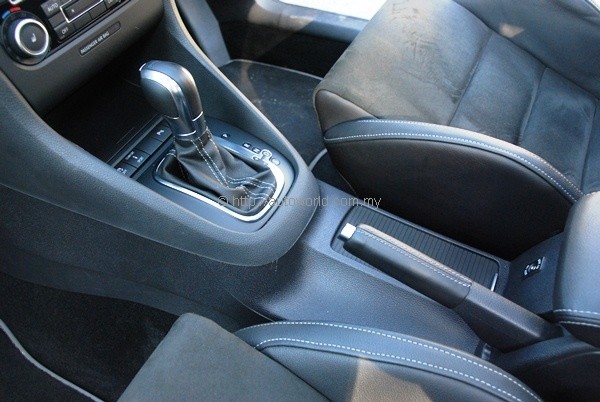 DSG used is the more robust 6-speed version to cope with high outputs.

Volkswagen's R division has also uprated the Golf's standard chassis to cope with the added power and all-wheel drive ability this halo variant. Ride height is lowered by 25mm, with springs, dampers, and stabilizers all accordingly adjusted. Brakes have been upsized by an inch. The Golf R also comes with Adaptive Chassis Control (DCC) to alter suspension behaviour between three settings – Comfort, Normal, and Sport.
That's a decent amount of upgraded mechanicals over the GTI to justify its RM69k premium, and for things that you can see, you get front sports seats, sunroof, instrument panel with blue dials, push-start button, and discreet sprinklings of the 'R' badge on the steering, seats and door sills to remind you that you're not in a GTI. Meanwhile, onlookers will be able to tell your car apart by its 19″ Talladega alloy rims, reprofiled bumpers with day-time running lights, darkened tail lamps, and dual central-mounted exhausts just below the number plate.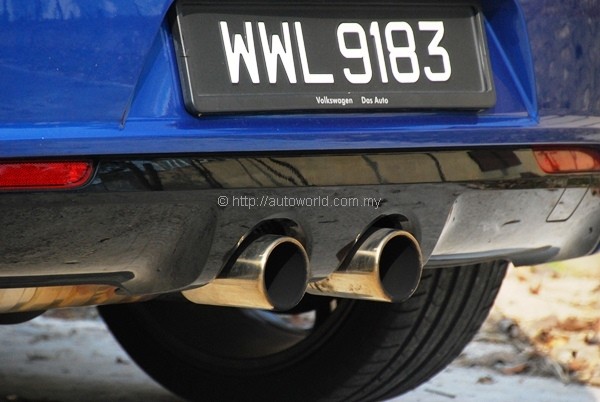 Dual central exhaust emits quite a burble.

Step inside the Golf R's cabin, and you are immediately presented with the first challenge of living with this car on a day-to-day basis – negotiating the outer side bolster of the sports bucket seats. Ingress and egress is not exactly straight forward. Almost every passenger I carried during my weekend with the car complained of inconvenience getting in and out, but the good news is that nobody complained about not being able to fit in the seats, and they give good lateral support too.
At this stage, the message should be abundantly clear that this is not a Golf for the faint-hearted, and a few kilometres on some rough roads will serve to reinforce that impression. Even with the DCC set at Comfort, the Golf R still rides firmly, though it must be said that this is the most suitable mode for use out here in the real world. Keep Sport mode for Sepang.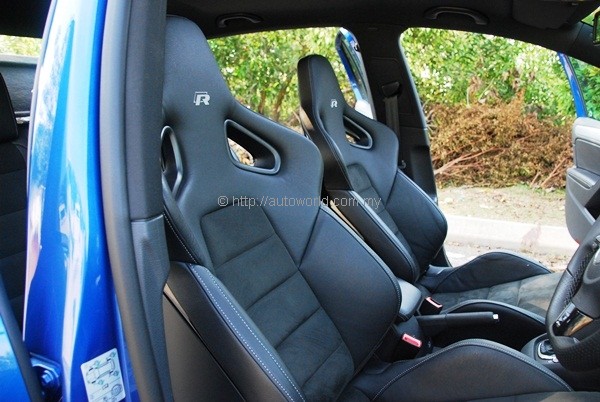 Sports seats hug you tight in corners, but ingress and egress not easy.

This car is also not for the accountants. Volkswagen quotes an official fuel consumption of 8.4 l/100km on the combined cycle, but our test car easily doubled that figure despite our considerable restraint in unleashing the full 252 horses only very sparingly. The good news is that this thing runs on RON 95, so you have the option of using cheaper fuel.
So, what's the real good news about this car then? Well, it's fast. Acceleration is relentless all the way to the double ton, and it is amazingly sure-footed when you gun it around corners. The advantage of having all-wheel drive is fully maximized here as there is nary a hint of under or oversteer at corners, once the nose settles in, the harder you gun it, the harder it grips the road.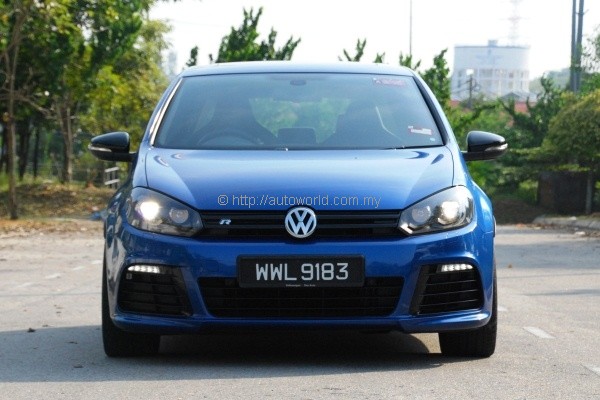 'R' badges are subtle, but can you really mistake this for a 1.4 TSI?

Ultimately, the case for this car is decided by your views on the car sitting a rung below it – the Golf GTI. If the GTI is good enough for you in your books, you really don't quite need the extremities of the Golf R. No doubt you are getting extra performance, but you are also sacrificing a lot of the GTI's day-to-day usability along with it.
The Golf R starts to make sense if you look at the GTI and think, 'aha, I could do with a bit more power here'. With the Golf R, you are not only getting more power, but also an uprated chassis to better harness that extra power in a package that is fully backed by a factory warranty. So, if you are thinking of buying a Golf GTI and planning to plonk some go-faster bits into the car, the smart money will then be to get the Golf R instead.


Further Details:
– Volkswagen Golf R price and specifications in Malaysia
– Volkswagen car prices and specifications in Malaysia