20 winners take home RM280k of prizes from Caltex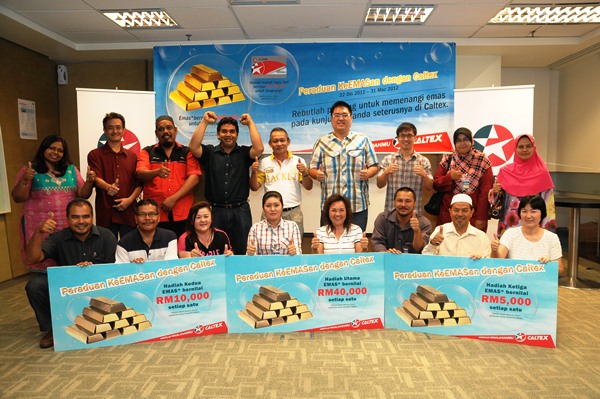 Chevron Malaysia Limited has recently presented 20 lucky winners of the Peraduan KeEMASan dengan Caltex contest with Maybank Gold Investment Accounts worth a total of RM280,000.
Four first prize winners took RM40,000 worth of gold each. They were Mohd Asri Abdullah, 45, from Kelantan, Chok Yung Hau, 25, from Port Dickson, Lee Siew Yin, 51, from Labis, and Azizan bin Abdul Hamid, 50, from Ipoh.
Youngest First Prize winner Chok almost missed his windfall as he was on a flight when Caltex personnel attempted to contact him. He was finally reached at the third attempt which was when he had just landed at the airport.
Lee, meanwhile, was skeptical when she first received the call, and in act of considerable prudence, had a lawyer contact her neighbourhood Caltex station for verification. A wise pre-caution considering the number of con artists out there.
The contest had ran from 22 Dec 2011 to 31 March 2012, and was open to customers who purchased a minimum of RM40 in a single receipt from Caltex stations nationwide. In addition to the four winners above, there were eight Second Prizes worth RM10,000; eight Third Prizes worth RM5,000 and 1,688 Caltex StarCash cards totaling RM199,184 in value.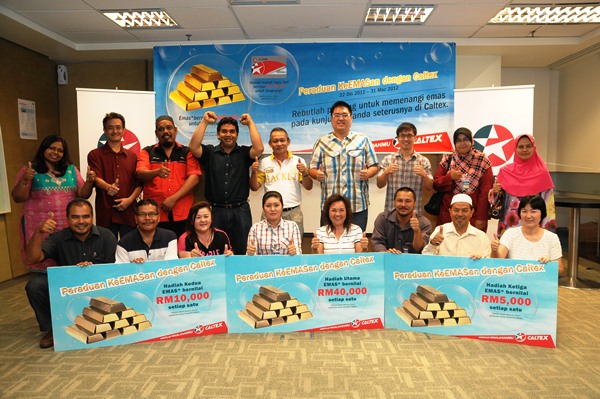 KON