Nissan Latio Impul 1.8 Test Drive Report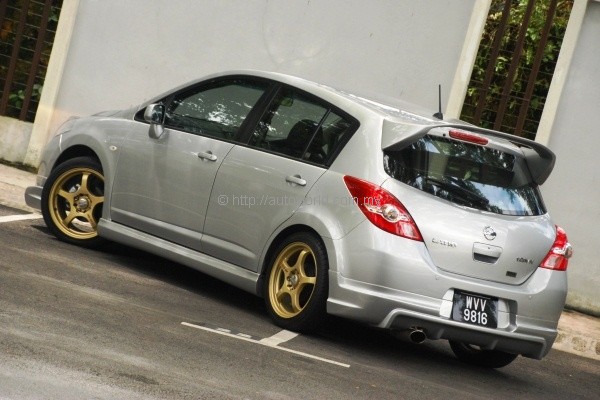 The Nissan Latio occupies a rather interesting position in the market. It is designed to be a replacement model for the N16 Sentra, and this means that it should theoretically compete with cars like the Honda Civic and Toyota Corolla in the C-segment. But Nissan's C-segment player in the country is established as the Sylphy, and this pushes the Latio to City and Vios territory, where it also has to fend off challengers like the Ford Fiesta and Hyundai Elantra.
These are all very competent challengers, and although the Latio is a decent product not without its virtues, it is, let's be frank about this, not the default choice of buyers in its price range. It enjoys steady demand to be sure, but never quite enough to set the charts alight. The Latio entered our market in 2007, and the facelifted version was introduced last September.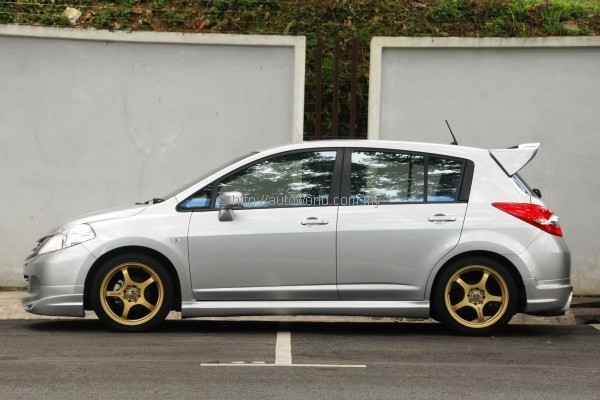 Impul bodykit alone costs RM3,800, which gets you skirts all-round, the big wing spoiler and grille.

Prices & Variants
With this new facelift, the Latio's model line-up has been streamlined to offer just two variants – the 1.6-litre sedan and 1.8-litre hatchback which we are testing here with the optional Impul bodykit and suspension enhancements that add an extra RM11k to the purchase price. We will get back to the Impul stuff later, but if you're interested, local distributors Edaran Tan Chong Motor offers it with both the sedan and hatch model.
However, if your tastes are less fanciful, then the standard variants can be yours at RM89,813.50 (OTR with Insurance, Peninsula) in sedan guise, or RM99,815.30 in hatchback guise. On top of a bigger engine, the hatchback's bigger price tag is also justified with added equipment. Trim materials are also different – the hatch gets a darker cabin finish compared to the sedan's more mature-looking beige.
Safety equipment are relatively on par; both variants come with dual airbags, ABS and EBD, but the hatch gets pre-tensioned front seat belts which the sedan doesn't. Other items exclusive to the five-door are front fog lights, steering-mounted controls, keyless entry & start, and 60:40 split-folding rear seats. In fact, the hatchback's rear seats even feature a recline and slide function that allows you to juggle between rear passenger legroom and luggage space.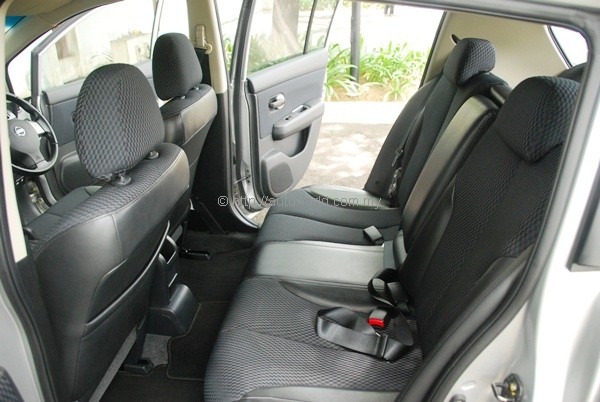 Rear seats can slide forward and back.

The Impul Bits
The additional RM11k that ETCM charges for the Impul kit brings gets you a full set of skirts, a wing spoiler, sports suspension, Blast-II exhaust muffler, and a set of 17″ light alloy wheels shod in 205/45 Goodyear Eagle F1 GSD3 tyres. Purchased individually, these items are worth a combined RM15,900.
The sports suspension (RM3,500) comes with firmer set of springs and shocks that also lower ride height by 25mm. The basic suspension architecture is however, unchanged from the standard MacPherson front and torsion beam rear layout. Expecting a complete re-engineering of the suspension is, of course, unrealistic, but it would have been great if Impul could have uprated the Latio's brakes to with bigger discs all-round to fill the space inside those new 17″ alloys.
The Blast-II exhaust system (RM1,800) puts in a new polished stainless steel muffler complete with the Impul logo etched on the exhaust tip. It gives a sportier engine note, but does not alter outputs, so ETCM still quotes 125hp @ 5,200rpm and 174Nm @ 4,800rpm as far as our 1.8-litre test car is concerned.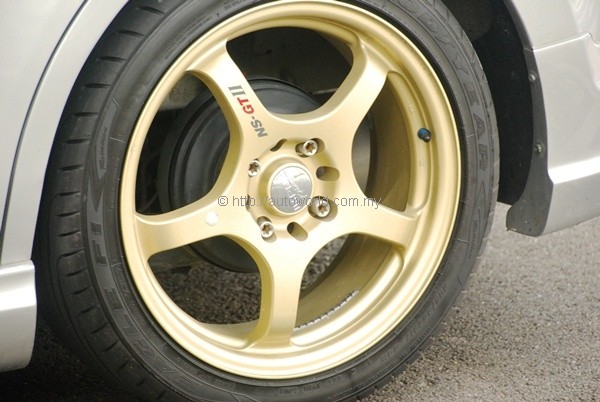 The 17-in NS GT-II alloy rims cost RM4,800 per set….

Driving Impressions
At this point, I will need to admit there was some trepidation on my part as I took the keys to this particular Latio Impul test unit. My previous encounter with Impul's handiwork in the Sylphy was less than pleasant. The reworked spring and damper settings on the Sylphy Tuned by Impul absolutely ruined the comfort and refinement that was inherent to the base car. Since then, I have been rather cautious when it comes to recommending Nissan cars that have been 'Tuned by Impul' to my friends.
Our test car here has not changed my views on the matter, but it has softened my stance considerably. For one, the ride quality is a lot more bearable this time round. It is still stiffer than the standard car, but it won't rearrange your organs every time you drive over a rough patch. Another plus point is that for buyers who insist on something different with their cars, ETCM offers you that something different with the Impul kit and backs it up with a warranty. The exhaust shops in Sunway can't do that.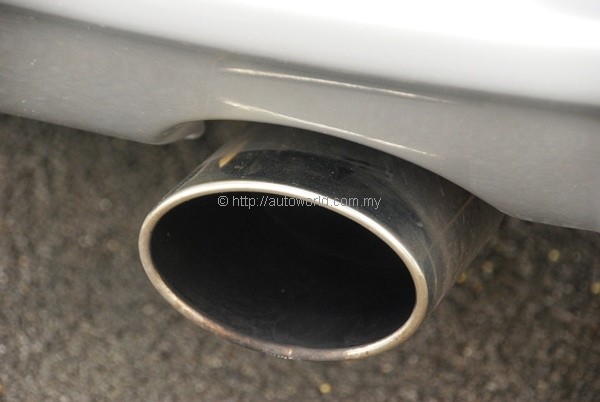 Blast-II exhaust muffler is worth RM1,800.

Speaking of exhausts, the Blast-II muffler produces quite a boom when accelerating. It is one of those things that you either like it or hate it, but it almost obscured the excellent work of Nissan's NVH team with the Latio's refinement. Upon releasing the throttle once reaching high speeds, I noticed that road noise was pretty well suppressed – impressive when you consider our test car is no longer wearing comfort-oriented tyres as per the standard model.
The Latio's Impul package does not include any interior enhancements, so what you see in our test car here will be what you will also get in the standard model. The black colour scheme adopted for the hatch makes the cabin feel a little more upmarket than the pre-facelift model, and with features such as steering-mounted controls and automatic air-conditioning, there is useful enhancement of its kit count to report. In terms of equipment, the Latio won't give cars like the Ford Fiesta or Hyundai Elantra a run for their money, but it is pleasantly roomy, and the sliding rear seats are a particularly nice touch.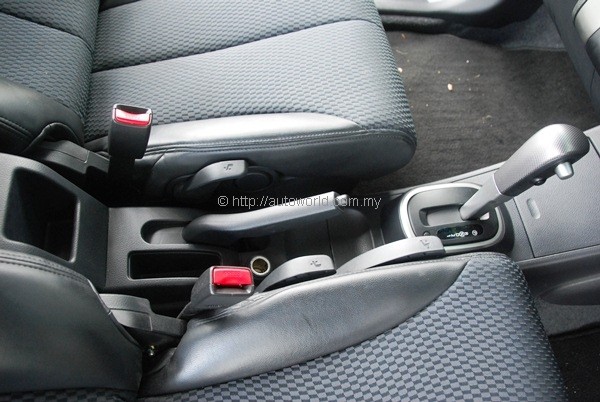 Unique to the Latio, its seat adjustment controls are placed along the centre console.

Verdict
The Latio is a competent product as a whole, but the current surfeit of options in the sub-RM100k passenger car market makes life incredibly difficult for Nissan sales advisors pitching this product to customers. Many upstart rivals from Korea and Europe are pinching sales away with products that offer way more equipment for less money.
Nevertheless, the Latio's mechanical simplicity helps its case amongst buyers who deliberately seek cars that are fuss free and painless to maintain. The Latio's strength lies in its comfort and refinement, which not many cars in this price range are able to match. The Impul kit takes away these strengths somewhat, but offers buyers an option of vehicle customization while still backed by the factory's warranty.


Further Details: Nissan Latio official prices and specifications