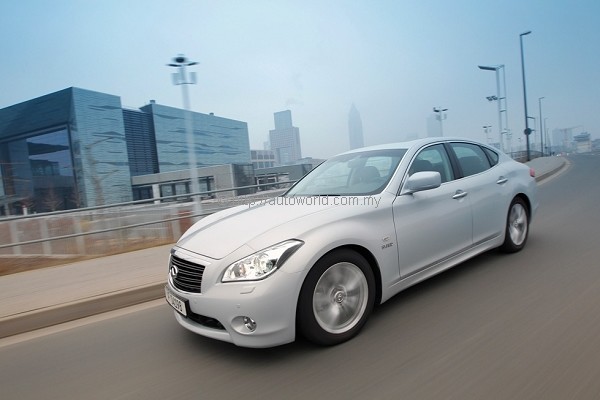 KUALA LUMPUR, Malaysia (26th April 2012) – The Infiniti is now available with a hybrid drive train, in the form of the Infiniti M35h, announced today by Inspired Motor Sdn Bhd, the local franchise owners of the Infiniti brand. It comes with a promise of high level performance while offering class-leading fuel efficiency and CO2 emissions.
"For 2012, the Infiniti range of luxury performance vehicles will be reinforced with the introduction of the world's fastest accelerating full hybrid, the M35h, as well as a competitively priced M25 which sports a 2.5L V6 with as much emphasis on luxury, comfort and equipment as well as driving pleasure." said Christopher Tan, General Manager of Inspired Motor.
"We are confident that our expanded range will further widen Infiniti's appeal to luxury car buyers and build on the anticipatory hospitality that Infiniti has been renowned for."
The Infiniti models are offered in three engine variants, the 2.5 litre Infiniti M25 at RM350, 000, the 3.7 litre Infiniti M37 at RM425, 000, and the Infiniti M35h, which is the hybrid variant, comes equipped with a 3.6 litre engine with an electric motor and a 7-speed automatic transmission. All the three engine variants are in V6 configuration.
At a Glance
• Infiniti's first hybrid and first to use new-generation Infiniti Direct Response Hybrid technology
• Power with efficiency: 360hp with 14.5km/l on the combined cycle
• High performance with low emissions: 0-100km/h in 5.5secs (Guinness World Record) with 162g/km of CO2
• Decoupling V6 for exceptional economy in 'coasting' mode for highway driving
• One electric motor/twin clutch system delivers linear performance and consistent rear-drive handling
• Up to 100km/h possible on electric motor alone
• Innovative steering, braking and power regeneration technologies
• Award winning safety features including audible pedestrian warning system
• Shares elegant design and luxury cabin with the M37 & M25
TECHNOLOGY
The Infiniti M35h is the first model from Japan's newest luxury automotive manufacturer to bear the badge, Infiniti Direct Response Hybrid. This new-generation technology brings a no-compromise approach to luxury performance motoring that enables the M35h to excel across the performance spectrum – from silent, emissions-free gliding in town to ultra-efficient highway cruising and sports car speed and responsiveness on challenging roads.
Maximum output of the engine and motor combined is 360hp, with a 0-100km/h sprint time of just 5.5 seconds. NEDC (New European Drive Cycle) fuel consumption rates the hybrid at 14.5km/l (combined cycle) and CO2 emissions at 162g/km.
The M35h's engine and electric motor are able to work in series or parallel mode, enabling the car to be driven by electricity, petrol or a combination of both. The electric motor is rated at 68 bhp, and the battery pack is lithium-ion. It is claimed that the M35h can drive further, for longer and at higher speeds on electric power than hybrids currently on sale. In trials in the USA, the Infiniti M35h was able to drive in electric-only mode for up to 50% of the time over a mixed route that included highways as well as congested city streets.
Key features of the hybrid system include a single electric motor to save weight, no torque converter to reduce mechanical losses, and linear performance. Drive is to the rear wheels.
A hybrid dashboard display shows energy flows and a low-speed audible warning system – Approaching Vehicle Sound for Pedestrians (VSP) emits a non-intrusive sound that varies in pitch and volume at vehicle speeds up to about 30km/h to help ensure the safety of pedestrians and other road users when the M35h is in silent electric mode.