Maruti Suzuki ranks highest in India J.D. Power aftersales survey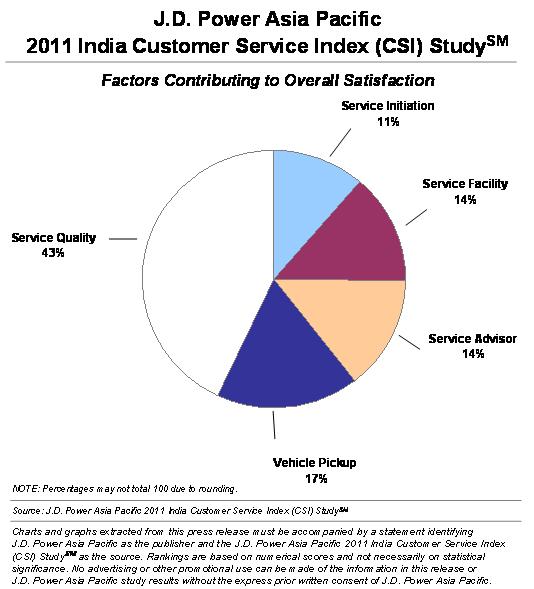 Results of the J.D. Power Asia Pacific 2011 India Customer Satisfaction Study (CSI) has just been released, with Maruti Suzuki recording the highest satisfaction levels for the 12th successive year. The results were obtained from a sample pool of 6,821 vehicle owners surveyed between May and August 2011.
The said vehicle owners had visited their authorized dealership in sometime during the first 12 to 24 months of ownership, and in the surveys, their satisfaction levels are measured by examining five factors – service quality, vehicle pick-up, service advisor, service facility, and service initiation – on a 1,000-point scale.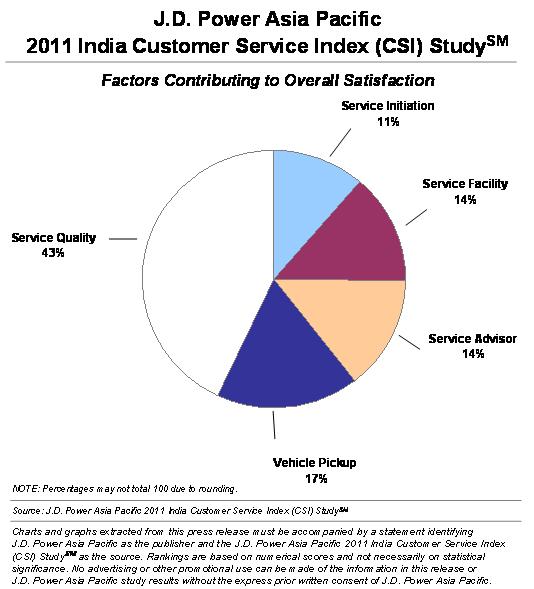 Industry average satisfaction has increased by 12 points from 812 in 2010 to 824 in 2011. Satisfaction has improved in all five measured factors, and it was found that fast turnaround time has a strong positive impact in overall satisfaction. It is therefore bizarre to note that waiting times in obtaining a service appointment has actually doubled since 2010 considering an increase in overall industry score.
"Even though there has been rapid expansion of dealer and service networks in most major cities in India, clearly, gaps still persist between the total increase in vehicles and available service network space," said Mohit Arora, executive director, J.D.Power Asia Pacific.
"Furthermore, the problem is aggravated by increased expectations of customers in India, who want a rapid response and quick turnaround time for servicing their cars," Arora added. Well, Mr Arora, such expectations are not unique to the Indian market, we assure you.
Maruti Suzuki's satisfaction score of 879 sees it top the rankings for the 12th successive year, and it is impressive to note that it is also the most improved brand in 2011. Being top has apparently yet to breed complacency there.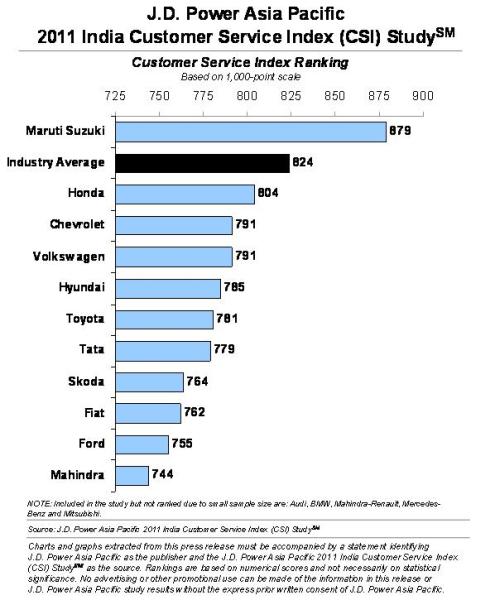 "Maruti Suzuki's overall performance is largely due to its strength in critical operational measures, including performing service work correctly the first time and exceeding customer expectations for turnaround time," said Arora.
Arora further noted that, "In addition, its customers report paying particularly low service costs, compared with other brands, suggesting that Maruti Suzuki provides relatively high value for the price paid."
KON
Charts: Official J.D. Power release.