Bison light commercial trucks enter Malaysian market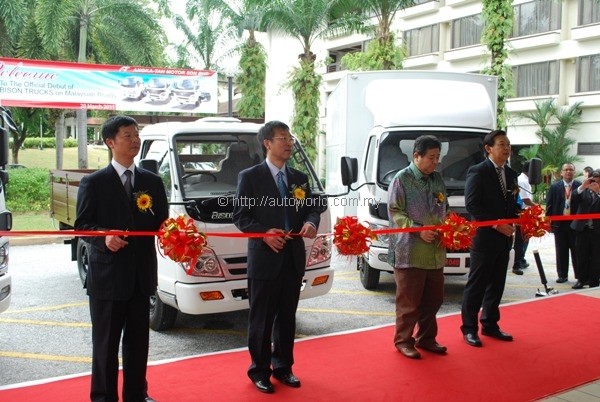 Angka-Tan Motor Sdn. Bhd., a company of the massive Tan Chong Group, has launched its brand of Bison commercial trucks for the Malaysian market. The said trucks are manufactured by Beiqi Foton Motor of China, and are known globally under the Foton brand.
The Bison branding, an in-house marque registered by the Tan Chong Group in 1986, has been a trusted brand for commercial vehicle spare parts amongst fleet operators here. This familiarity by its target customers prompted Angka-Tan adopt this branding for the Chinese trucks in our market.
Three variants were unveiled today, with a further three set for introduction later this year. The range starts with the 4-wheeler BJ1039 with a gross vehicle weight (GVW) of 4,800kg. Next come the 6-wheelers BJ1048 (GVW 5,000kg) and BJ1069 (GVW 8,300kg). The brand's next entries will grow to commercial vehicles with GVW between 12 and 26 tonnes in addition to 50-tonne prime movers.
"Our collaboration with Beiqi Foton Motor of China has been very fruitful. They are the Number 1 brand for light commercial vehicles in China for many years. We expect the products marketed under the local brand of Bison to take off effectively as the products have been recognised globally" shared Mr Ngu Ew Look, Executive Director of Warisan TC Holdings Bhd, parent company of Angka-Tan Motor.
Building on the Tan Chong Group's vast experience and network in sales and after sales of commercial vehicles, Angka-Tan already has in place a wide-reaching sales and service network nationwide. There is also a 24 hour standby Res-Q team for breakdowns across any location within Peninsular Malaysia.
Prices start at RM56,000 for the 4,800kg BJ1039 4-wheeler powered by a 2.8-litre Euro 2 turbodiesel engine with direct injection. It features a floor-mounted gear lever, power steering with adjustable column, roof top ventilation, projector headlights, and a backlit instrument panel.
Just above is the 5,000kg BJ1049, which uses the 4.0-litre Phaser 110Ti turbodiesel rated at 108hp and 353Nm. It comes with a 120-litre fuel tank and a tougher rear axle than the BJ1039 to withstand heavier loads in rougher terrain. Equipment includes power windows for convenience at the toll booths.
Top of the range for now is the 8,300kg BJ1069, with the same 4.0-litre Phaser engine from the 1049 but uprated to produce 135hp and 441Nm. It has a six-speed manual transmission and even comes with touches of 'luxury' in the form of wood trimming on the gear knob and steering wheel. It is priced at RM83,000.