Coming soon: Mitsu Triton facelift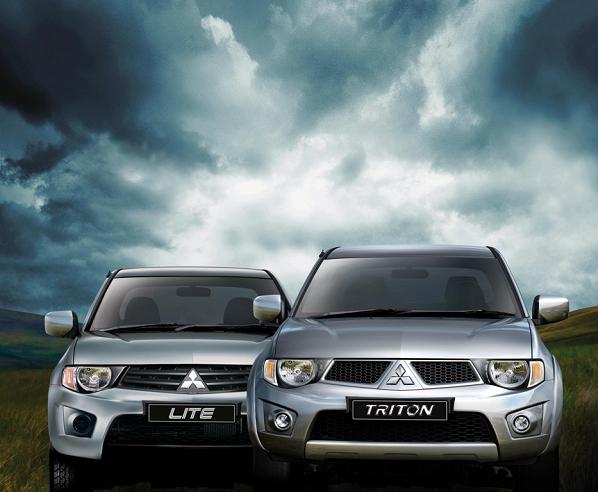 Early next month, new facelifted versions of the Mitsubishi Triton will be making their appearances in Mitsubishi showrooms nationwide. The launch of the Triton facelift follows up on the launches of the Pajero Sport, as well as facelifted versions of the Lancer GT and Grandis, ensuring a refreshed Mitsu lineup going into the festive period.
Besides the usual tweaking in its looks, the facelifted Triton will also get an expanded cargo bed for increased cargo carrying capacity. Few other details were made available to us, but Mitsubishi Motors Malaysia did accompany their press release with an image (one that has been flooding the mailbox of the local press) showing us the new front fascia of the Triton and Triton Lite.
Though not explicitly stated, the facelifted Triton should be carrying on with the same unchanged lineup: 3.2-litre 4×4 automatic, 2.5-litre 4×4 auto & manual, and finally the 2.5-litre 4×2 Triton Lite. According to MMM, 5,077 units of the Triton were sold last year, an increase of 45.9% from 2007. In terms of market share, the Triton was the country's second most popular pickup truck, accounting for 18.1% market share of the segment.
"The revolutionary Triton injected a breath of fresh air into the Malaysian automotive industry, particularly in the pick up segment, when the first variant was launched in 2006. The Triton created a new trend in Malaysia with the bold ruggedness of a powerful engine combined with original styling, ride comfort, spacious cabin, and enhanced safety features," said Mr. Keizo Ono, Chief Executive Officer of Mitsubishi Motors Malaysia.
After sales, MMM offers a 3-year/100,000km (whichever comes first) warranty for the Triton. Also offered with each Triton is a "Mitsubishi Assist 24" card, which entitles the buyer to among others, round-the-clock roadside assistance.
We are keeping tabs on the situation, and will report to you as soon as we have more details. Until then, for more information, please visit www.mitsubishi-motors.com.my.