Mitsubishi Triton Gets a Facelift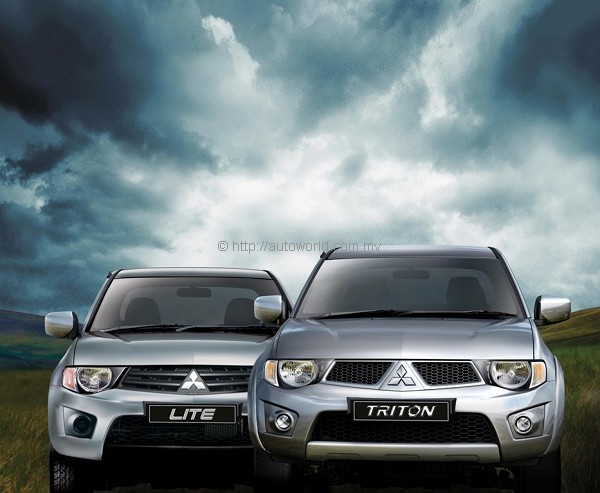 Kuala Lumpur, 26 August 2009 – The very popular Mitsubishi Triton, known to have the best ride amongst double cab pick-up trucks in Malaysia comes now with a facelift; it makes an even bolder statement with a new face, and will be available in showrooms in Malaysia in early September 2009.
The new facelift Triton will come with an expanded cargo bed, with more space for large loads, among other new value-added features.
Making a clean sweep at every car of the year award, the Mitsubishi Triton full line-up, consisting of the Triton 3.2-litre 4×4 automatic, Triton 2.5-litre 4×4 with automatic and manual transmissions and Triton Lite 2.5-litre 4×2 manual, each has an accolade to its name.
As a testament to Mitsubishi' proven rugged all-road capability, the Triton 3.2 was named the Pick-Up Truck of the Year at the seventh New Straits Times-Maybank Car of the Year Award 2008. The Triton Lite has been named the Pick-Up Truck of the Year at the Autocar ASEAN's 2007/2008 Car of the Year Awards while the Triton 2.5 has won Autocar ASEAN's Pick Up of the Year category in 2007.
"The revolutionary Triton injected a breath of fresh air into the Malaysian automotive industry, particularly in the pick up segment, when the first variant was launched in 2006. The Triton created a new trend in Malaysia with the bold ruggedness of a powerful engine combined with original styling, ride comfort, spacious cabin, and enhanced safety features," said Mr. Keizo Ono, Chief Executive Officer of Mitsubishi Motors Malaysia.
The Triton pick-up truck achieved a sales volume of 5,077 units last year, an increase of 45.9 per cent from 2007, making Mitsubishi Motors' pickup truck the second most popular pick-up truck in the country with an 18.1 per cent share in the segment.
In its commitment to quality and reliability, Mitsubishi Motors Malaysia is offering a 3-year warranty or first 100,000km (whichever comes first) for Triton. Owners are assured of excellent after-sales support and are provided with the "Mitsubishi Assist 24″ card, which offers a host of privileges including 24-hour roadside assistance.