First Impressions: Hyundai i30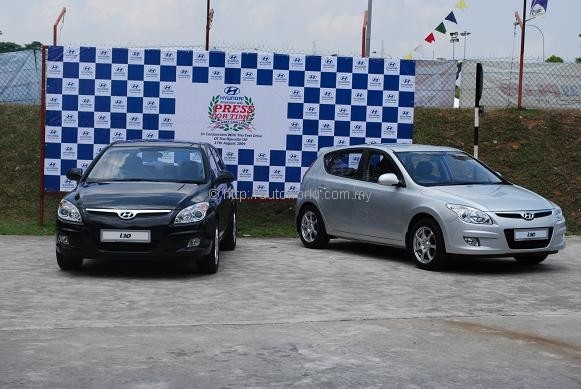 I am going to start this piece off with a very cliched statement from our days in school. Here goes: My favourite pastime is reading. Well, not really, but it is something that I try to do often. I particularly enjoy reading up on the subject of human psychology and interaction.
There are many takes and angles on things like how you should present yourself to people, subconscious body languages that reveal true intentions, and how it takes just a short period of time for the girl sitting next to you to decide if the two of you will be taking things further. Most sources I have read says three seconds, give or take, so I'll just accept that.
Now, I'm sure most of you recognize that last line as something that we all call first impressions. They are never always right, nor are they always wrong, but you'll be surprised how it actually influences us one hundred percent of the time. I'm certain that each one of you has someone in your social circle, close or otherwise, which you absolutely hated at first glance, but grew to like over time.
The simple fact is, some people need more time than others to express their best qualities, and some only need three seconds. The former are those who you always describe as, "Once you get to know him, he's OK one."
Unfortunately, the reality is that in our lives, we still depend on first impressions to judge people's character. We know first impressions can be deceiving, yet we still rely on them. This is a truth about human psychology which can neither be denied nor reversed. It applies to everyone, and that includes motoring writers.
This is a reason why car companies usually give us several days (the industry standard is three) to review their cars. It would give the cars that gave off a bad impression the opportunity to present its good sides to the journalist. Of course, it could backfire as well, as the journalist may end up discovering even more gremlins, but at least the car has a fighting chance to earn itself a good review.
For many cars, short test drives simply would not do it justice. They would end up either being unremarkable, or fluff their lines completely rearing all their ugly heads. Examples of such cars that I've tested include the Chevrolet Captiva and Isuzu D-Max, both of which I'm certain that a simple spin round the block would not do justice. The Hyundai i30, if it's a good car, would also belong in this category as well.
Recently, Hyundai Sime-Darby Motors assembled a group of 34 journalists for a media test drive of the i30. They brought along one unit each of the 1.6(A) and the 2.0. Now, because the number of journalists far outweighed the number of cars, we were required to draw lots to see which of the i30 variant we could test drive and in what order. As luck would have it, I drew not only the 1.6, but also a turn number that put me right near the end of the queue. It turned out to be a good thing as I was also able to slot myself in for the 2.0 at the end.
Let's start with the RM98k 1.6 auto. Our test route was a very short sprint up and down the Elite Highway. Now, when you are given only a very limited time and distance to put a car to the test, you'll be in a hurry to feel its limits. You will, therefore, drive the car very hard, and under such conditions, the i30 1.6 absolutely did not prosper. It never had the chance.
The 1,591cc Gamma engine powering the 1.6 produces 120hp @ 6,200rpm, and 154Nm @ 4,200rpm. Healthy figures, but the torque curve provided to us by Hyundai shows a flat spot from 3,000 to 3,500 rpm. While it does not dip like the Proton Campro engines, but believe me, the flat spot really made its presence felt during hard acceleration.
Compounding the problem is the 4-speed automatic transmission absolutely refusing to perform a kickdown until you whack the throttle pedal with a sledgehammer. As a result, unless you take the initiative to flick the gated shift lever to '3', you will find the 1.6 to be very sluggish. The manual version should do better than this, but we won't know by how much until we get our hands on one.
On the handling front, the i30 is competent, but not spectacular. It grips corners well at speed, but alarmingly, on the highway, I found the 1.6 to be susceptible to cross-winds. There was slight lateral swaying of the car when driven at speed, requiring continuous steering corrections.
The power steering system is motor driven, with the motor mounted on the steering column, rather than on the rack, an advantageous setup when it comes to maintenance, as less dis-assembly would be required to service the motor. It weighs up well at speed, but at a crawl it dials up the assistance levels way too high, making the steering feel overly light, even for parking speeds.
Things are markedly improved in the RM15k dearer 2.0. The Beta engine powering the 2.0 produces 140hp @ 6,000rpm and 186Nm @ 4,600rpm from 1,975cc of combustion volume. Like the 1.6, the 2.0's torque curve also features a flat spot at the same 3,000-3,500rpm range, but the 2.0's 4A/T seems downshift more eagerly to mask that deficiency. As a result, the 2.0 feels substantially more responsive than the 1.6, though a hint of sluggishness is still present when a burst of overtaking power is needed.
Wearing 17″ alloys compared to the 1.6's 16-inchers, the 2.0 also felt much more stable and handled better than the 1.6, although the same over-assistance from the motor power steering is still there at parking speeds.
Neither variants of the i30 impressed during their limited time on the road. From what we can see in the specs sheet, it's not a car without virtues, but unfortunately, precious little of its plus points shone through in our brief test drive session.
However, putting things into perspective, the i30 an improvement of mammoth proportions compared to Hyundais from even five years ago. On paper at least, the i30 stands up to comparison against rivals from Japan and Europe. For this alone, we feel the i30 definitely deserves a second chance to prove itself.
HSDM has promised us a test car in about a month or so. Until then, we shall refrain from passing judgment. First impressions aren't always right, you know.