Double ISO certification for Tan Chong's Serendah plant.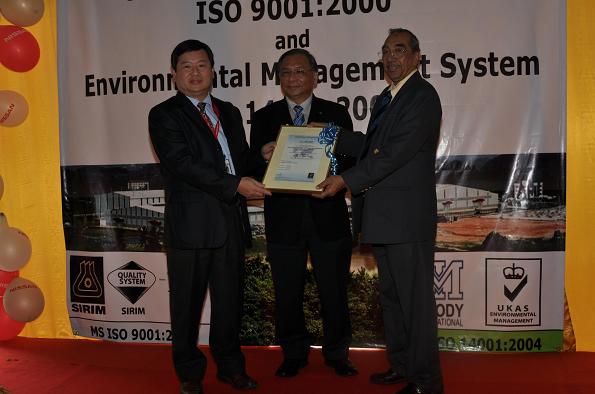 Recent and future customers of Nissan's Grand Livina, Latio and Sylphy can now have added peace of mind secure in the knowledge that the plant manufacturing their cars have been double-certified according to ISO standards. The TCMA's plant in Serendah, which manufactures the aforementioned models, recently received ISO 14001:2004 Environmental Management System (EMS) and ISO 9001:2000 Quality Management System (QMS) certifications, the first auto plant in Malaysia to receive both certifications simultaneously.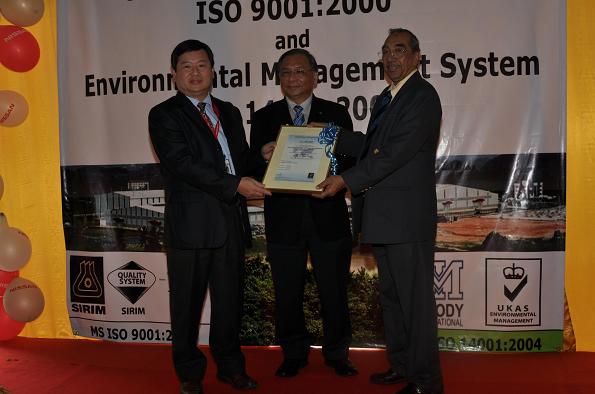 Low(L) picks up the ISO 14001 cert from Mohinder(R) first,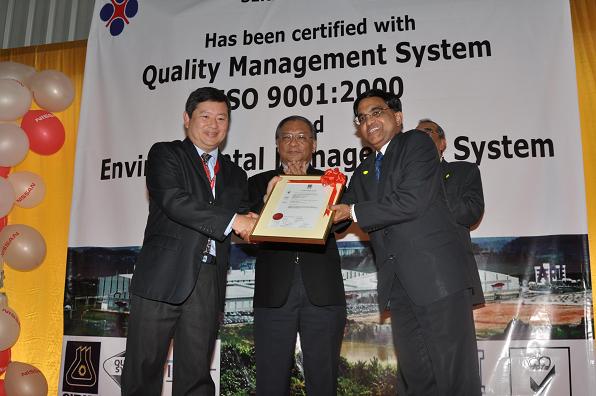 …then the 9001 as well, witnessed by Dr Ang Bon Beng, Executive Director of Edaran Tan Chong Motor.

"Within the community where we operate and work in, it is indeed our social obligation to be a responsible neighbour and to be able to operate in a sustainable manner and be one with the environment." said Mr. Low Seng Chee, Executive Director of TCMA during the ISO 14001:2004 and ISO 9001:2000 certificates presentation ceremony.
"In line with our corporate sense of responsibility as well as fulfilling Nissan's EMS policy, the journey towards certification begun in June 2008 for ISO 14001. Similarly for ISO 9001 we started from Oct 2008." added Low.
These awards are the culmination of a year's worth of effort on TCMA's part in putting themselves through gruelling internal and external audits. For external audits, TCMA secured the services of Moody International and SIRIM.
A small ceremony was held at the TCMA Serendah plant, where Dato Dr Mohinder Singh, Chairman of the Certification Advisory Board of Moody International, and Mr Parama Iswara Subramaniam, Senior GM of SIRIM QAS International Sdn Bhd presented the ISO certs to Low.
However, even in the euphoria of this recognition, TCMA are not resting on their laurels yet. Plans are currently afoot to bring themselves up from the ISO 9001:2000 they just received to ISO 9001:2008 by 2010.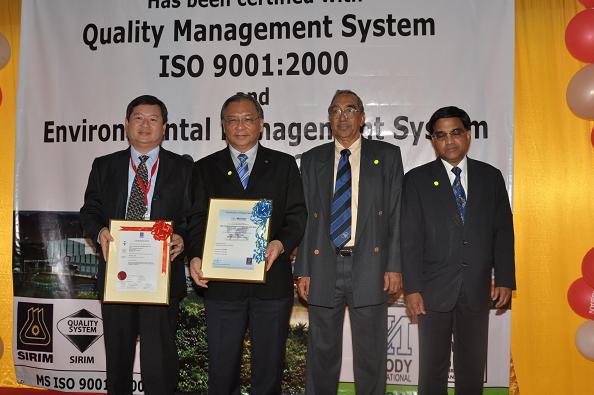 Well, you all know the drill with this one. The customary on stage group photo of the VIPs. L-R: Low, Ang, Mohinder, and Parama